Mackie's of Scotland sold enough bars in 2019 to stretch from Glasgow to Edinburgh and back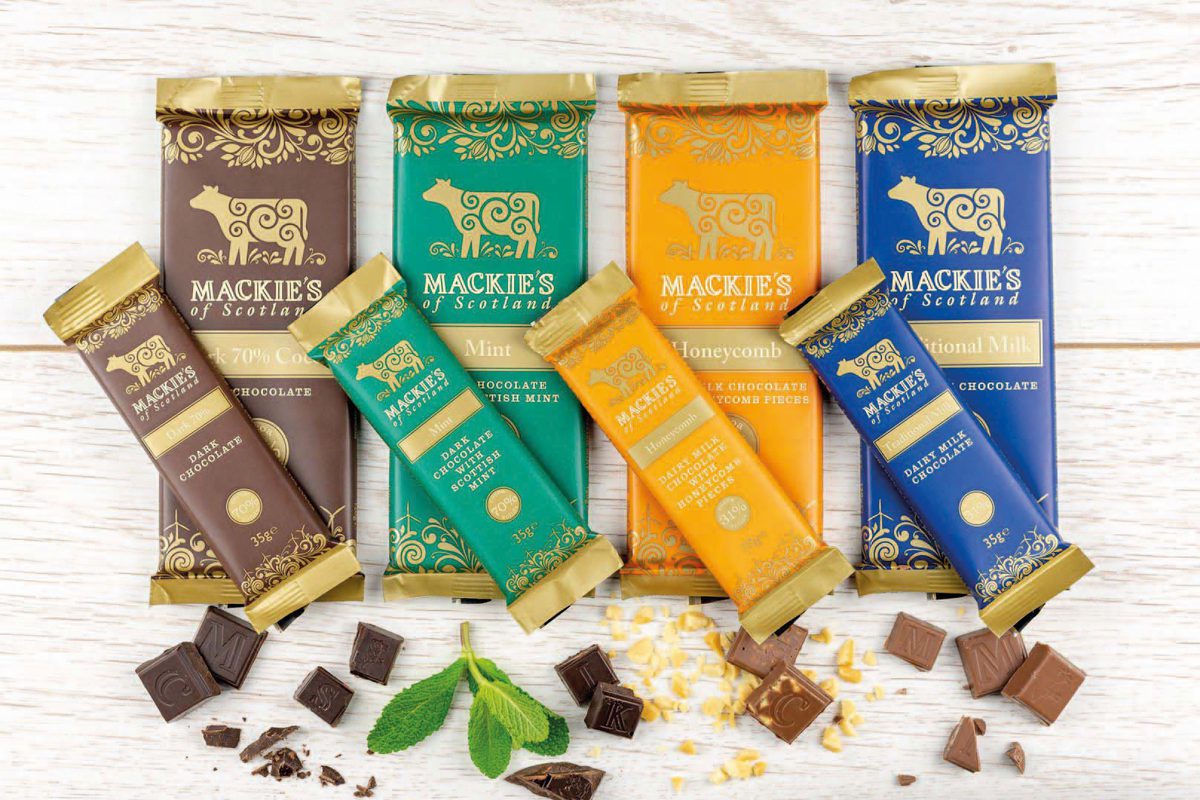 ANOTHER record-breaking year, that's how Mackie's of Scotland sales director Stuart Common would sum up the performance of the firm's chocolate brand in 2019.
Mackie's has reported sales of over 700,000 bars, which Common noted is the equivalent of 85 miles worth of chocolate, "which would be the distance from Edinburgh to Glasgow and back if we laid them all out," he said.
Mackie's hasn't hit that number from a standing start. The firm has been building up since investing £600,000 to create a dedicated chocolate factory – in a former tractor shed – at its Aberdeenshire home farm in 2014.
Since then, Mackie's has been able to achieve substantial listings, including initial deals with Tesco and Sainsbury's, as well as contracts with the Co-op, Morrisons and Asda.
Expanded distribution hasn't hurt Mackie's fortunes, but Common suggested the brand's Scottish provenance has been a key factor in the brand's continued improvement.
"Scottish consumers are continuing to choose Mackie's premium chocolate over other UK national brands.
"Consumers are increasingly shopping for local, Scottish products and choose Mackie's award-winning chocolate to satisfy their desire for great taste and high-quality ingredients," he said.
It's not just Scottish consumers that have been choosing Mackie's, last August the national rail carrier also backed the brand. Mackie's 35g Traditional bars are now available on Scotrail train catering carts, sitting alongside the Mackie's crisp brand.
And railway passengers aren't the only ones who have been enjoying the 35g format, as Common explained.
"Our mini bars have gained popularity in a number of popular attraction destinations such as the Highland Wildlife Park, Baxters Highland Food Village and the cafe at Balmoral Castle.
"A key trend to note is portion control and products in snack size. Mackie's 35g bars are the perfect option for impulse sales situations and are performing well in convenience stores, cages and tourist attractions," he said.
Good things didn't just come in small packages for Mackie's last year, with the chocolate brand's 120g format also gaining ground in the supermarkets, according to Common.
"In regards to the 120g bar, Asda had the best sales period of any of our customers to date over the 2019 festive period after last year taking on a £100,000 per year listing, stocking bars in 47 of Asda's 61 stores across Scotland.
"Both the Coop and Sainsbury's also saw an increase in sales in 2019 compared to that of the previous year.
"The most popular flavour across the board is Honeycomb, with both the chocolate and inclusions for this product, made on the family farm in Aberdeenshire," he said.
Honeycomb, chocolate, ice cream and crisps aren't the only things produced on the family farm.
Mackie's also produces its own renewable energy and its own packaging, and has a stated goal of being the greenest company in the UK.
Common reckons the brand's sustainability credentials should score yet another point with today's consumer.
"The whole process is powered using renewable energy from our wind turbines and solar panels, which we know is important to our customers," he said.