Food To Go Award
–supported by Fife Creamery
Winner:
Scotmid Ratho Station, Edinburgh
Winner details
Staff: 18, full and part time
Services: Full food to go counter, Chicago Town pizzas, two Costa Coffee machines, Rollover hot dogs, slush machines, Dots Donut stand and self-service tills.
Food to go has been a key focus for Scotmid for several years. The society's Ratho Station store, located near Scotmid's head office, is often used to try out new concepts before they are rolled out more widely.

Scotmid Ratho Station has a food-to-go counter at the front of the store, as well as secondary siting for the category throughout the store.

Store manager Fiona McFadyen has been atScotmid Ratho Station for five years. Prior to that, she worked in several other Scotmid stores.

The store boasts two self-service checkouts, which help to reduce queues at peak times.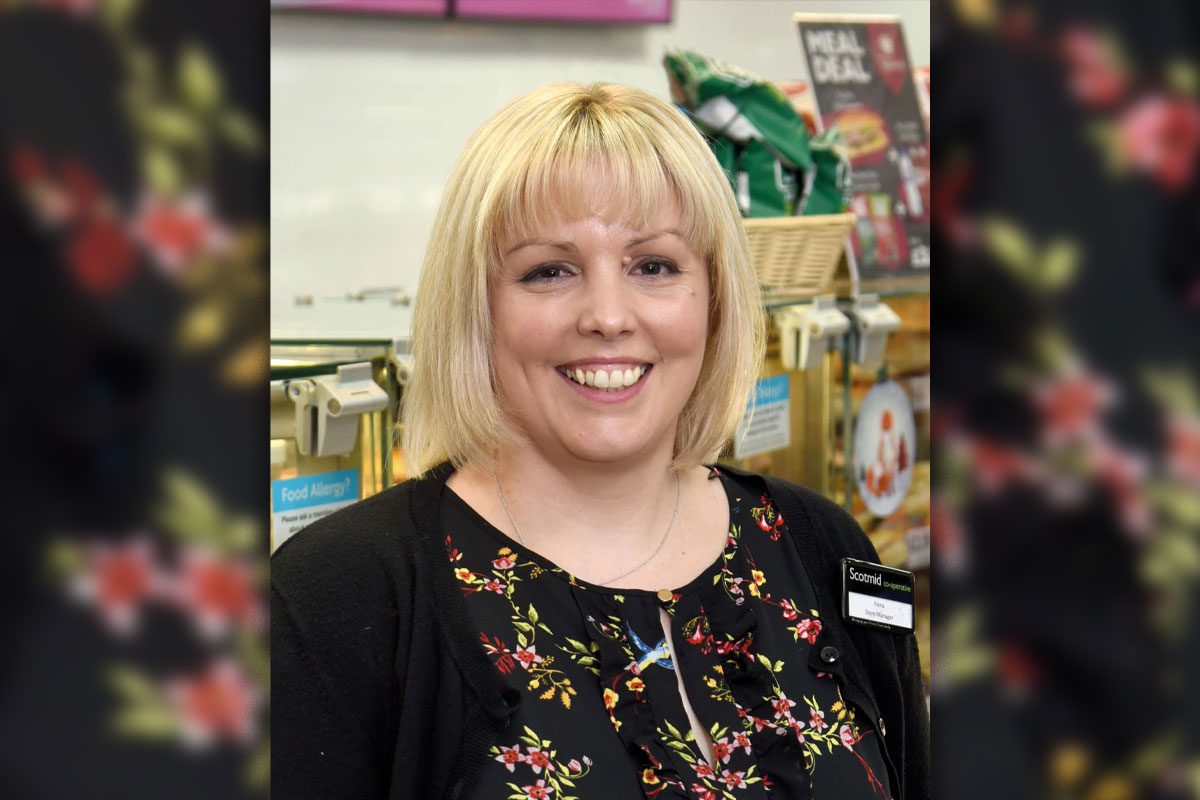 FOOD to go, perhaps more than any other category, has been shaking up the convenience retail sector in Scotland.
The improved margins and boost to footfall that food to go can offer a store is appetising, but the category is not without its complexity.
Despite the category's challenges, the team at Scotmid has made food to go look easy in recent years, by creating a comprehensive offer from something of a standing start.
The society's Ratho Station store has a huge selection of hot and cold products for those looking to eat on the go – a range that was recognised when the store scooped the  2019 Scottish Grocer Food To Go Award.
A large hot food counter – which has three staff members serving on it at all times – is unmissable to anyone who enters the store.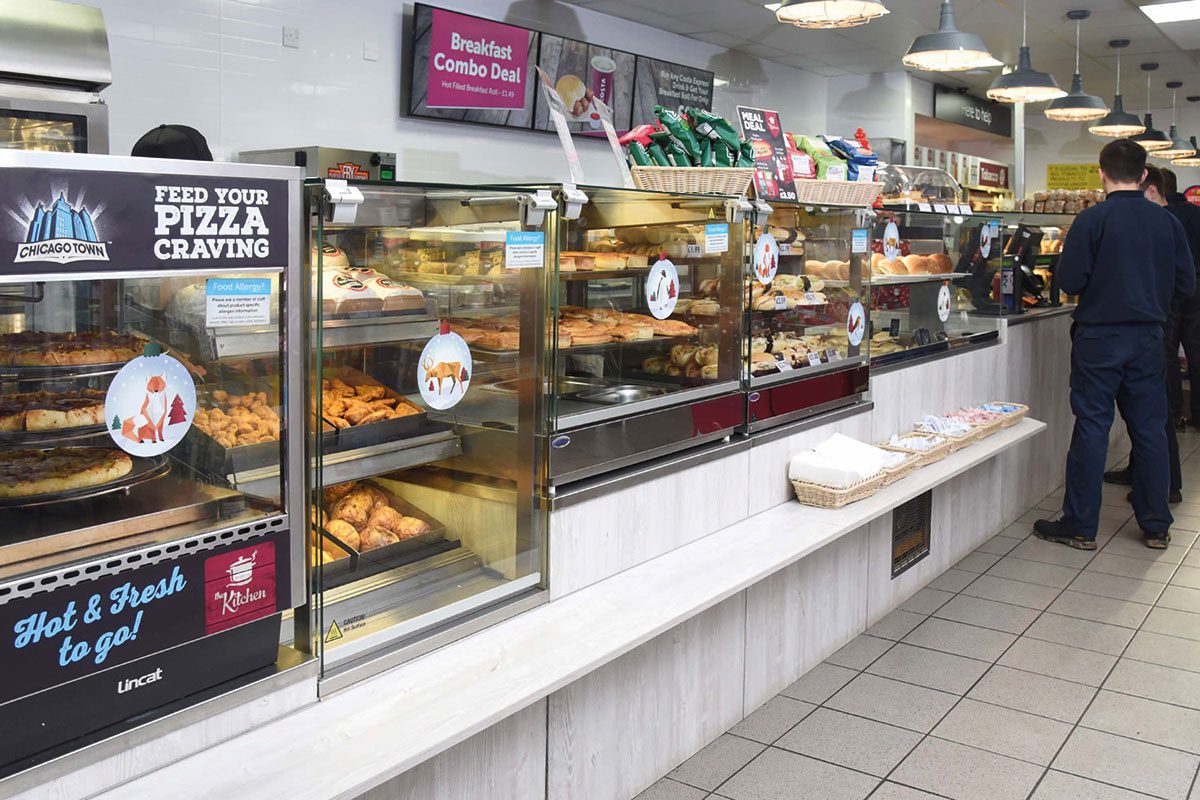 But in order to capture food-to-go sales throughout the store, Scotmid Ratho Station also has several secondary siting areas set up to tempt customers.
An entire chiller is dedicated to sandwiches, wraps and salads, which are offered as part of a successful Co-op £3.50 meal deal.
Another stand houses Rollover Hot Dogs, a slushy machine, iced coffee and a cabinet of trendy Dots Donuts.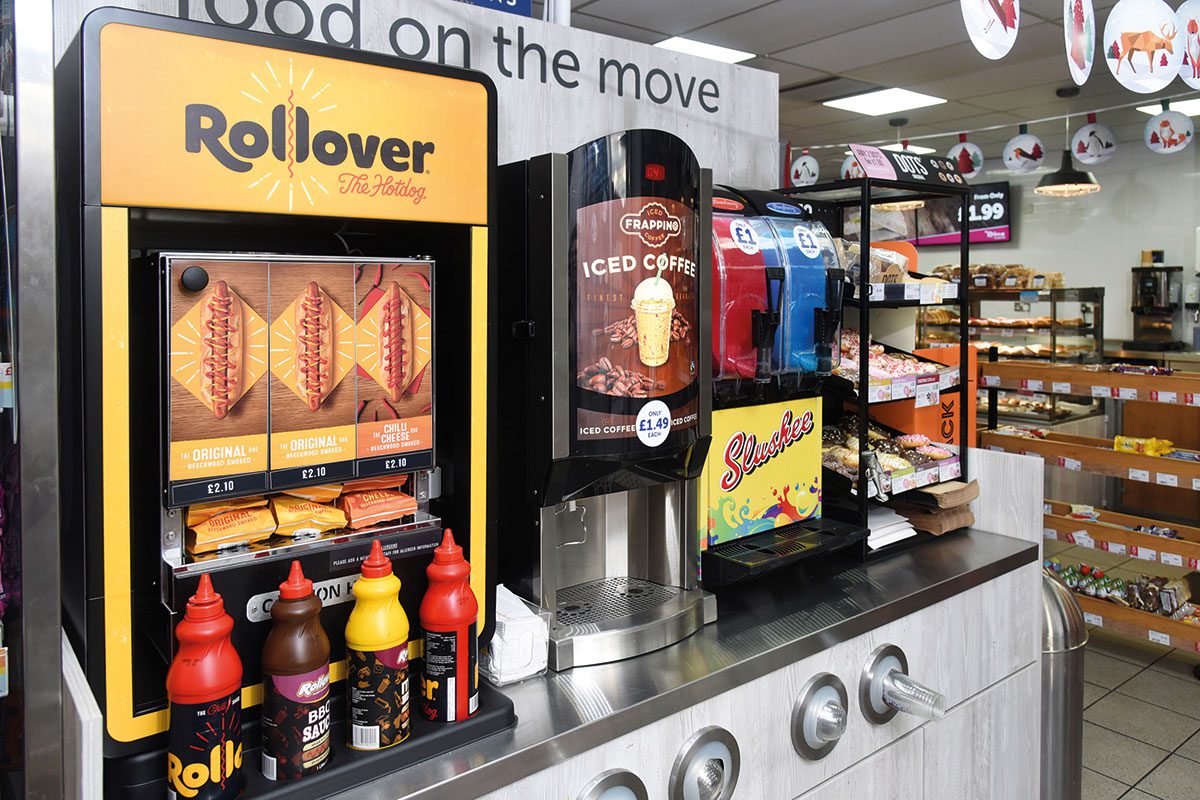 And for those who fancy a hot drink, two Costa Coffee machines sit in a separate section of the store.
Within the hot counter itself, there is a wealth of products to choose from, as store manager Fiona McFadyen explained: "For breakfast we do the hot breakfast rolls, so that is your bacon, links sausage, lorne sausage, haggis, black pudding. We have hash browns, eggs, we do breakfast baguettes. We have the hot savouries.
"Lunchtime, we offer soup, baked potatoes, freshly made baguettes, paninis – we have a lot."
Breakfast and lunch are covered, then. But what can Scotmid offer in the evening?
I wouldn't say that many people leave without something from the food to go.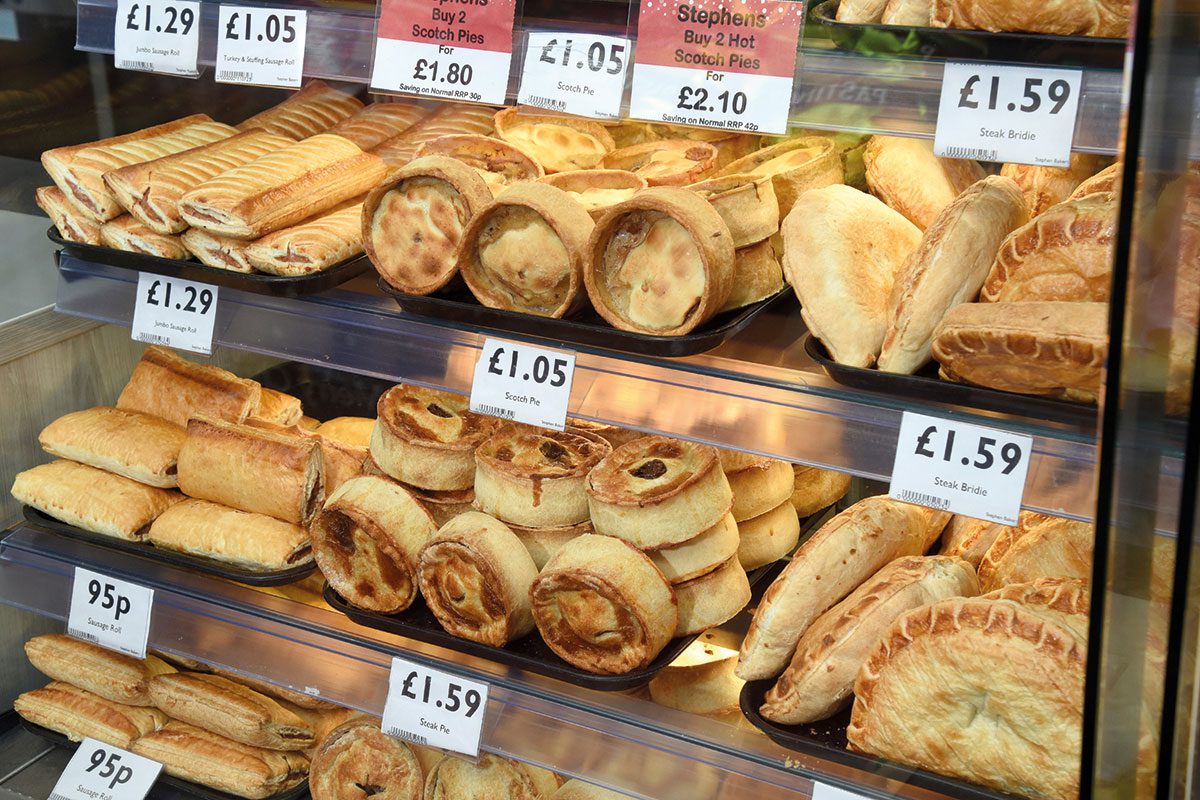 At Ratho Station, Chicago Town pizzas and Big Al's burgers and chicken have been helping to increase dinnertime purchases. And when it comes to attracting new shoppers, Fiona reckons she has succeeded by appealing to her customers' senses.
"Food is all freshly prepared on site every day. I think that makes a difference, especially with the ovens, where the smell entices people to buy.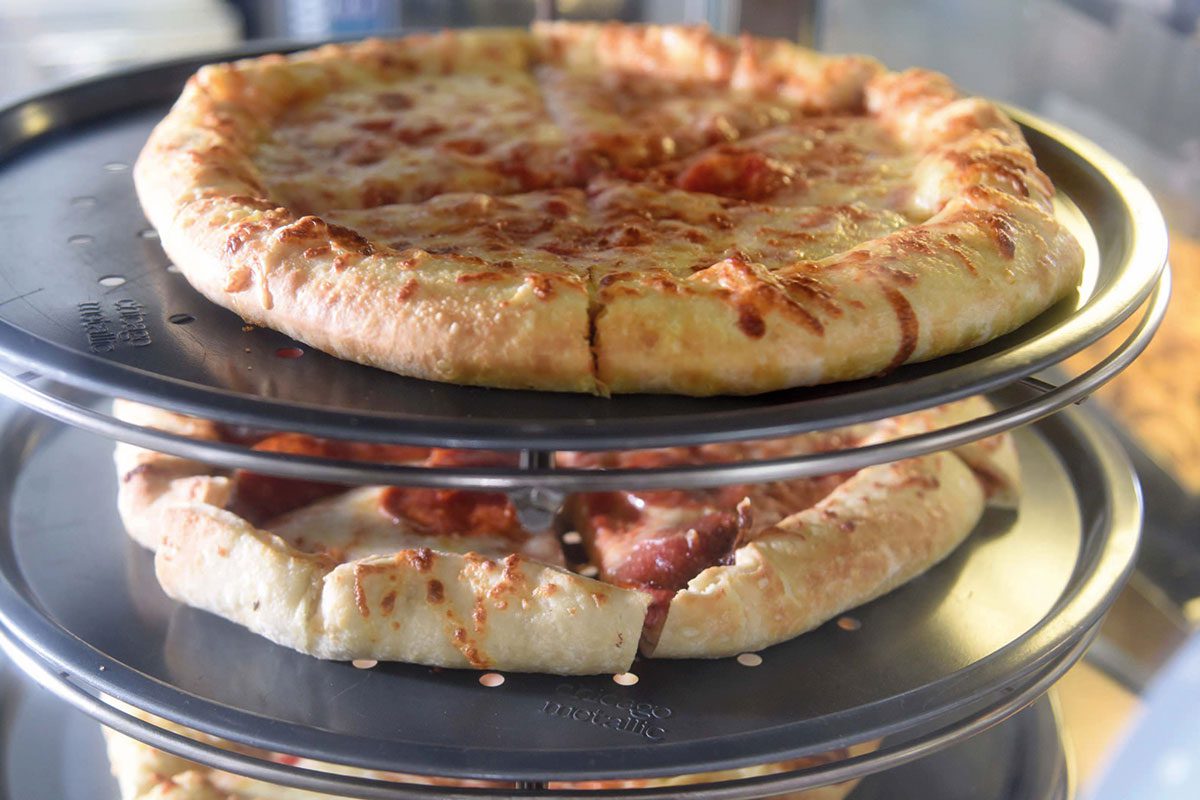 "The majority of it is word of mouth, but as soon as they walk in the door they can smell the food. So everybody knows that there is food here. And people shop around the store and they can see it," she said.
Smell isn't the only sense that Fiona and her team rely on. The sight of a cabinet full of pastries often tempts customers who are waiting in line, even when they haven't come in to buy food to go.
"They see the cakes on offer and if they are standing in a queue, we will upsell. I wouldn't say that many people leave without a cake, or something from the food to go," she said.
Scotmid Ratho Station isn't without competition, with a Greggs, Subway and McDonald's all within a three minute drive of the store. But by keeping their operation as slick as possible, Fiona and her team have ensured that footfall remains high.
Outside of the multiples, the store is one of the few convenience stores in the country with self-service checkouts, which were installed six years ago.
"We do about 30% of our transactions on the self-scanners. Lunchtime is the busiest time in here, so if people can go to a self-scan then they will – and it will get them out quicker.
"This is always one of the first stores to trial things for Scotmid. If it doesn't work here then it doesn't go elsewhere," Fiona said.
Creating a successful food to go offering isn't without its challenges, with the initial start up costs proving off-putting to some retailers. But for Fiona, and the wider Scotmid team, the rewards far outweigh the risks.
"We thrive on food to go. We've got a lot of industrial estates and offices around us, and so it has just grown and grown," she explained.
"Food to go is the way forward, the margin is a lot higher. About 30% of our sales come from food to go, so it is a key part of the store," she said.
This enthusiasm is shared by the wider Scotmid team, with Danny Scobie, food to go operations manager for Scotmid, highlighting how the category is becoming a "point of difference" for the co-operative.
"We are continuing always to look at innovation as the market changes. The Scottish Grocer Award is great recognition for everyone in the business who has been involved in the food to go journey over the last six and a half, seven years.
"Everyone in the business plays their part, from the person serving the product and introducing the product to the store managers and everyone back at the head office who is involved in some part in moving this journey forward," he said.
To ensure they are at the forefront of food to go in Scotland, Scobie said the team at Scotmid have been taking inspiration from stores across the Irish Sea.
"We heavily look towards other markets to see what we need to be looking at, both in terms of trends and product ranges.
"We spend a lot of time looking at the Irish market, we see it as very close to the Scottish market in terms of the consumer.
"And they have been dramatically ahead of us, in terms of the journey they have been on, for probably the last 30 years. So there is a lot that we have seen out there that we are looking to develop and bring here.
"Food to go for us will be different depending on the store and the customer mission within it. We believe the offer needs to match the customer, and we do see it growing increasingly, but while offering the right products and the right range. It definitely isn't one size fits all," he said.
To see more of Scotmid Ratho Station, head over to

YouTube.com/scottishgrocer or the Scottish Grocer social media pages.