Company-owned store showcases the ambition of CJ Lang by tapping into the latest c-store trends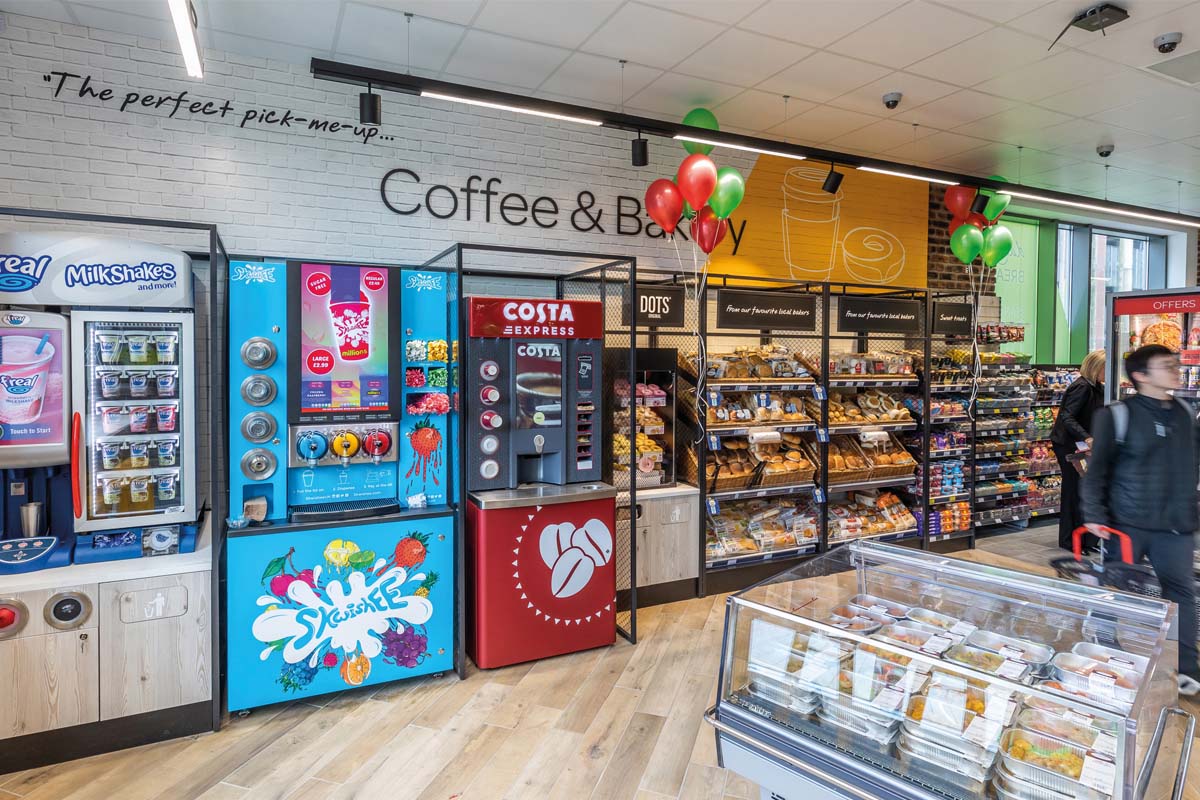 IT'S just over a year since Colin McLean was appointed chief executive of CJ Lang, with a mission to revitalise the Dundee-based wholesaler.
Since then, there have been plenty of new faces drafted in with the goal of improving the wholesaler's offer – and CJ Lang's new company-owned Spar store on Havannah Street offers a glimpse into what they've been up to.
Opening its doors for the first time in June, with the help of shopfitting and refrigeration specialists Vertex, the 2,000 square foot Spar Havannah Street is located in the heart of Glasgow's Collegelands development.
Clientele for the new store is a mix of wealthy international students and lower income local shoppers, but the team at CJ Lang reckon they've got their offer right.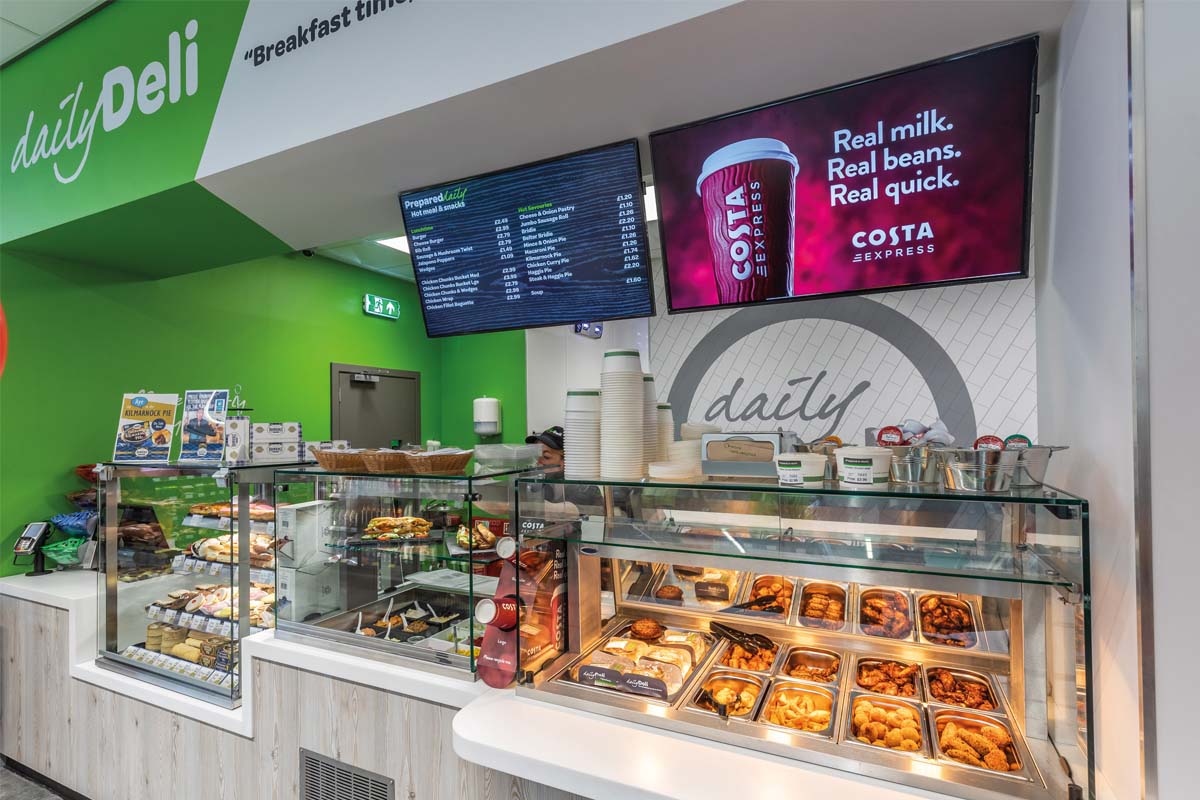 From the outside, it's easy to see that there's something different about Spar Havannah Street. A new wood-plank effect fascia is the first of its kind for Spar – a one off design with a premium feel to it.
Inside the store, the first thing to notice is that there are sixteen chilled cabinets and a mere two gondolas of ambient.
Grocery has been stripped back to cover the essentials. There's a small section of international groceries for students, but no pet food as the surrounding flats do not allow residents to bring their four-legged friends.
With the space that was saved by stripping back grocery, CJ Lang has gone big on ready meals, sandwiches, cheese and soft drinks, all of which are chilled in new Pastorfrigor cabinets.
In addition to the expected Spar own brand SKUs in the chiller, Spar Havannah Street offers a broad range of Stuart's chilled ready meals: with everything from Indian Spiced Potatoes to Cheese and Ham Kievs.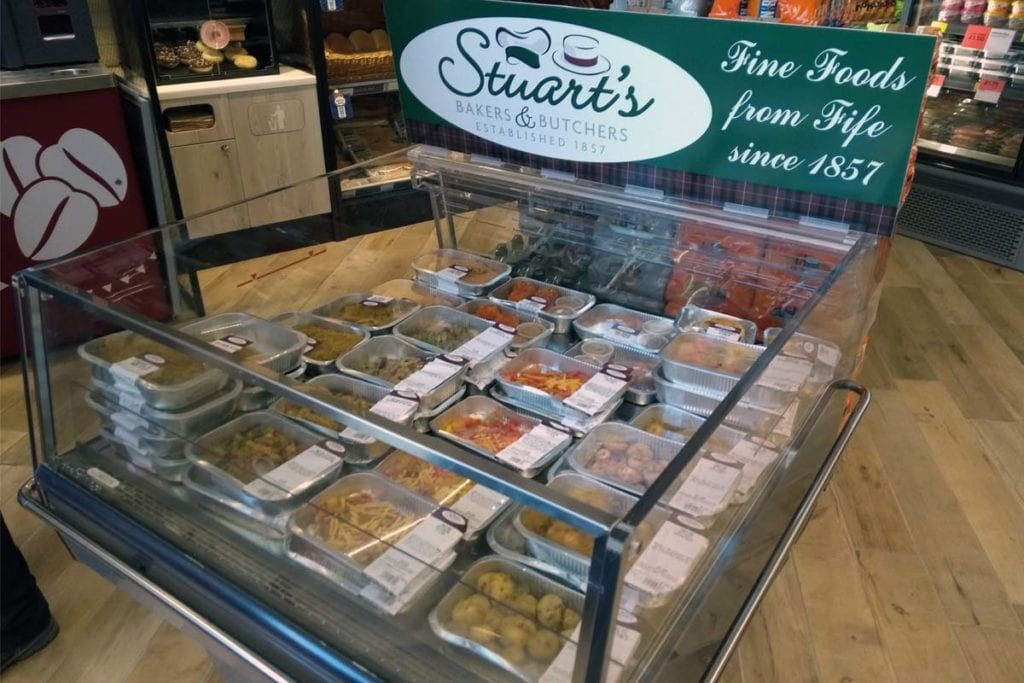 There's further Scottish sourcing in the bakery area  courtesy of Brownings the Bakers, whose products can also be found in a cake display alongside food to go at the rear of the store.
McLean said the plan for this new store was developed in partnership with Spar UK and Spar International, and he's unashamed to acknowledge that a few ideas were pinched from Henderson Group – the wholesaler behind Spar in Northern Ireland.
The Irish influence on the store is clear to see, with food to go featuring prominently throughout.
Spar Havannah street houses a F'Real machine, offering smoothies, milkshakes and frozen coffee; a Skwishee machine, the slush drinks solution launched by Harris Aslam of Fife-based Eros Retail; and a Costa coffee machine.
All three on-the-go drinks machines are housed in modular bays at the front of the store, offering quick service for shoppers in a hurry.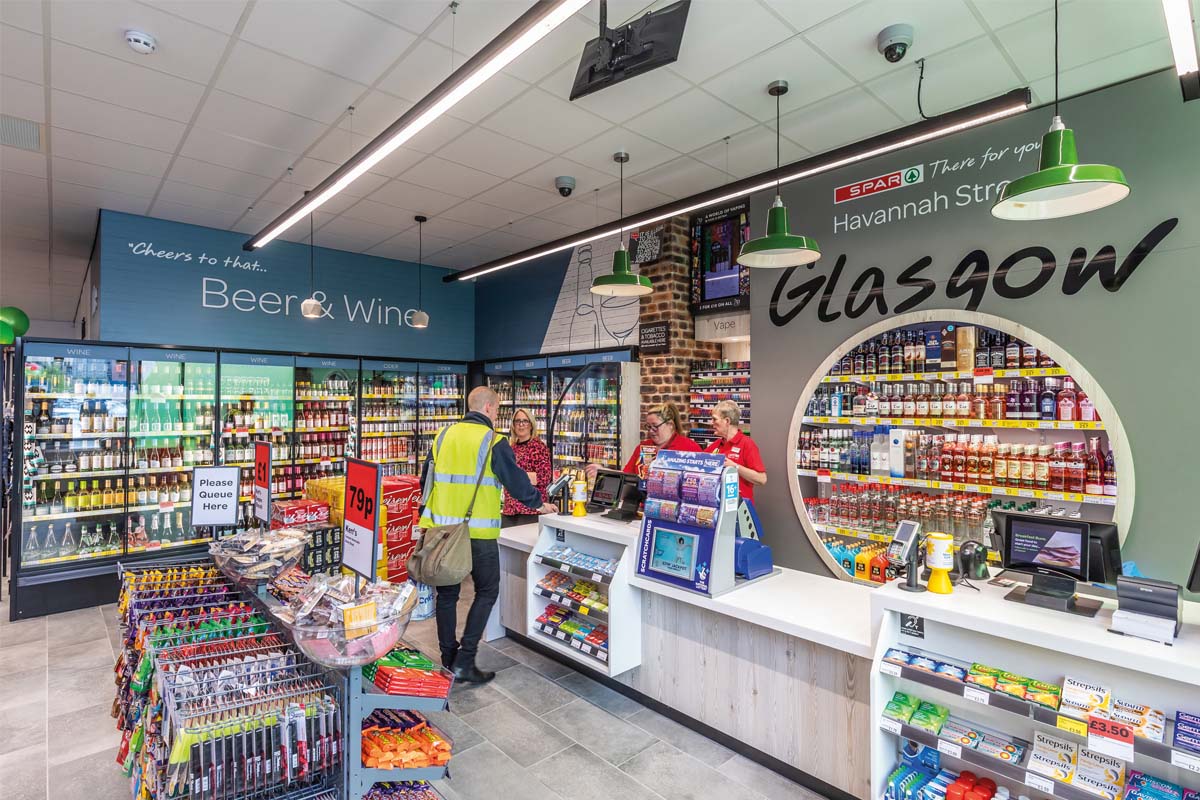 For those looking for something more substantial on the move, the rear of the store sees CJ Lang fully embrace Spar's Daily Deli solution.
In the morning, there are plenty of hot breakfast options with all the standard Scottish fare, while at lunch the Daily Deli transforms its offer to something akin to a self-serve chicken bar.
And when the students are heading home from a busy day at the library – or one of the nearby Merchant City's many bars – there are Chicago Town pizza slices on offer.
Offering such a variety of food to go is definitely a bit staff-heavy according to Jamie Buchanan, formats and merchandising director at CJ Lang, but it seems to be a price worth paying.
Since the store opened, Buchanan said food to go, including both serve over and sandwiches, has accounted for 38% of sales. 
At the business end of the store, CJ Lang has stuck with its long-standing EPOS provider RS Scotland, but added something a bit different.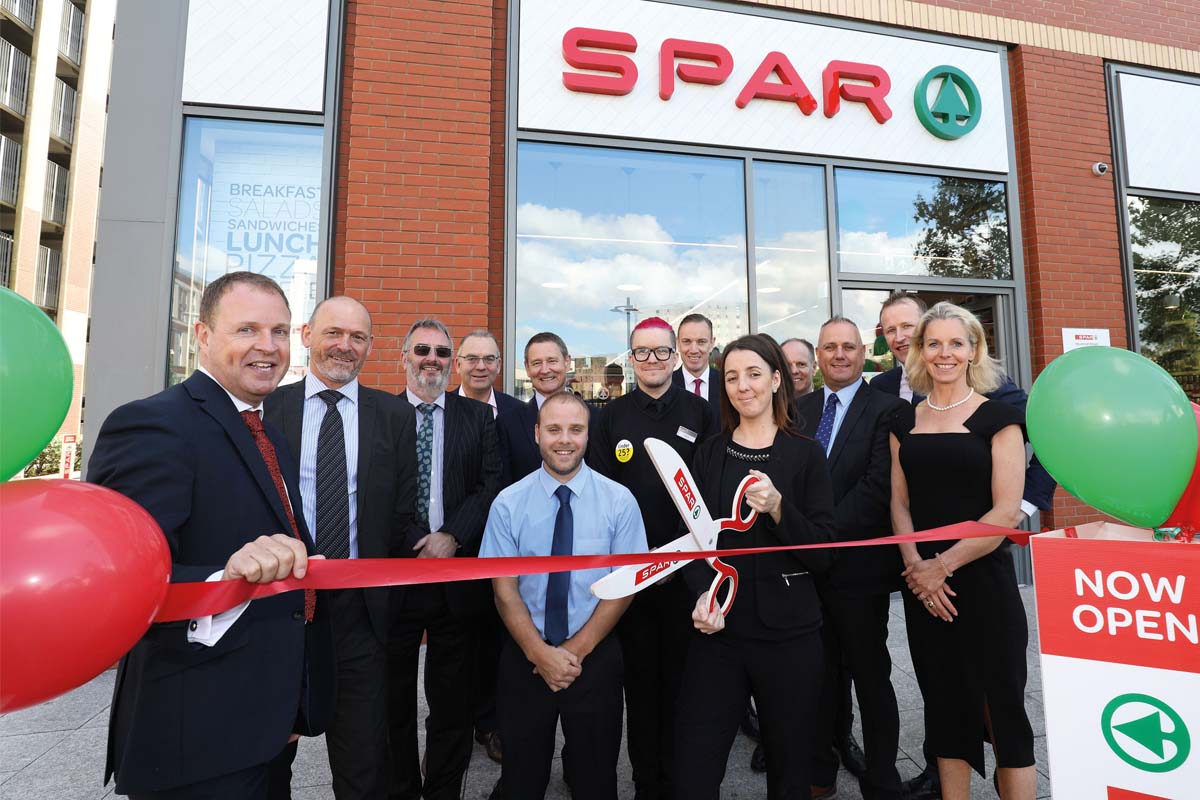 Spar Havannah Street is the first CJ Lang store to deploy NCR Self Checkout technology. Card-only self scanners may not be suitable for every CJ Lang store, but given the student-heavy catchment of Havannah Street, the team thought it was a good fit and have reported no issues so far.
Behind the tills, CJ Lang has opted to ditch the traditional cigarette gantry in favour of a circular spirits display. Buchanan admitted that merchandising a circular space isn't the easiest task, but store staff said it definitely catches customers' attention.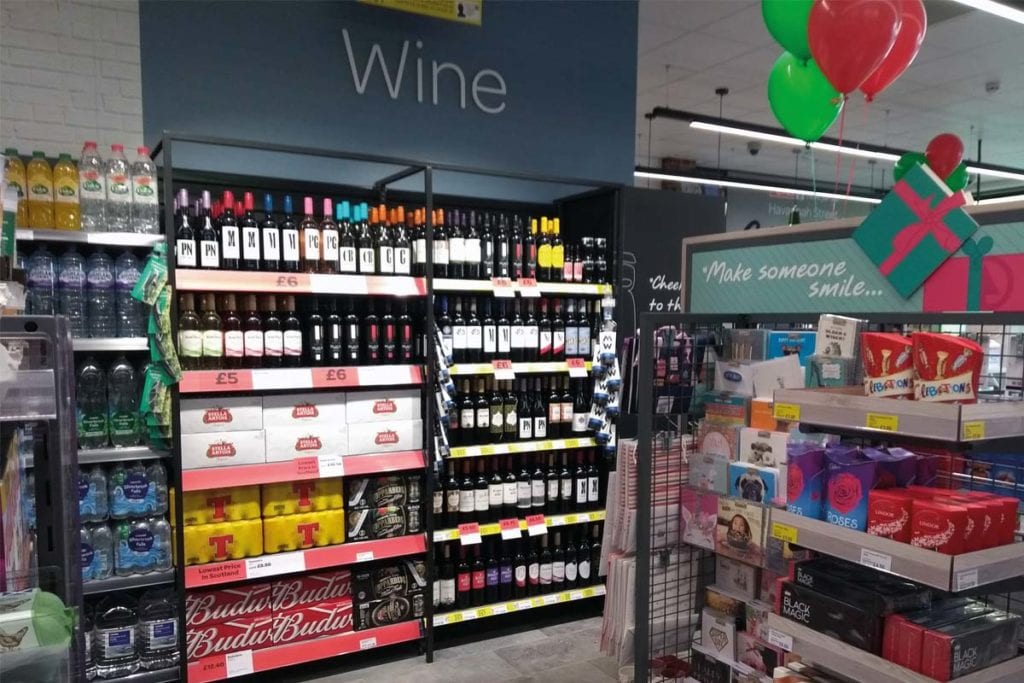 The cigarettes may be gone, but vaping is made visible on both sides of the spirits gantry thanks to display screens from e-cigarette and liquid brand Liberty Flights.
As well as providing a bit of in-store theatre, the screens ensure the vaping  category can be seen from the front door.
Beneath the screens, Liberty Flights products have the run of half the e-liquid space in store, with other brands merchandised on a separate shelf.
All in, Spar Havannah Street provides a window into what the team at CJ Lang reckons Spar in Scotland should look like, according to McLean.
"We've been on a journey for the last six to nine months, asking 'how de we raise Spar Scotland back to where it should be?'
"This is a great showcase to say, 'if you want to be part of Spar Scotland then this is the kind of stuff we can deliver.'
"And the margin is different too, because it's heavily food to go and fresh you're no longer just selling cigarettes and booze."