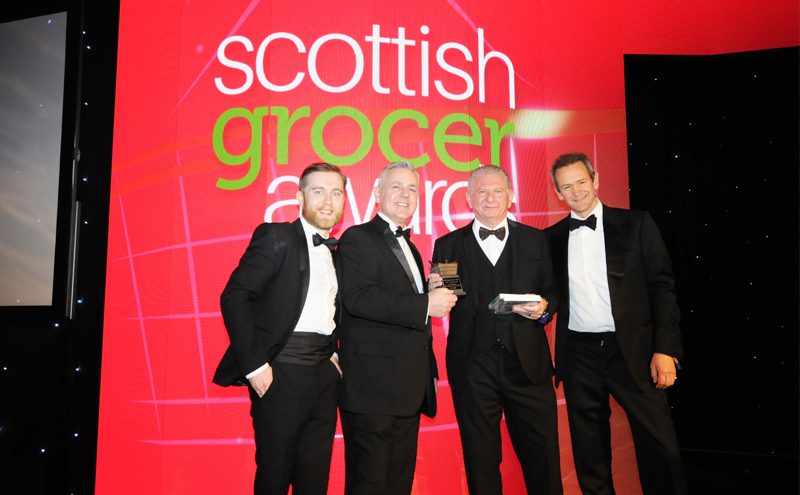 THE most special prize at the Scottish Grocer Awards, this year's Industry Achievement winner was as fitting for recognition as they come.
Supported by Swan, Republic Technologies UK, the industry achievement award recognises individuals who have made their mark on Scotland's grocery and convenience retailing trade.
This year, the judging panel was on the hunt for a well-kent face, and they certainly found their man.
Eddie Lynagh has over three decades of experience in Scottish wholesale, and will be well known to many retailers through his time as area manager for Booker.
Eddie retired from his Booker role in 2017 and – after a year spent globe trotting – was back in Glasgow to collect Scottish Grocer's most prestigious award.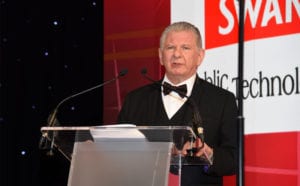 All glittering careers must start somewhere and for Eddie, that first step was to serve as wine and spirits supervisor at Stokes in Blochairn, Glasgow, in the 1980s.
It wasn't long before Eddie climbed the ladder, enjoying a stint at what he once described as "the most gentlemanly company I've ever worked for" – Martex, the wholesale wing of CJ Lang, before stepping up to the plate at Linfood in Glasgow as deputy manager.
Eddie didn't stay deputy for long, and was soon serving as general manager at Linfood. It turns out Linfood was not to last, and the company was snapped up by Booker in 1988.
The change was no bad thing for Eddie and it's through his role as area manager at Booker that he became well acquainted with many retailers still trading today.
Commenting on Eddie's Industry Achievement award win his former boss – and a fellow recipient of the top gong – Booker chief executive Charles Wilson said, on behalf of the whole business: "Eddie has helped hundreds of colleagues and thousands of customers at Booker.
"His passion for customers and for wholesale is infectious. He has also made a massive contribution to the wholesale industry in Scotland.
"We salute you Eddie," he said.
The massive contribution made by Eddie to the wholesale industry of Scotland included two stints as president of the Scottish Wholesale Association – a job that saw him speak for the needs of wholesalers across Scotland, voicing their concerns and working to find solutions in an ever changing regulatory landscape.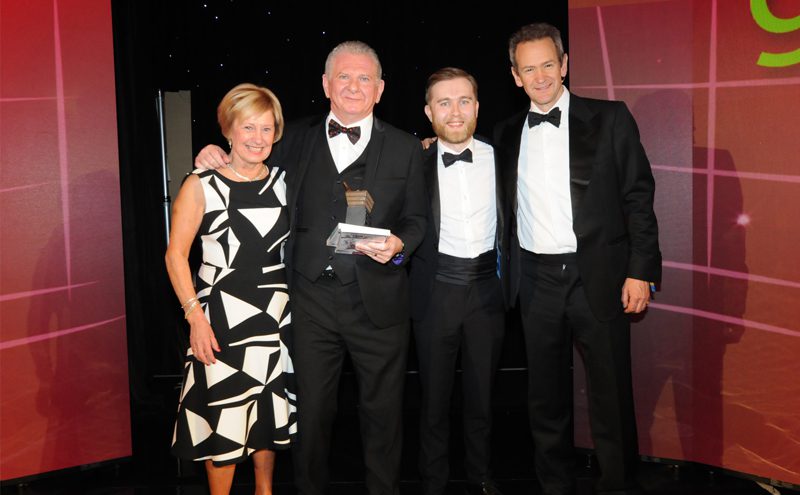 Republic Technologies UK general sales manager Gavin Anderson – who sat on the Industry Achievement Award judging panel – said Eddie was "very much appreciated by all in the SWA".
"Eddie was well liked by retailers, who found him to be fair and always happy to do a deal.
"Suppliers respected Eddie and were always happy to share a joke with him, but at the same time also knew never to cross him.
"At Booker, he was 'King of the West', and well appreciated by colleagues," he said.
Scottish Grocer editor Matthew Lynas said of Eddie: "If there's one thing Eddie gets about running a Booker depot it's that cash and carry is a personal business.
"Always aware that the key to success was to know your customers and know their business, Eddie has been there to steer retailers through it all – from landmark moments at Booker including the launch of Premier and Euroshopper, to keeping stores well supplied when his home city welcomed the world for the Commonwealth Games in 2014."
Collecting his award, Eddie first thanked his wife Liz, "who feels like she worked for Booker for longer than I did", Martin Race, Dick Smith, Warren Thompson and Charles Wilson.
Eddie said: "When Matthew told me he wanted me for this award I was shocked, but very quickly came around to the fact and talked myself into the idea that I deserved it.
"I've been in the wholesale trade for quite a while, circa 35 years to be honest. That combination of front line management and time at the SWA certainly helped me be here tonight.
"Over that time I was helped by a lot of people. All of the suppliers, retailers, wholesalers, not one of us could stand alone.
"We started looking at our customer needs and not our own, all of us started looking for people to work with, not product and price. The proof of that, and those changes, is the retailers who are sitting here tonight.
"I have been lucky enough to judge these awards three times. I remember getting to the last shop once and my colleague said to me 'you know what the worst thing about this is? This used to be a really easy job.'
"But the three times I have judges, the winning shop has been ahead by one point. Not 20, not 30, not 40, one point. And twice it was down to an independent judge to pick. That's the difference in your industry nowadays.
He concluded: "The only reason I stayed in wholesale is the people.
"Wholesale retail is a people-based business. I've made some really great friends along the way and I've had some great times over the years.
"I did some work as well, and I hope I've made some positive changes to our industry."