Graham's launches low-cal ice cream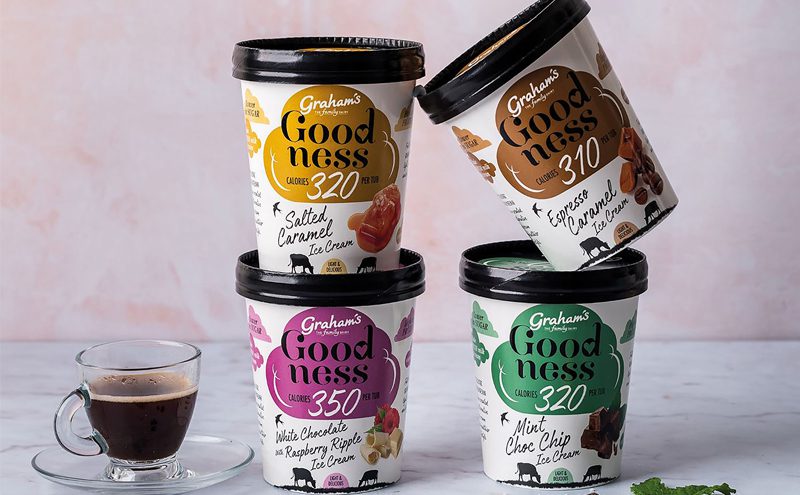 SCOTTISH dairy Graham's has taken a lighter approach to dessert, with the launch of a new low calorie ice cream brand.
Graham's new Goodness Ice Cream range is made with Scottish milk and cream, but boasts calorie counts ranging from 310 to 350 per tub. Goodness Ice Cream is currently available in five flavours: White Chocolate with Raspberry Ripple, Salted Caramel, Espresso Caramel, Mint Choc Chip, and Chocolate with Dulce de Leche.
Robert Graham, managing director at Graham's the Family Dairy, commented on the launch: "Our Goodness range of ice cream is a perfect complement to all our latest high protein dairy products due to their natural, fresh ingredients created by a Scottish family business.
"By choosing our Goodness Ice Cream, you are choosing a tasty, healthier ice cream that is bursting with flavour and nutritional benefits."
Graham added that while ice cream has traditionally been consumed as a more indulgent product, NPD like the Goodness range is opening up opportunities in the "permissible indulgence space".
"By creating new formulations that reduce sugar or fat, or radically reduce the calorie content, there is an opportunity for ice cream to appeal to a new generation of more health-conscious consumers.
"Also, brands who have entered into this market have found success by focusing on a younger audience, however there is a huge opportunity to raise awareness of the low-calorie ice cream market to up to 85% of the population who may have never heard of it," he said.
The new Goodness Ice Cream range is the latest in a flurry of NPD from Graham's, with recent launches including functional-focused Protein 22, Protein 40, as well as Icelandic favourite Skyr.
And, according to Graham, retailers can expect to see even more from the brand in the future.
"Innovation and product development are something we pride ourselves on, so we will continue to create delicious and nutritional dairy products for our customers from all over Scotland, as well as the rest of the UK."
"We hope that our customers will be as excited about our new Goodness Ice Creams as we are."