High spirits at 17th SWA Achievers awards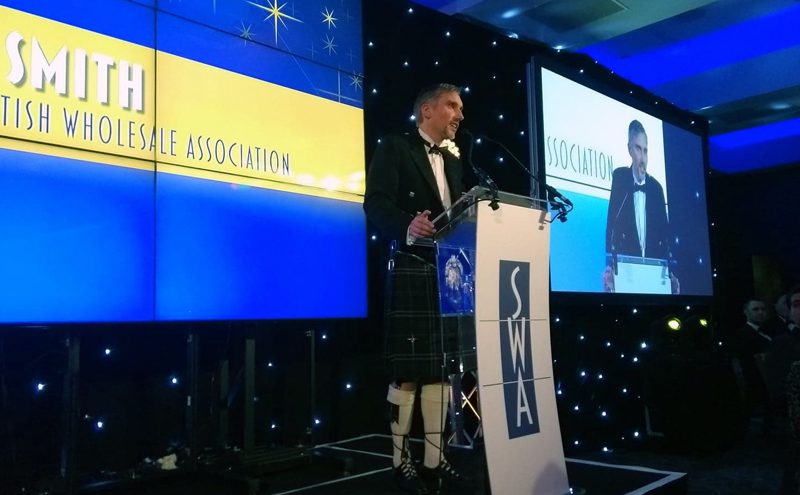 GLASGOW-based wholesaler JW Filshill scooped the top prize at the 17th Scottish Wholesale Association Achievers awards at a gala ceremony held at Sheraton Edinburgh last night (31 January).
The Filshill team picked up the Champion of Champions award at the end of an evening which also saw the firm take home the delivered wholesaler and licensed wholesaler awards,as well as the best symbol group crown for its Keystore fascia.
Staff at Booker Shawfield also had plenty of reason to celebrate after securing the best cash and carry gong — a prize which host Jennifer Reoch described as the most hotly contested category of the night.
Shawfield depot staff member Craig Shand was also named employee of the year, while Linda Fraser of Nestle collected the supplier sales executive award to enthusiastic cheers from the ballroom crowd.
The 2019 SWA Achievers award ceremony marked a changing of the guard for the association, with Colin Smith taking up the mantle of chief executive following the retirement of Kate Salmon, who now serves as a consultant.
SWA president Julie Dunn of Dunns Food and Drink thanked Salmon for her years of dedicated service in a farewell to the outgoing SWA chief executive that brought the audience to their feet.
In his first SWA achievers opening address as chief executive, Colin Smith said: "Success is hard won in challenging times such as these and it's only right that we sometimes take stock and acknowledge the success of our wholesaler and supplier members.
"Since joining the association I've spent at least three months meeting many of you here tonight, listening to the challenges you face and understanding where we as an association can help."
SWA Achievers 2019
Best Licensed
JW Filshill
Employee of the Year
Craig Shand, Booker Shawfield
Great Place to Work
Bidfood Scotland
Project Scotland
Quorn Foods & Scot Serve
Best Delivered
JW Filshill
Best Delivered Foodservice
Bidfood Scotland; Lomond Foods
Supplier Sales Executive
Linda Fraser, Nestle
Best Marketing Initiative
United Wholesale Scotland
Best Advertising Campaign
Bud Light, Dilly Dilly
Best Cash & Carry
Booker, Shawfield
Best Overall Service
AG Barr
Best Foodservice Supplier
Unilever Food Solutions
Best Symbol Group
Keystore, JW Filshill
Champion of Champions
JW Filshill