Toblerone's iconic triangles get festive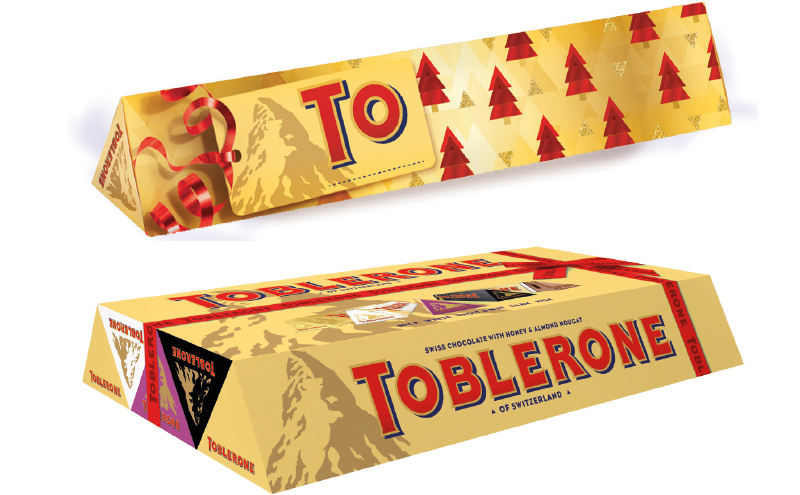 CHRISTMAS is coming, and for many Scottish consumers that means childhood memories of triangular boxes packed with miniature alps.
Toblerone has long been a festive season staple, and this year parent firm Mondelez is adding to the brand's offer with an extensive revamp in time for Christmas, launching two new size formats, NPD and a new brand campaign.
The Swiss-alps inspired chocolate brand is now available in a 200g milk chocolate block and a large 750g block.
A gifting pack has also been released, featuring five 100g bars in a selection of milk, dark, fruit and nut and white flavours.
With personalisation ever popular among consumers, Mondelez has also released a new festive sleeve for its 360g Toblerone bar, which features a customiseable gift tag.

The launch will be supported by a significant investment in in-store activation at Christmas as part of the 'Discover the Tastes of Toblerone' campaign, which is part of the brand's 110th birthday celebrations.
Louise Croft, Toblerone brand manager at Mondelez International, said: "This is the start of an exciting journey for the brand, which will see the Toblerone family expand in 2018 to include a number of exciting new flavours and products for every occasion.
"We're extremely proud of our Swiss heritage and this is reflected in our chocolate.
"It's been 110 years since the first Toblerone bar was produced at our factory in Bern, Switzerland, and we saw this as the perfect milestone to take a look at our Toblerone family to make sure we're still delighting fans in the same way as we were in 1908."