For the latest in our Convenience Conversation series, Scottish Grocer invited a select group of retailers, suppliers, wholesalers and EPOS firms to Dundee for a discussion on all things c-store – and how to stay on top in an ever-changing and challenging retail landscape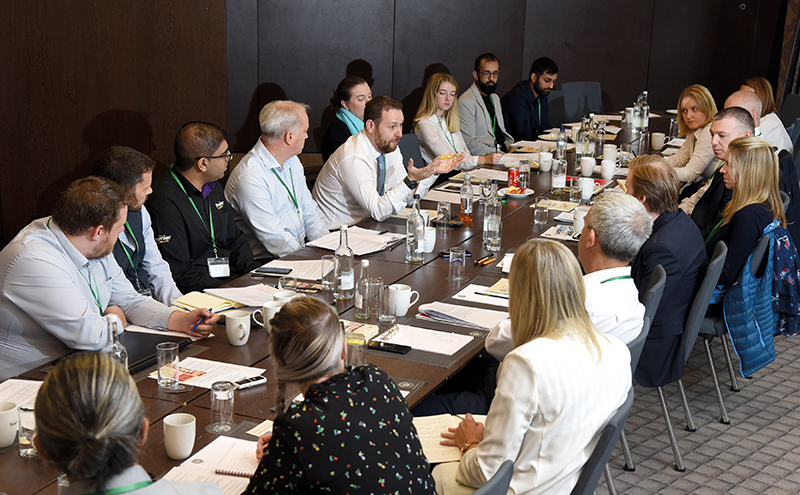 [box style="0″]
THE SG Convenience Conversations programme puts together experts from companies and leading Scottish independent retailers to discuss important issues. It's an extension of the Scottish Grocer Awards and part of Scottish Grocer magazine's work to build communication and best practice in the convenience retailing industry across all of Scotland.
[/box]
As workers put the final touches on the magnificent V&A Dundee last month, Scottish Grocer gathered together retailers suppliers, wholesalers and industry experts across the road at Malmaison hotel to discuss the latest developments in convenience, and address the challenges for the future.
Retailers in attendance were Asmat Saleem of Costcutter Kelty, Faraz Iqbal of Premier Linktown Local, Lindsay Jenner and Fraser Rolley of Eros Retail, Zahid Ullah of Day-Today Kelty/Grocer Online and Saqib Sharif of U Save Touch.
They were joined by representatives from Coca-Cola European Partners, Booker (Premier and Londis), AG Barr, Addo Food Group, The Retail Data Partnership, Strathmore Foods and Highland Spring Group.
The discussion was chaired by Matthew Lynas, Scottish Grocer editor, who got proceedings underway by turning the discussion to consumer trends and the impact of recent legislation including minimum unit pricing (MUP) and the Soft Drinks Industry Levy.
• Brian Eagle-Brown of The Retail Data Partnership (TRDP) gave an overview of convenience performance in recent months, noting that alcohol sales were up "across the board" since the implementation of MUP.
"What was unexpected is that the result of minimum pricing is not declining, but actually increasing alcohol sales. Gin sales are up 90% year on year," he said.
In news that may further disappoint policy makers, sales of full sugar soft drinks also appear to have been largely unaffected by the introduction of the sugar tax.
Brian's TRDP colleague James Loker said that there "had not been a massive impact" from the sugar tax, and that "essentially sugary drinks are doing as well as they always have, and in some cases actually better."
TRDP data revealed that the drinks most disadvantaged by the tax were those that opted for a formula change, with Irn-Bru and Ribena suffering a sales downturn.
• Mark Carlton of AG Barr acknowledged that there had been a "dip" in sales, but said that he hoped that over time consumers would return to the brand.
His AG Barr colleague Georgia Thorne said that following the reformulation she had noticed an increase in the popularity of Irn-Bru Xtra, with customers switching from the normal variety to the sugar free Xtra.
This was echoed by Faraz Iqbal of Premier Linktown Local, who said he noticed that sales of Xtra are now "almost on par with Irn-Bru." "To see that is amazing", he said, "because most of the zero products don't sell anywhere near as much as the originals."
Offering consumers variety seems to have worked well for AG Barr, and food to go is another category where variation is absolutely key.
• Moving the discussion to the lucrative lunchtime market, Lindsay Jenner of Eros Retail said that their success in the category came from offering consumers what their competitors do not.
She said that Eros Retail, which now operates nine c-stores across Scotland, has formed a partnership with premium bakers Fisher and Donaldson in order to offer customers a more innovative food to go offer.
"We sell hot breakfast rolls, as a lot of people do," she said, "and we were originally selling a roll with one slice of bacon in it, and seeing single sales daily.
"We've since moved to a more premium meat product – where we are putting say three slices of bacon, or three sausages into the roll – and we now see triple-digit sales per day.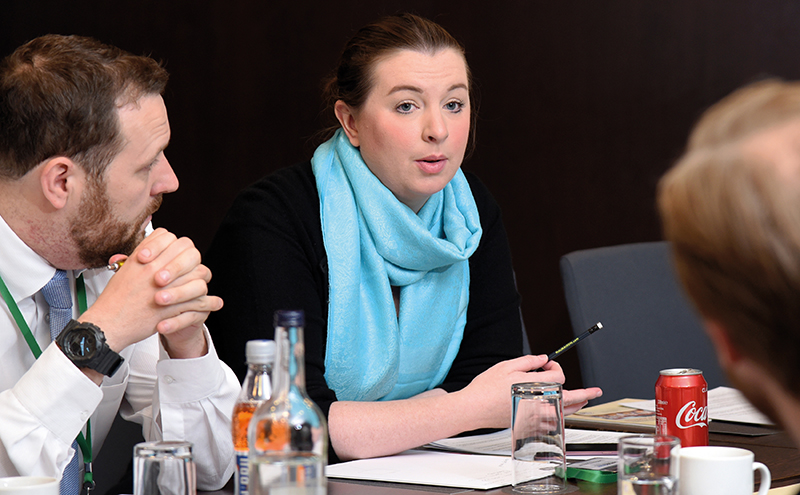 "It's been a huge footfall driver for us. I think where there is something really straightforward, it's about how you do it that little bit differently."
And although they are using premium products, Lindsay insisted that the food to go growth enjoyed by Eros has been seen across both high and low income demographic areas, with a wide range of customers appreciating the quality and convenience on offer.
It's not just quality that's key to food to go success. Mark Allman of Addo Food Group, the firm behind Walls and Pork Farms, highlighted the crucial role of convenience to this emerging category's success.
He said: "It's important to recognise that consumers have only got a limited time in food to go. They are in for one specific mission which is to buy lunch – it's not to buy tonight's tea. So if the product is in the wrong place then that's missed opportunity.
"You have to add innovation into it, but when there is branded support that is another key driver. It is important to have a branded option within there."
Strathmore Foods is another firm that has been working to develop its food to go offer. With experience working closely with retailers to help them improve in this area, managing director Julie Nisbett noted the importance of recognising that each store will have its own individual requirements.
Well-kent for its McIntosh ready meal range, Strathmore, has been investing heavily in packaging recently, to create a food to go pot that meets retailers' needs.
"Its not just a case of taking our current macaroni and putting it in a food to go tray," said Julie.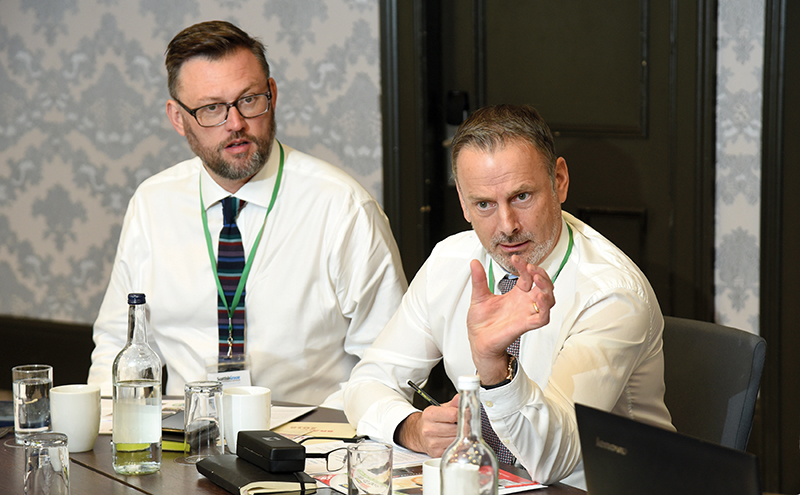 "A big challenge is looking at how the staff are working with the product – its all very well buying it in but how they are actually working with it is key. It's got to be really simple for the store to use."
• Martyn Parkinson, brand director of Premier at Booker, agreed that when it comes to food to go, simple is often better.
He found that in one of his 'latest thinking' Premier stores in England, installing an easy to use bean to cup coffee machine had proven to be a bit of a gold mine for sales.
He said: "We only opened in March, but last week the store sold 612 cups of coffee at £1.49 each. The cost for that is about 51p.
"What's really interesting is that if you look at that one metre of coffee within his store, that is now the most profitable metre in that shop. The retailer wasn't even sure he wanted to do coffee.
"That shows just how big coffee can be, and it's fascinating. When you start looking at who is buying coffee: its teenagers buying hot chocolate, the older generation coming in late afternoon, and then workmen first thing in the morning."
• But while coffee can be undeniably lucrative, Martyn's Booker colleague Martin Swadling was keen to stress that it was up to retailers to make the most of it and really push their sales.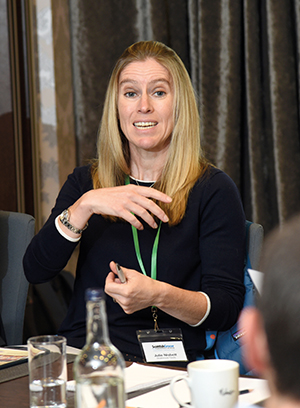 The Londis brand director said: "Putting in a coffee machine is not enough, unless you are lucky enough to be in a very busy area, its about how you drive the customers in every day.
"I think what they've done really well in that store is that they have a loyalty scheme, where if you are a member you get a cheaper cup of coffee every time you go in."
• Loyalty schemes were something that many of the retailers in attendance had been experimenting with – including Asmat Saleem of Costcutter, Kelty.
He said that after initially giving loyalty card customers 1% back, he realised he was "giving margins away" and not achieving any extra footfall.
As a result, Asmat moved to a points-based system, where he works with Costcutter to create a page in his leaflet that offers additional points for purchasing certain products.
"It would be 40 points on a cup of coffee, things like that. It's easier, it's not time consuming. You are giving some money back but also driving footfall on certain products; that way people will start remembering to use their card because you are creating that incentive," he said.
• Although product promotions may be a useful sales driver, Scottish Grocer editor Matthew Lynas pointed out that retailers may soon be restricted on what items they can have on offer, if legislation affecting high fat, sugar and salt items (HFSS) is passed by the Scottish Government.
The prospect of more legislation wasn't one that was welcomed by the retailers present, with Zahid Ullah of Day-Today Kelty/Grocer Online describing the proposed HFSS restrictions as a "stealth tax".
"On Grocer Online, we run promotions on Barr's 2L juice bottles," he said.
"We were going to move towards offering a mixed case for £5, but then the talk started about this new legislation so now we are going to play it by ear.
"The direction we really wanted to go was that the more that a consumer purchases, the better price they get, but now we feel that what the Scottish Government is doing isn't focusing on sugar.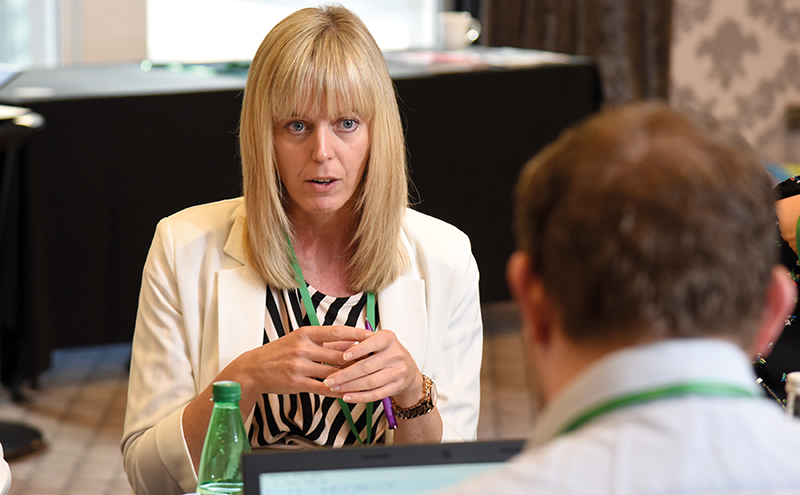 "It just feels like another stealth tax. People aren't buying multipacks to consume it all at once, they are just buying smart because times are tough.
"I personally think it is completely unfair on customers. I feel that there is so much pressure on the consumer, and businesses, that I think this move by the government will affect the sector in a negative way."
• Gordon McSkimming of Coca-Cola European Partners, echoed this sentiment. He said: "There's probably not a retailer in the room who would welcome even more legislation.
"Everyone will accept that there is a problem with obesity, with health, diabetes and everything else – but the solution isn't legislation, it's education."
When it comes to the legislation that the Scottish Government has already introduced, the consensus of those present was that minimum unit pricing had not had the desired health impact that the government would have hoped for.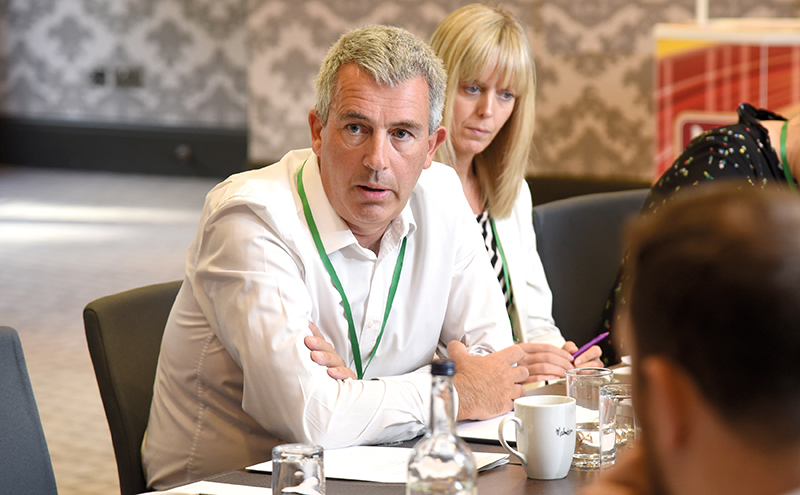 Zahid said that in his store, MUP "hadn't reduced alcohol consumption at all."
"Out of all the alcohol products," he said, "there's maybe three products that it has affected how much we sell."
Lindsay Jenner of Eros Retail said she found that MUP had actually been beneficial to their margins, by creating a higher retail price without changing the cost price.
And, she said, it had helped put c-stores "on a level playing field with the big multiples."
For Martyn Parkison of Premier, MUP had been the "best news" that his retailers have had in the last six months.
"I'm unsure what the government were aiming to achieve but it's increasing the overall margins, and retailers are getting double digit sales increases," said Martyn, "What do we say? Bring it on down south. It absolutely has made it a level playing field."
• Premiumisation is another key issue in the alcohol industry, with Saqib Sharif of U Save Touch noticing an uplift in sales of craft beer in his store.
"I think people are looking to try different things," he said, "they don't mind getting one or two bottles of something more specific and enjoying it.
"I've touched upon it in my store and I will be looking to increase it. It's about getting different products in and making people aware that we do stock these new brands."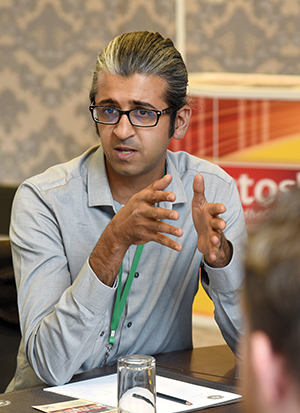 • As well as looking for a more premium quality in their purchases, modern consumers are increasingly environmentally-conscious.
Moving the discussion into the issue of plastic and recycling concerns, Nichola Grant of Highland Spring gave a presentation detailing the steps the bottled water brand has been taking to improve its environmental credentials.
Grant discussed the trial of a 100% RPET 'Eco Bottle' that had taken place this summer, and said that Highland Spring had examined what demographics the eco-friendly packaging was most popular with.
"It doesn't suit everyone, it does need to be a targeted roll out plan, but we have ambitions to introduce more RPET over the next few years.
"It will be a combination of us putting a recyclable product into the market, and encouraging people to do the right thing with it."
With retailers present, any discussion of recycling inevitably turns to DRS, and those in attendance in Dundee expressed concerns around the approaching introduction of deposit return in Scotland.
Fraser Rolley said that after taking 18 months to find just one metre of space to put an ATM in Eros Retail's Alloa store, he was worried about the logistics of DRS.
These concerns were shared by Faraz Iqbal of Premier Linktown, who said that "the problem is finding the space."
"Do I have room in my store? Not at all. We also can't do DRS for free, it's going to cost us money. But then not doing it could obviously work against us, and it might take customers away to the supermarkets. I think if it's done across the board, that will help."
Manufacturers also raised concerns over the practicalities of DRS.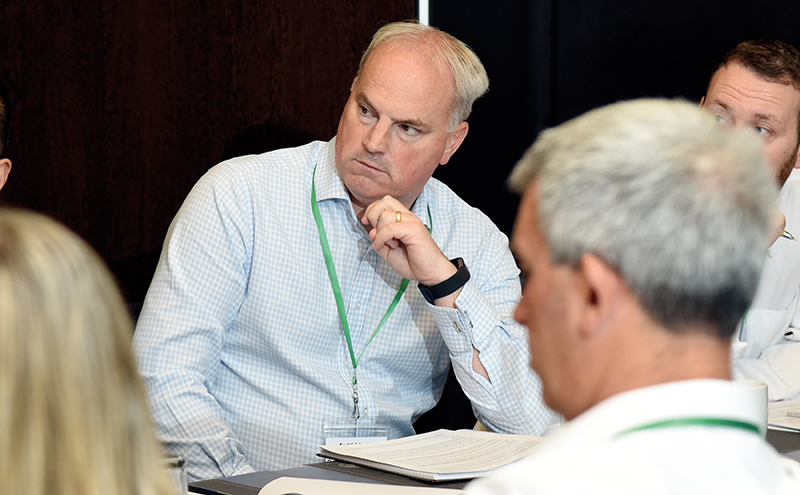 Gordon McSkimming of CCEP said that contrary to criticism of PET packaging, there was "nothing wrong with PET itself."
"It's just the way that people treat it," he said. "PET has 25% of the carbon impact of either cans or glass, if you consider the way can or glass manufacturing causes a lot of heat.
"We think DRS is the right thing to do, but only under the right circumstances. If it is a badly designed system it could be very detrimental to the category.
"But as a principle we are very keen to support it and we think it is entirely the right thing to do."
Julie Nisbet of Strathmore Foods said that she would like to see the recycling plants make life easier for manufacturers by recycling a wider range of material.
She said: "Recycling is definitely on our agenda, but when it comes to black plastic, how I understand it, is that black plastic is actually recyclable, but the plants in the UK can't recycle it."
"So that's a big project. We need to be educated from the recycling plants."