Low sugar and protein popular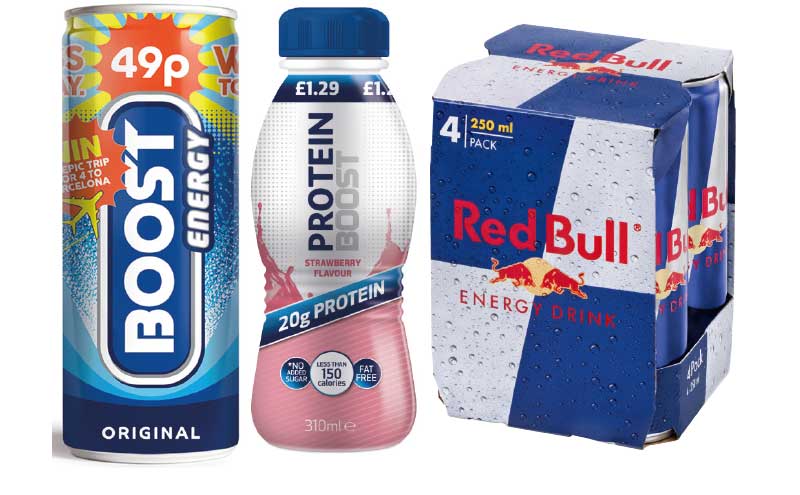 ONCE the preserve of the fitness fan, sports and energy drinks are now bought by consumers of all activity levels and none.
However, the recent introduction of the sugar levy means manufacturers are having to box clever to protect their products' place in the soft drinks market.
"Overall, the category remains strong with the market currently worth £1.48bn, with the sports and energy categories leading the pack with 31% of total market sales," says Simon Gray, founder and managing director of Boost Drinks.
Mark Bell, strategy and planning manager at Red Bull UK agrees. He said: "Overall, sports and energy is growing 5.6% in value and 5.8% in volume."
Bell went on to say that Red Bull exceeded this growth, with a rise of 8.4% in value and 12% in volume.
He continued: "Alongside energy, customers are demanding a sugar free alternative.
"Growing at 7.1% to £31.9m Red Bull Sugar Free 250ml is the number one low calorie sports and energy drink in the UK."
Boost's Gray said that, as well as low sugar, the protein drink category continues to perform well with health conscious shoppers.
Protein shows no sign of slowing in popularity as the customer looks to have access to healthier alternatives.
He said: "Protein shows no sign of slowing in popularity as the modern customer regularly looks to have more access to exciting but healthier alternatives to their everyday soft drink.
"Boost Protein delivers the great protein taste and quality that consumers are looking for, but at better value than other options on the market."
This summer Boost is running an on-pack competition with weekly prizes and a trip to Barcelona on offer.
Gray explained: "The competition has been designed to be as simple as possible.
"Purchasers simply enter the code from their can to be in with a chance of winning the top prize as well as daily and weekly giveaways such as smart watches and shopping vouchers."
Gray added that Boost likes to work closely with retailers to offer advice and learn about what works best for them.
"With the introduction of the sugar levy this year we want to reassure retailers that we're constantly looking at ways to introduce new products and campaigns that both they and consumers will love," he said.
"We've reformulated our energy range to 4.9g of sugar per 100ml in response to the levy but ensured we've kept the same taste."