Repeat purchase driven by quality paper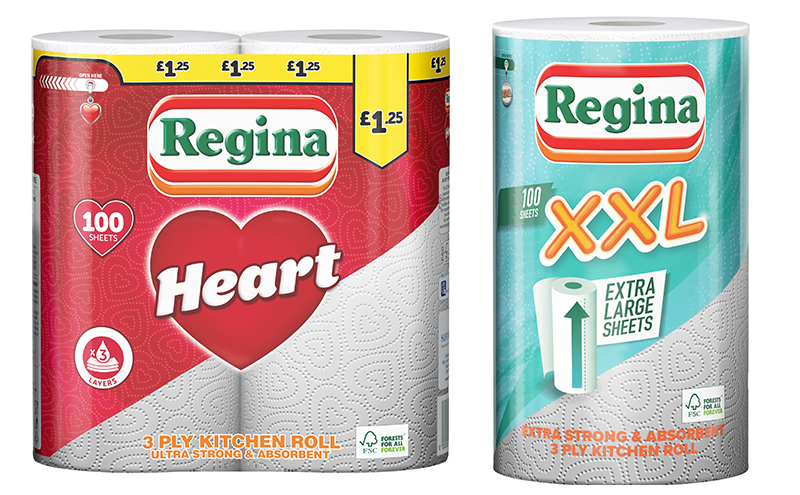 THERE are few categories that can boast the penetration of household paper, with big-name brands to be found in just about every home in the country.
Despite this, not all c-stores are hitting the mark when it comes to their household range according to producers, but room for improvement also means room for increased revenue.

Commenting on the current performance of household paper in c-stores, Adam Grey of Sofidel, the firm behind kitchen towel brand Regina, said one of the main difficulties facing the sector is a shift from retailers towards cheapest-on-display kitchen towel options.
He said: "The most popular pack formats in convenience stores are the cheapest-on-display products.
"The belief seems to be that under-cutting the major retailers in terms of price will help to grow sales but this isn't being reflected in convenience store performance."
According to Grey, c-stores that ignore the big brands in favour of cheaper alternatives are potentially sacrificing one of their biggest assets, the ability to provide consumers with what they want, without having to drive to a supermarket on the edge of town.
"Convenience stores, by definition, deliver local convenience to consumers," said Grey.
"They provide straightforward 'top-up' and distress purchases and whilst good value is a key to driving sales, cheapest-on-display products often sacrifice quality to keep prices low."
Regina Wish is targeted at shoppers who want to have greater versatility in how much paper they use.
Rather than disappointing with poor quality paper, Grey suggested retailers focus on value as a means of driving repeat purchase.
"Strong value for money is important but without the products meeting consumer expectations of quality, repeat purchase is highly unlikely," he said.
When it comes to current trends in the category, Grey named larger sheet formats as the top dog in terms of growth, and the firm highlighted how NPD in the Regina brand has been rolled out to meet this demand.
"We are most excited about larger sheet sizes. Currently the products with the highest levels of growth are of a larger nature with bigger sheet sizes.
"Larger sized products, including Regina XXL and Plenty's Big One, are also showing strong year-on-year growth; but with the increased size
being a clear trend, wastage of product becomes a concern for eco-conscious consumers.
"In response to a more sustainability conscious trading environment, the Regina brand has launched Regina Wish.
"This new product is targeted at shoppers who want to have greater versatility in how much paper they use and waste less."
"This is achieved by taking the larger sheets that Regina is known for and creating "handy sized sheets" by cutting them in half," he said.