[box style="0″]
Winner details
Staff: 6
Symbol: Day-Today
Ross MacPherson and Mandi Duncan opened their first store in Barassie, Troon in 2016. The store was named Confectionery Retailer of the Year in 2017.
Before owning the business, Mandi Duncan was

first employed as the Saturday girl at Barassie Day-Today 17 years ago.
Before turning his hand to retailing, Ross MacPherson built up an impressive wholesaling CV, including a 17 year stint at JW Filshill.
Staff at Doonfoot sister store Barassie Day-Today recently made waves with crisp manufacturer Walkers. The team picked up a national prize as part of the brand's 70th birthday celebrations after submitting a video of staff members in fancy dress dancing down the decades.
Doonfoot Day-Today has enjoyed a stroke of luck recently thanks to a nearby housing development expanding its plans from 500 homes to 800.
[/box]
WHAT do you do when you've had a shop for one year, massively increased turnover and set yourself up as a pillar of the local community? If you're Ross MacPherson and Mandi Duncan you pick up a second store and do it all again, with similarly impressive results.
Following a successful year at first store venture Barassie Day-Today, Ross and Mandi made the leap to a second site, taking on a Spar store which had seen better days in nearby Doonfoot.
One year later and the resurgence is well underway at the rechristened Doonfoot Day-Today, as Ross explained: "Since we've opened up, we've trebled our sales for the year to date.
"So we're going the right direction, the feedback is brilliant and the footfall has trebled as well. Basket spend is up, everything is up."
For anyone who has popped their head into Day-Today Barassie, Ross and Mandi's success at their Doonfoot store shouldn't come as much of a surprise, and the pair have been wise enough not to reinvent the wheel with their second site.
"We took the mould from Barassie and basically extended it into here," said Ross.
"The stock is almost identical. Barassie does more craft beer, here we've got a slightly bigger soft drinks chiller. We've given water a full bay here because we felt with the nearby park area and the beach there was more demand, but it's a similar mould; it's the same challenges."
Part of Ross and Mandi's model for success is undoubtedly the community focus present at both stores, a focus which was there right from the get-go in Doonfoot according to Ross.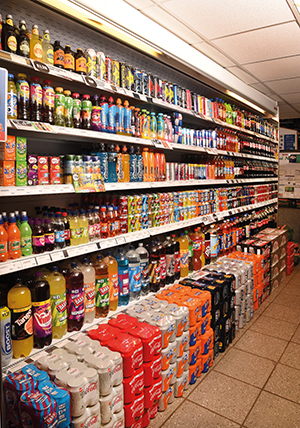 "When we bought the shop we gave away £1000 worth of old Spar stock to the food bank the next day. We just took Spar out of the shop, a lot of people might try and sell through but we just thought clear out, give it to a food bank, and we got some social media from that.
"We also sponsor a local church, we sponsor a local fire station, and we sponsored a nursery all in the first three months.
"We've just sponsored another nursery, schools get funding for food for kids but nurseries don't get funding so they're saying that to feed a kid or to snack a kid it's £25 a week."
Despite the similarities in approach, the two stores do differ in catchment area. While Doonfoot Day-Today does attract a bit of a mixed bag there are plenty of affluent locals but, with competition from a nearby Co-op, Ross said they have elected to build a reputation for quality products at a fair price.
"We're in an area where we probably could go without price-marked but we feel it just gives the customer that understanding that we're not ripping them off, that's the price the supplier has put on," he said.
Quality was definitely high on the agenda for Scottish Grocer judges who left Doonfoot Day-Today so impressed they named the store Best Soft Drinks Outlet of the Year, supported by Coca-Cola European Partners, at this year's gala event.
A quick scout around the well-merchandised and easy to navigate aisles of Doonfoot Day-Today feels a bit like a masterclass in effective point of sale. That attention to detail extends to the chiller where Ross and Mandi stock a range that's as broad as it is well-presented, an impressive feat given the store's limited space.
I think London will spike on it and it'll come to us but we're doing well.
"We're lucky enough that chiller is big enough to carry everything. The girls might have to fill up more than they want to because there's only two facings on the fastest sellers but it works," said Ross.
"In an ideal world everything would have a double facing. We probably have too much of some things but we do go through our EPOS data. Everything scans, everything is in the system
"We can burn off top sellers, check by category, go through it all and if something is not earning its place we sell it through and weed it out. We have no dead stock in the chiller. There's nothing that's not turning over whether it's one a week or a case a week."
One element of Ross and Mandi's soft drinks range that stands out is the commitment to low and no sugar products. An abundance of facings have been given over to Coca-Cola's various Zero products, there's plenty of space for Irn-Bru Extra and other low and no sugar alternatives, a conscious decision according to Ross.
"We're focusing both shops on the zero sugar. So with Coca Cola and Barrs, it's what everybody wants you to go into," he said.
While Ross and Mandi have voluntarily increased their range of low and no sugar soft drinks, the pair have been forced to amend their meal deal offer thanks to the sugar tax.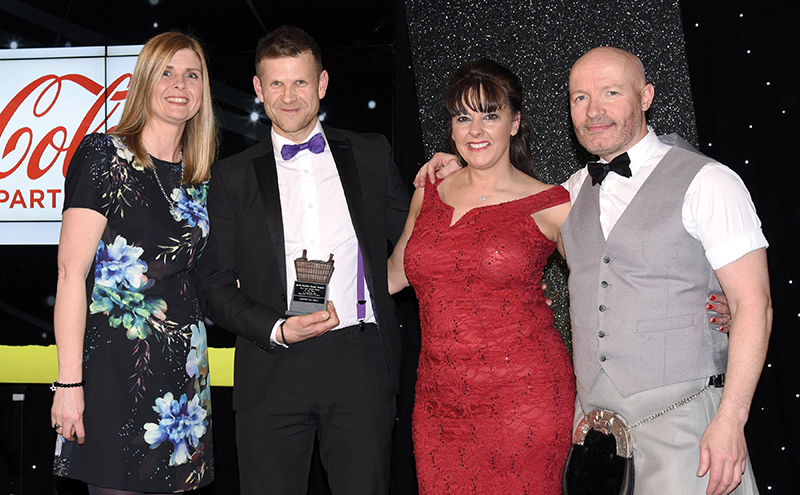 "We did have shop talkers out, the price was £2.50 but then suppliers put their prices up and the sugar tax came in so we're up to £3 now. It was a hit at £2.50, it was only giving us something like 10% margin," said Ross.
The sugar tax may have hit the meal deal but Mandi reckons the impact of the measure has been fairly limited when it comes to customer perception of pricing in the store.
"I've never had anybody pull me up about it at all in either shop. They don't realise," she said.
Customers definitely seem to be satisfied with the soft drinks range on offer at Doonfoot Day-Today, but Ross and Mandi have no intentions of resting on their laurels as the pair prepare to jump on the cold coffee trend by installing frappuccino machines across both sites. It's a decision that's built of the back of solid cold coffee sales from the chiller and an awareness of trends south of the border
"I think London will spike on it and it'll come to us but we're already doing well," said Ross.