E-liquids have enticing margins but it's a jargon loaded category that can confuse many. Naeem Khaliq of United Wholesale (Scotland) reckons his vape rooms offer an answer for c-stores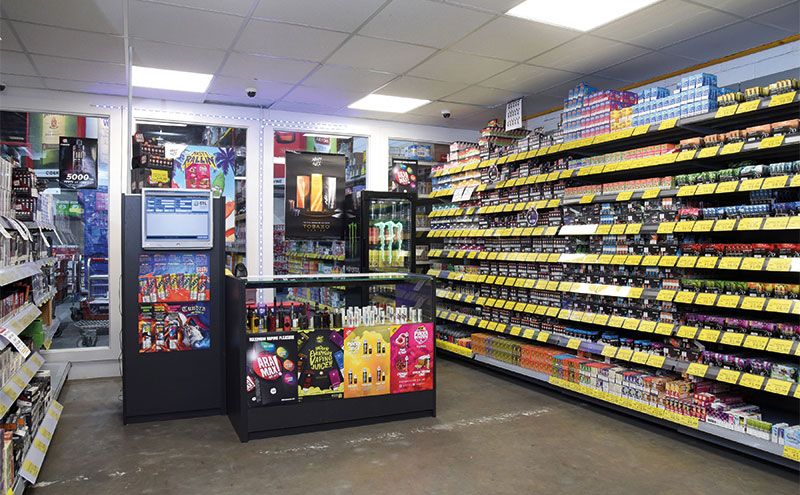 TOBACCO is yesterday's news. That's the attitude of an ever growing number of e-cigarette consumers across the world who have already spawned an entire sub-culture around vaping.
And the explosion in popularity enjoyed by e-liquids and vaping hardware hasn't gone unnoticed at United Wholesale (Scotland), which now boasts rooms dedicated to the category at its Queenslie and Maxwell Road depots.
Naeem Khaliq, UWS's buyer for the vapes category, said the decision to expand e-liquids from a small facing within tobacco to a dedicated room was taken in autumn 2016 and since then the team has done a fair bit of learning which they're keen to pass on.
"We're a convenience channel, that's our channel. But regular stores, they need a lot of education because many of them don't understand vaping," said Naeem.
"For retailers, it's a big challenge, but we have a long-term plan to educate them because tobacco sales are going down.
"You could be losing 10% a year in tobacco sales and that can be a big chunk of a convenience store's turnover."
Tobacco sales may be declining for many, but Naeem reckons e-liquids represent a huge margin opportunity, which is a key point he's trying to communicate to convenience retailers.
"For retailers, we're highlighting the margin for them. This is where the money is at. When you look at the standard e-liquids that normal convenience stores are selling – say Edge – Edge is sold at £2.50. We're selling a single bottle of Edge at 79p plus VAT which works out at around a pound. So you buy at a pound and are selling for £2.50. That's £1.50 in your pocket."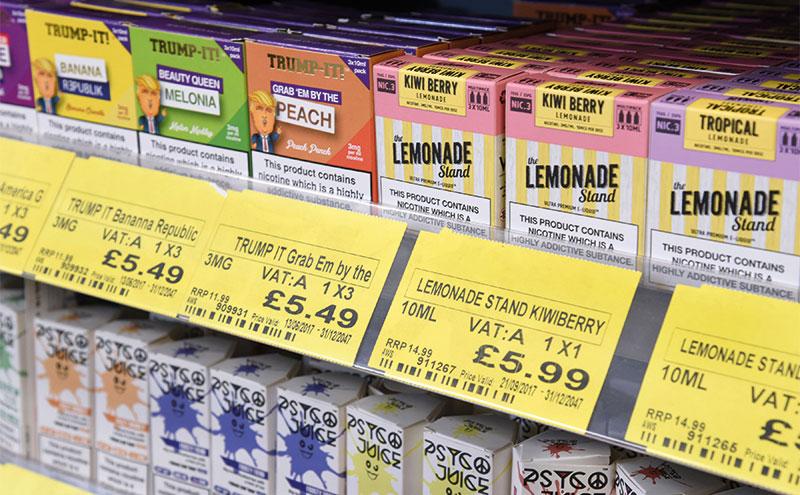 The margin might be there if you can sell it, but consumers who are new to the category can be just as perplexed as retailers stocking e-liquids for the first time. To combat this, Naeem offered advice for retailers on how they might go about introducing the category to customers.
"If a customer comes in you can ask, 'how many cigarettes do you smoke?'. They might say '20 a day' and so you can start them on a high nicotine liquid. So we look at high nicotine, see what flavour they like and from a smoking cessation point of view you can then wean off by lowering the strength of the nicotine going forward. That's the process."
It's not just current and ex-cigarette smokers who are turning to e-liquids, there are plenty of consumers out there who have come to the category for the weird and wonderful flavours on offer.
And the market has responded to meet this demand according to Naeem, who said it's the brands with the most bizarre names that sell best.
Brands making waves in e-liquids include Debang, Nasty Juice, Chubby Wrong-Un, Donky Piss, Psyco Juice and Trump-It.
Such a broad range of brands and flavours may appear off putting to some, but Naeem wants to encourage retailers from across the board to visit UWS and take up the expert advice on offer.
"We're supplying basically anybody in the convenience channel," he said, "You can be a Day-Today shop, a Spar, a Booker symbol or an independent. You can come to us and there will be a dedicated specialist here with a background in the category."