As one of the country's first KeyStore More retailers, Garry Haigh of Peterhead is heading into 2018 with a new shop and loads of ideas.
IF there's a word that best sums up Garry Haigh, it's 'enthusiastic'.
His family's business, Peterhead Motors, was founded 30 years ago as a forecourt, workshop and car showroom.
Around two decades ago, his father took the decision to close the very successful showroom, replacing it with a cafe and Spar shop.
Assuming responsibility for the running of the business last year, Garry knew he wanted to take the retail side in a different direction, and made the switch to his secondary supplier, JW Filshill.
"Filshill was the natural choice because we had been dealing with them for a while," he said.
"We didn't want to sign up with another wholesaler and become a small fish in a big pond. Groups were being bought over by other groups, we didn't know what was happening or how things were going to play out.
"I see a future with Fillshill. The service is great. I didn't really know anyone there to begin with, but now they're like family. I turn 40 in January and a lot of the management team are around my age. We've all got ambition, we all want to take the business further."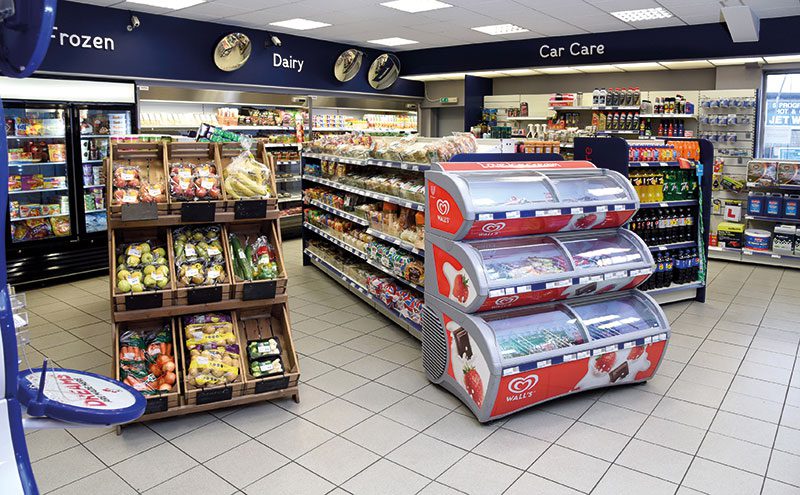 At the time KeyStore More, Filshill's new premium fascia, was mooted, there was only one store, in Wick. But Garry liked the sound of the concept, which is built around a range of fresh and chilled products, food to go and local or Scottish products.
"The thinking was that our store could be a bit of a flagship for the north east – something easier for retailers from Aberdeen and Dundee to come visit," he said.
The new store was designed by Garry, his brother and Fillshill, with the shopfitting carried out by Cruden's Contracts, resulting in a transformation that has wowed customers and opened up a host of new opportunities for 2018 and beyond.
Among these is craft gin, which has its own fixture in the alcohol section – a suggestion from Filshill's retail sales director Craig Brown.
"It's been really, really good," said Garry, who has been promoting specific brands as his 'craft gin of the month' on Facebook – and outselling some supermarkets.
"I just keep hyping it up. We had Gordon's Pink Gin, which started as an exclusive to Tesco, before Filshill got it. I advertised it – Tesco price £16.49, KeyStore price £14.99, and for October, with us, it was at £13.99 – and I sold cases upon cases of it. I sold 15 bottles of craft gin between 2.30pm and 6.30pm just on Friday night.
"And it's not just the gin, because they're also buying tonics, soft drinks and ice. It all adds up.
"We very rarely now have a customer coming into the store who buys one item. They'll always pick up at least two or three. We had a woman the other day came in to buy a jug of milk. Before she knew it she'd filled a basket and walked out £27 lighter."

Another category to have received a lot of attention from Filshill and doing well in store is craft beer. And again, Garry's proactive approach has made the difference.
"I went along to a beer festival at a local hotel and met a whole lot of craft brewers, including Brew Toon, which is a new brewery opening in Peterhead. We're selling 12 to 18 cases of their stuff a week.
"They're trying to get into pubs and other places, but using me as an example to show how well their stuff does."
He's also now sitting a certified beer server exam with Brewdog staff.
"The biggest advantage with that is I'll be able to recommend craft beers to customers according to their preferences and tastes. That's something the multiples will never be able to offer."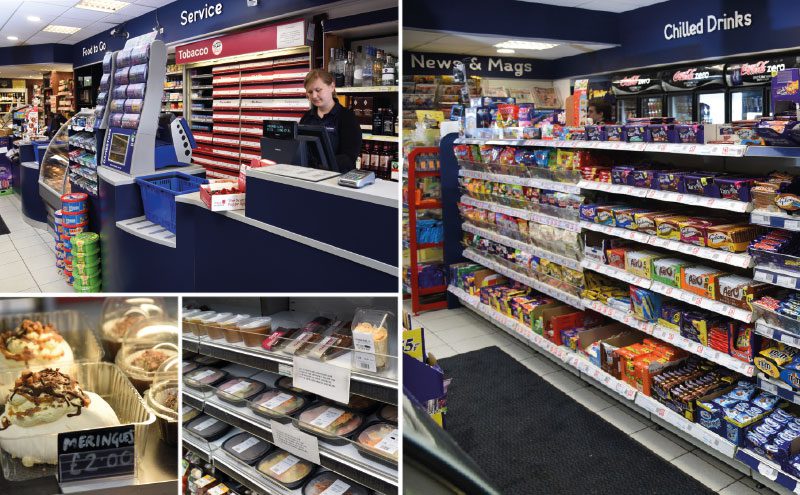 Another category new to the store – the success of which has surprised even him – is protein and fitness supplements.
"We went big on Facebook with them," said Garry.
"Plus, I went round every local gym, showed them the range I'd taken in and asked if they'd share my post on their Facebook pages. So all the gyms now have a post on their page with photos of my supplements section, prices etc.
"The gyms have told me what brands to get in and I'll post on Facebook to say I'm putting an order in and all the weightlifters tell me what they want. It's gone so well that I'm tripling my space allocation. People are coming in and buying so much stuff I'm having to place two orders a week. They never pick up one thing. They get heaps and heaps."
Garry's enthusiasm is driven in part by a desire to differentiate his offer from the likes of Aldi, which is opening a new store at the end of his road this year.
He said: "I know other retailers are facing the same thing.
"I think you can handle it in two ways. You can panic and start scaling back or you can embrace it and look at it as a challenge."
With the store he has now – and many plans for the year ahead – he's feeling confident about the future.
He said: "For the first time in a long, long time I'm wishing I had a bigger shop. How many retailers can say that?"