Roy and Theresa McIntosh are bitten by convenience bug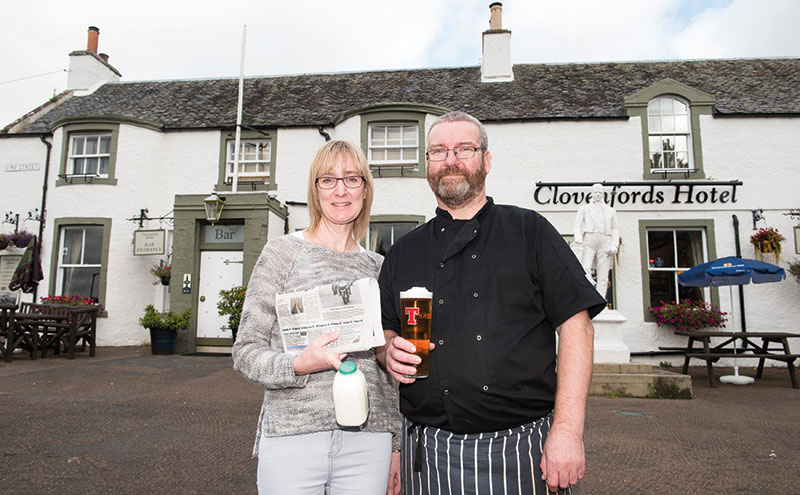 A publican who stepped in to provide everyday essentials for locals when his village shop closed has been so taken with the grocery trade that he is now planning to re-open the closed shop before the end of the year.
Roy McIntosh and his wife Theresa had been running the Clovenfords Hotel in the Borders village of the same name for two years when they found out that the local village shop was to close, in January this year.
They initially enquired about renting the store and keeping it active but could not reach agreement with the previous owner, so they turned their attention to providing a local store service from the hotel.
Roy said: "There are around 1,000 people, predominantly pensioners, in the village and the nearest supermarket is four miles away so we felt we had to do something to help.
"We started by looking to do papers, but things developed and now we offer a full range from milk and bread to pet food."
Roy and Theresa turned the conservatory at their hotel into a dedicated shop space by installing shelving and fridges at an overall cost of around £4,000, partly funded by Pub is the Hub, and are now attracting around 50 customers a day.
The footfall has been so good that the enterprising couple have added local crafts such as candle and jewellery to their stock. And they have opened a tea room.
Roy said: "We aways did teas and coffees but the increased numbers since we added the shop made it worthwhile setting up a proper tea room.
"And the businesses all feed into each other. Someone might come in for a paper and stay for a coffee or maybe someone doing their shopping will stop for a pint."
Theresa runs the shop and the couple are looking at taking on another member of staff.
But Roy's c-store ambitions don't sop there. He aims to re-open the empty village store and has been talking to Booker about making it a Premier Express. And he has invested in 10 market stalls to run a monthly market in the grounds of the hotel.
Theresa and Roy said they would recommend the local store within the pub idea to anyone who has the space.
The shop is open from 7.30am to 6.00pm Monday to Friday and from 8.00am to 4.00pm on Saturday and Sunday.