Winner: Spar, Renfrew
The Dairy Award (Independent Store)
Sponsored by: Müller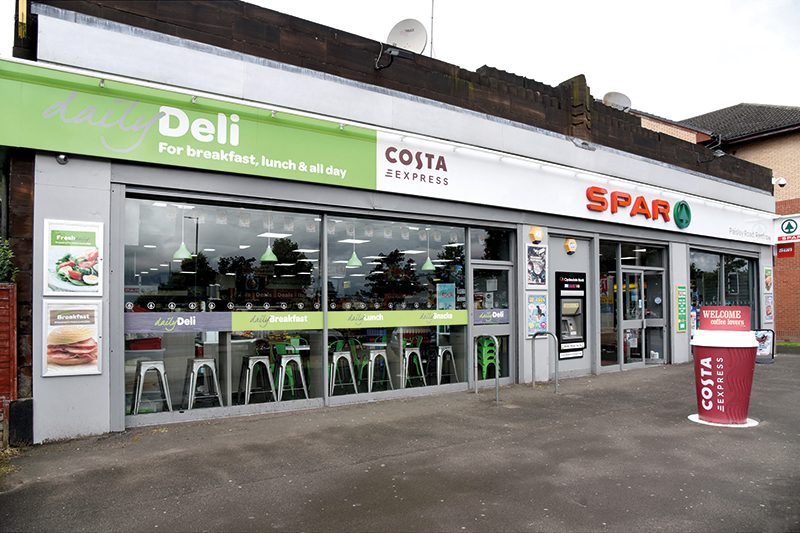 Winner details
Store opened: 1994
Chilled range: 20 metres
Franchises: Daily Deli, Costa Express, F'Real, Stone Willy's Pizza
Saleem Sadiq started his retailing career in 1984, returning to the family business after earning a University degree. His family runs four stores in Glasgow and the surrounding area.
Eager to make the most of the latest technical developments, Saleem is investigating ways to introduce digital loyalty schemes and ramp up his social media activity.
Following a major revamp in December 2016, Spar Renfrew now offers a Daily Deli food-to-go concept. The store previously housed a Chicken Cottage but Saleem thought it was time for a change.
Spar Renfrew is one of two Scottish stores in the symbol group trialling American milkshake concept F'Real. The chilled drinks machines have also been rolled out to around 70 Asda stores across the UK, however the US firm appears to be interested in breaking into the convenience market.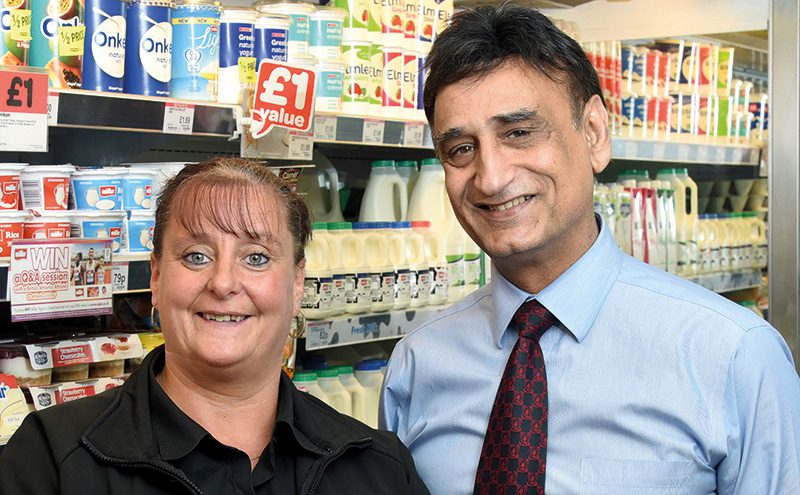 WHEN Saleem Sadiq took the reins at Spar Renfrew in 1994, the store had an underwhelming two metres of space dedicated to chilled and dairy, a state of affairs that was swiftly remedied.
Saleem, whose family currently runs four Spar stores in and around the Glasgow area, said experience from running the Spar in Duntocher meant he knew straight away that things had to change.
"We went from two metres to five metres immediately, and within a year I think we doubled that again, and by 2010 I think we were running at 15 metres. Today I think it's more like 20," he said.
Spar Renfrew's impressively large chilled area helped the store secure the Dairy Award (independent store) at this year's Scottish Grocer Awards, though as any retailer will know – it's not just the space but the way that you use it that gets results.
At the moment, Saleem said the store allocates around two metres to milk, with another metre and a half to yogurts, as well as a further two metres dedicated to butter and cheese, with additional chilled space stocked with fresh and packaged meats, an area of growth for the store.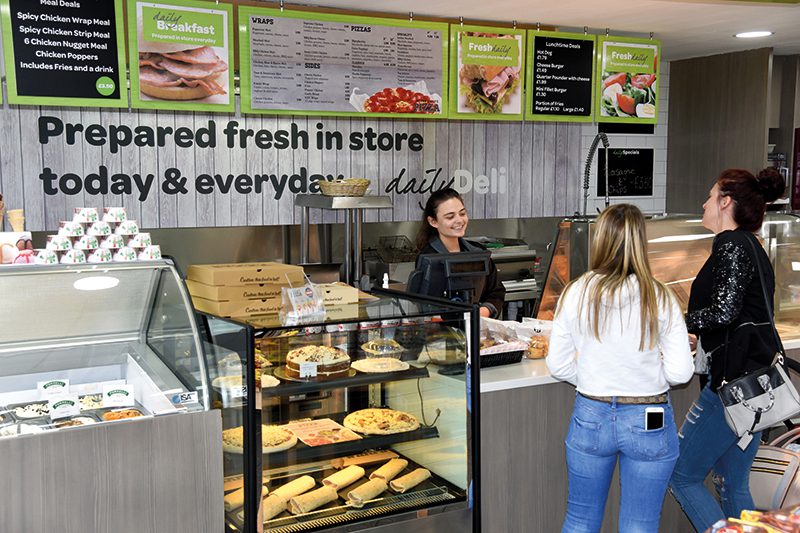 Positioning is key, and Saleem said he uses his dairy range to entice customers to shop the whole store by encouraging them to head to the back.
"Milk is really at the furthest corner of the store. We experimented with moving the milk forward. It probably helped the milk sales but it killed off sales in the area at the back, so now we're deliberately channelling people that way.
"That's what the likes of Asda and Tesco do, they do exactly the same thing to try and make people go to the back."
It may not be front and centre of the store, but dairy sales do not appear to be suffering from their location as Saleem reports the category is on the up and up.
"Our dairy has gone up about 12% year on year, but then, with that going up, grocery is going down. Tinned and packaged grocery is falling. The other increase obviously is frozen food, people prefer to buy that over tins," he said.
While shopping habits are certainly changing, some things do stay the same. Semi-skimmed continues to be the best-selling milk format at Spar Renfrew, although Saleem remembers some resistance when the green caps were first introduced.
"I remember when we moved from blue milk to semi-skimmed and there were so many write-ups saying 'they're skimming the cream off, they're making butter out of this, you're really paying for water."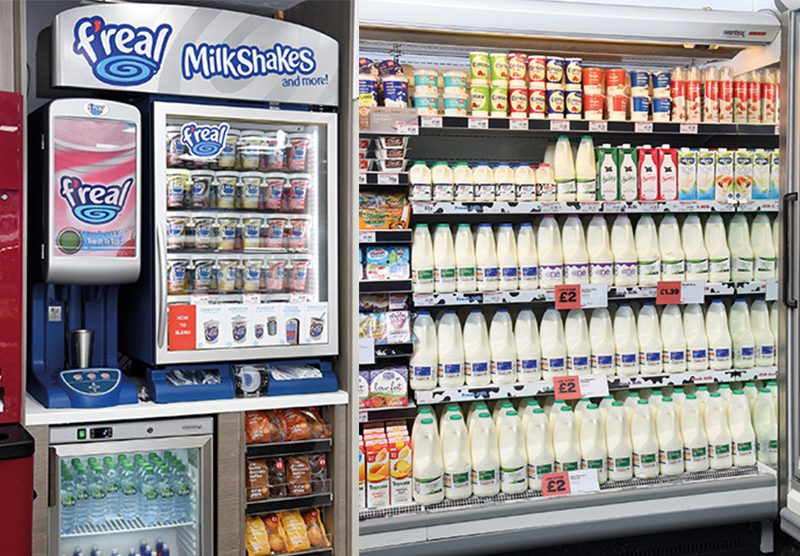 Now, however, Spar Renfrew supervisor Angie Gibson said the store has even seen an uplift in sales of red-topped skimmed milk as shoppers increasingly think about their health.
The fashion for all things healthy has definitely affected the dairy category in Saleem's view, as more and more customers seek out drinks that offer more than just flavour.
"The health drinks, the protein shakes, they've started taking off, they're much bigger than they used to be," he said.
"In terms of health, ten years ago we didn't sell any water and now the volume of water we sell is unbelievable especially for a country like Scotland where there's no real need for people to buy water."
The health focus hasn't just impacted on the dairy offer, it's also fed through into the most recent revamp at Spar Renfrew which saw Saleem radically alter his food-to-go offer in December 2016.
As fried food takes a hit in popularity, Saleem dropped his Chicken Cottage offer and has instead opted to run with Spar's Daily Deli concept, a move which he said is proving popular with customers from all walks, be it local mums or hungry students. The change to the food-to-go offer hasn't just seen Saleem swap fried chicken for salad, sandwiches and wraps. He has also introduced free wi-fi and USB charge points, an improvement which he said works to keep customers dining in his store for longer.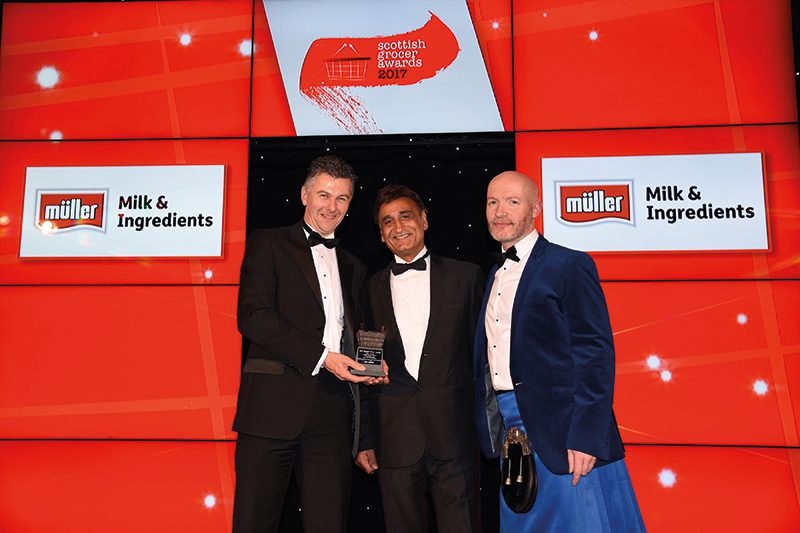 And despite only recently revamping the food-to-go offer, which was further added to with the introduction of Stone Willy's pizza this summer, Saleem has plans for even more improvements to the store, with new technology at the heart of possible changes.
"We really want to venture into social media more because I think we seem to be wasting a lot of money, time and energy on leaflets when you maybe get more traction by doing social media, but it's taking up more of our time to do that.
"We are hoping to work with two companies, one is called Capture, they will do my hot food side, we will hopefully capture customer data and get them into loyalty schemes and use that data to target them. The other one is Zapper, we're going to introduce Zapper here."
Dairy has also been the subject of new-tech improvements in store, as Saleem's is one of only two Spars in Scotland participating in a trial for American milkshake brand F'Real. The F'Real milkshake machine, which sits alongside a recently-installed Costa coffee-to-go machine, lets customers choose from a range of three chilled milkshake flavours, and things appear to be going well so far.
"We obviously do the case study for them and they'll decide. But it's actually doing really well. It's very similar to the coffee machine concept," he said.