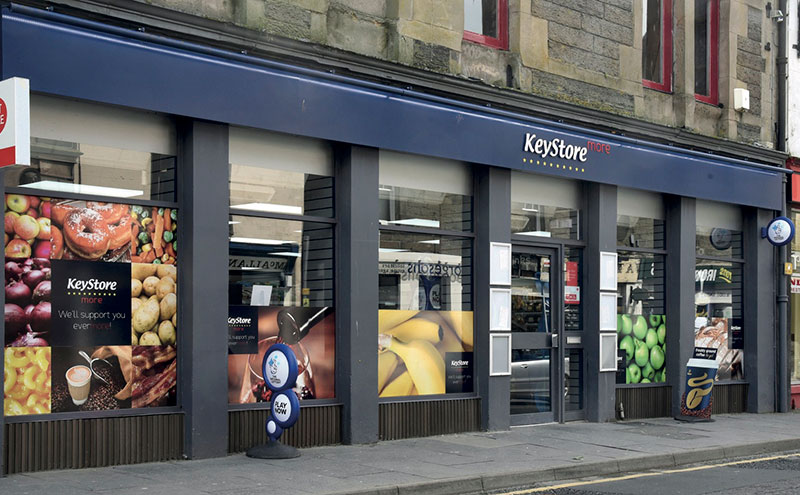 [box style="0″]
KeyStore More is the new symbol store brand developed by JW Filshill. Though there are only a handful of stores around the country, the town of Wick in Caithness can boast two of them, including the very first, which has now been trading for over six months. Part of the first SG Roadtrip.
[/box]
ONE of the stated aims of KeyStore More, the new symbol brand developed by JW Filshill, is to help businesses that want to grow.
Retailer Rehan Amin, of Wick, in the far north of Scotland, certainly wanted to do that.
A vehicle paint sprayer by trade, Rehan became a store manager around five years ago when his father bought a shoe shop at the end of Bridge Street, in the town centre, and converted it into a KeyStore.
Situated on a busy main road – that has only become busier with the popularity of the North Coast 500 – the store's trade quickly outgrew its size.
"The little store never had enough room," said Rehan.
"It was packed and losing sales because people physically couldn't get in when it was busy. It got very congested.
"I said to my Dad: I'm in this little shop and I can't do anything. The way it was laid out, I couldn't expand anywhere. It had peaked and we weren't going to make any more money. So I knew we had to move somewhere else."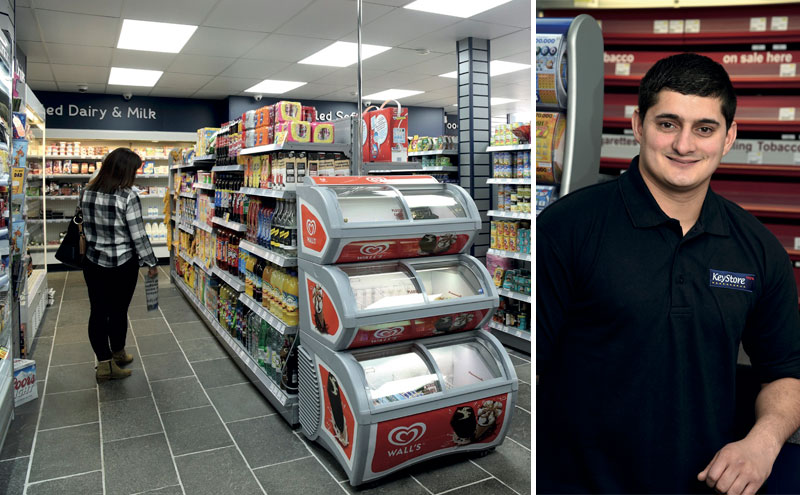 Rehan's father Younes began looking for sites nearby, approaching the owner of a business just a few doors down – another shoe shop, as it happened – and asked the owner if he was interested in selling.
Very quickly the deal was done and preparations were underway to relocate Rehan's 780 sq ft store into the new 1500 sq ft premises – and there was no question they would be sticking with KeyStore.
"We've been with JW Filshill for quite a long time and I can't see past them," said Younes.
"Their guys are really good, very helpful. If there are any problems, they deal with it immediately. They don't leave you waiting. And they suggested KeyStore More.
"We had a couple of meetings with the development manager Robert Paton and within a few days we decided it was the way to go."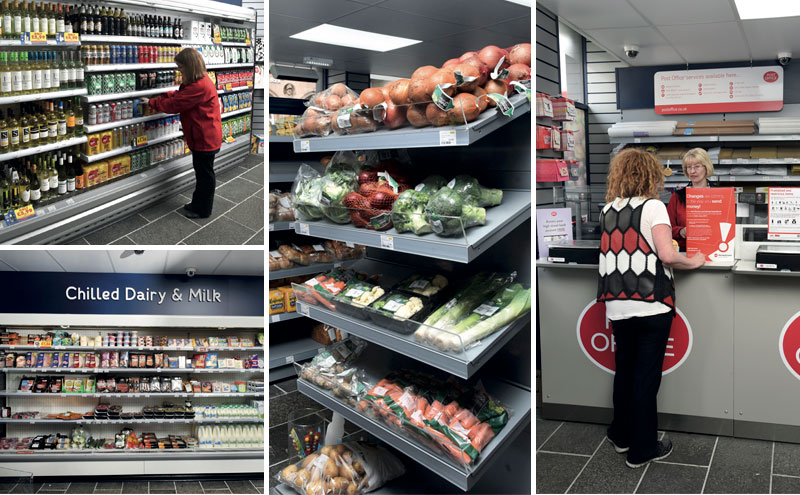 As well as store refit advice and planning, incorporating the new upmarket fascia, competitive terms on a range of products, merchandising advice and support, the Amins were assured they would get access to a better chilled produce range, Scottish provenance range and bespoke promotional campaign.
"The offer is a lot better," said Rehan. "It gives us offers that no-one else can match, plus we've always wanted a bigger variety of fruit, veg and chill. KeyStore More is a big improvement."
As well as offering more fresh produce and chilled foods, Rehan has been able to branch out into food to go, something he is very keen on and wasn't able to do previously.
"In the last store I couldn't do hot food," he said. "I had a coffee machine, but it was small and I only did about eight cups a day. Now with the Tchibo machine I'm doing 40 cups a day. And hot food brings in thousands per month. The cabinet we have is way too small, so I'm getting a bigger one to do more."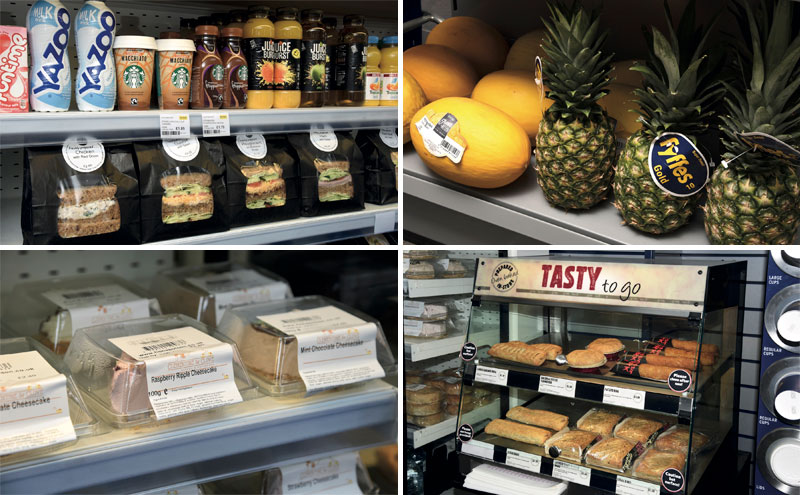 The store also emphasises local suppliers, with a variety of products from Caithness including eggs, fish, butcher meat, desserts and sandwiches.
"Freshness is very important," said Rehan. "Our sandwiches are made fresh every day from our local baker. They have a good range with good quality. I tried doing a meal deal, but I found no-one in town was really interested. They seem to just want a good-quality product."
All the new KeyStore More shelves and fittings were supplied by Vertex, but the shopfitting itself was carried out by the family and JW Sutherland, who installed the floor.
"The flooring is Caithness stone," said Younes. "We wanted to put something in that was from the area and that floor will last for life. We put under-floor heating behind the counters as well.
"When you're standing on a cold floor your feet and ankles get cold and sore, so we put underfloor heating in and what a benefit it is. Standing all day in the shop I was always bothered by sore feet, aching ankles, and this winter I've had no aches or pains. I'd definitely recommend it to others. Your whole staff benefits."
Younes spends most of his time at the family's second store in Wick, in Hillhead, which was originally opened by his father in 1972.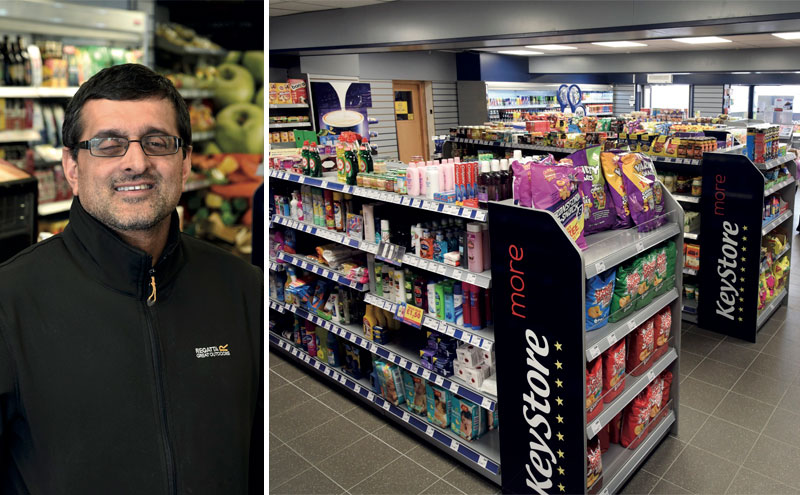 And although it was in perfectly good shape, when he saw the results of the shopfitting at Bridge Street, he said he decided to convert his own shop to KeyStore More.
"I didn't need to do a revamp at Hillhead," he said. "There was nothing wrong with the store as it was, but once I'd seen KeyStore More it just looked dated. So we decided to go ahead.
"The Filshill development boys wanted to take all the chilled food, frozen, fresh produce, bread and milk and move them all up to the back, keeping them together.
"I wasn't sure about that at first, but sales have improved, and overall display is better. With the way it's laid out, we're able to take a bigger range. And we were never able to offer sandwiches, hot food or coffee to go before, so I'm very excited about that.
"Even though we're both KeyStore More, the shops are in very different areas with different clienteles. I see the same people all the time while Rehan sees different customers every day. I have to meet the demands of a housing scheme with a lot of families, while he's dealing with a lot more office workers. But so far they're both working."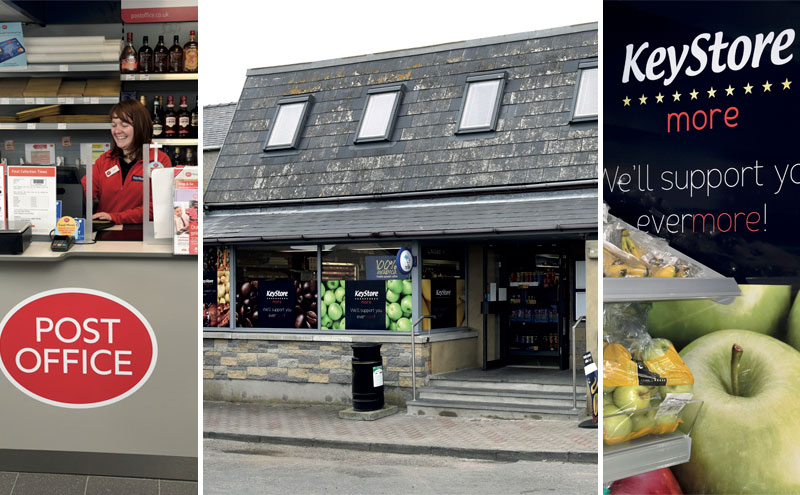 A further dimension was added to both stores with the introduction of Post Office counters in March.
"The old Post Office was in the town centre," said Younes. "When we spoke to the company about taking it on they were talking about putting three positions in Bridge Street. But I suggested putting two positions there and one up at Hillhead. I just thought, why have it all at one store when both could benefit from the increase in footfall? And it's a lot more convenient for the people who live up at this end of town.
"You definitely get the footfall, there's no doubt about that. We don't have the exact figures about the extra shop sales it's brought in, but the customers are buying. They're not just coming in and walking out. Some do, but the bulk will take a wander round the shop and pick stuff up while they're here. There is a definite increase."
For Rehan, the addition of the Post Office has made a busy store even busier, but he's not complaining.
He said: "It's been hard work, but it has paid off. As far as KeyStore More goes, I'm pleased to be the first."