New president turns attention to reform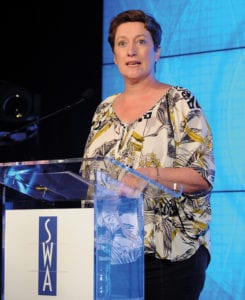 Modernisation was the order of the day at the Scottish Wholesale Association 2017 annual conference, held at Crieff Hydro, with a review of operations high on the agenda.
Addressing attendees at the conference last month, newly-appointed SWA president Julie Dunn highlighted the importance of ensuring the organisation is well equipped to face strategic and commercial challenges.
A need for better engagement with the issues facing SWA members was flagged by Dunn as key to the association's success, and the president acknowledged that the SWA has been "a bit sheltered" in the past.
Dunn added that while she was not touting change for change's sake, the SWA's governing council must be as efficient as possible to ensure progress in the months and years ahead.
"We're not reacting to anything drastic," said Dunn. "We just want to ensure that we have a strong set of core values which will endure – we absolutely must maintain a drive for progress".
In this vein, she pointed to the introduction of a foodservice working group to the SWA's operation as a success, and unveiled plans to form a cash & carry retail-based working group, as well as proposing that a suppliers' forum could also be introduced.
While the goals of working groups will be set by the SWA council, Dunn said that it is key the council is accountable to SWA members.
"This will involve clear and effective communication of our aims and objectives.
"We need to make clear the distinction between governance and management, so that everyone knows where their responsibilities lie – and everything we do has to be transparent and readily accessible to our members and outside bodies for whom we represent our industry.
"It's vital that we are shoring up the council structure with the use of category-specific working groups and ensuring representation across our membership – suppliers and wholesalers. It is important that this transparency, this accessibility, is clearly and effectively communicated.
"We must forge stronger working links with other bodies associated with our sector. We can work together, forming effective partnerships and bridging mutual gaps in understanding. In this way we can help identify emerging issues and be part of the solution."
In addition to modernising the SWA's operations, Dunn also unveiled plans to ramp up investment in training as part of a larger strategy to engage with young people and promoting the wholesale sector as a viable career.