Magners rolls out new 5L keg and multi-pack formats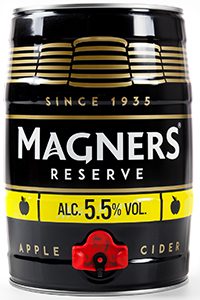 IRISH cider brand Magners has launched a new five-litre keg to capitalise on the summer uptick in sales for the category as well as rolling out its 330ml can format in a multi-pack.
At 5.5% ABV the Magners Reserve 5L mini-keg has a slightly higher ABV than its Original counterpart and is available now at an RRP of £15, while the 4.4% ABV Magners Original 12x330ml can multipack is available at an RRP of £6.99.
The launch coincides with Magners' summer marketing campaign, Seize the Summer, which comprises a series of cider focused events to be held across the UK as well as an on-pack promotion in association with EasyJet Holidays offering consumers the chance to win a trip to one of a variety of European destinations.
Magners brand Manager Janette Murray said: "We know that enjoying an ice-cold Magners with friends is important to cider drinkers and, as we kick off our Seize the Summer campaign, this is the perfect time to launch these new additions to our range.
"Our new Magners Reserve 5L keg and 330ml can multi-pack present a great opportunity to drive volume with the brand. They're designed to share with family and friends and are ideal for enjoying at BBQs, garden parties and special events all summer long and beyond."