Campaign kicks-off with Auld Enemy hijinks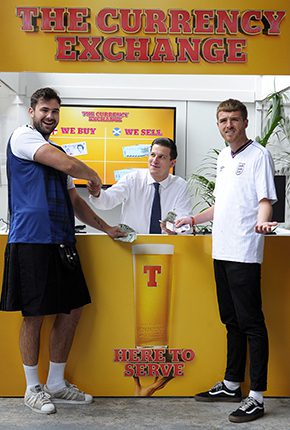 TENNENT'S Lager is on a problem-solving mission as part of the latest campaign for the brand.
The 'Here to Serve' campaign kicks-off this Saturday (10 June), by offering visiting England football fans the chance to exchange their bank notes for Scottish currency ahead of this weekend's Auld Enemy world cup qualifying fixture at Hampden. Tennent's currency exchange centres will be open for business from 9am-1pm on Buchanan Street and outside Hampden Park from 3pm-5pm.
This weekend's activity marks the first in a range of problem solving activities falling under the new campaign's umbrella with other brand events set to take place in stores, bars and city centres.
Further support for the campaign comes in the shape of new outdoor advertising, displaying the 'Here to Serve' tagline on sites across Scotland.
Tennent's will also team up with Lastminute.com to offer consumers the chance to win one of 20 bespoke holiday packages, each worth £2,000, or one of 8,000 Tennent's beach towels through promotional packs available to the off-trade. To enter the prize draw consumers are invited to entering a promo code found on packs online. Further support for the promotion will include digital activity and point of sale material.
Paul Condron, marketing director at Tennent's, said: "This is an exciting time in Tennent's history. 'Here to Serve' is going to be unmissable, and we'll be involving our customers every step of the way.
"As Scotland's longest established brewer our primary concern is serving Scotland and providing that service in a way that only Tennent's Lager can – raising smile with everything we do.
"We'll be taking advantage of every possible opportunity to help drive sales through the tills of Scotland's pubs, clubs, bars, convenience stores and supermarkets, and we can't wait to get started.
"We've also got a number of exciting digital initiatives planned over the course of the next few months, making life easier for our customers whenever we can."