THERE are few greater pleasures than a cold drink on a hot day, and with the school holidays bringing consumers out of the house, conveniece stores are ideally placed to satiate this demand.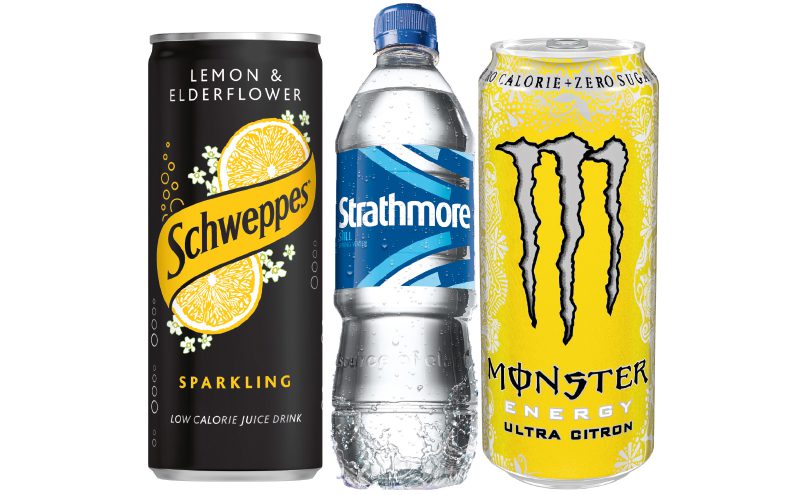 Soft drinks firms certainly seem to think c-stores are well placed to cash in on thirsty customers and they've offered their assessment of where the opportunities lie and what retailers can do to make the most of the increased demand that the summer months bring.
Adrian Troy, marketing director at AG Barr, said that the summer period is vital to soft drinks sales, and he brought the numbers to back it up.
"From April to August – the crucial summer period for soft drinks sales – shoppers consume 14% more soft drinks, with water, fruit drinks and other flavoured carbonates seeing the most benefit.
"Retailers who adapt their ranges to reflect this range, particularly in the chiller, will benefit significantly," said Troy.
Consumers prefer their drinks to be chilled with 'drink now' sales accounting for more than three quarters of all soft drinks sales in Scotland convenience.
'Adapting' is the word of the moment for the soft drinks industry, with firms across the board reformulating recipes in recent years, reducing sugar content and offering new flavours.
As the industry has changed so to has the customer, with Troy suggesting those visiting convenience stores in search of something to drink this summer will do so expecting to be offered a broad spectrum of soft drinks.
"The soft drinks market has evolved, with shoppers increasingly looking for greater choice at the fixture.
"AG Barr is encouraging retailers to ensure that their soft drinks range includes a wide variety of low and zero sugar variants to cater for the needs of all Scottish shoppers.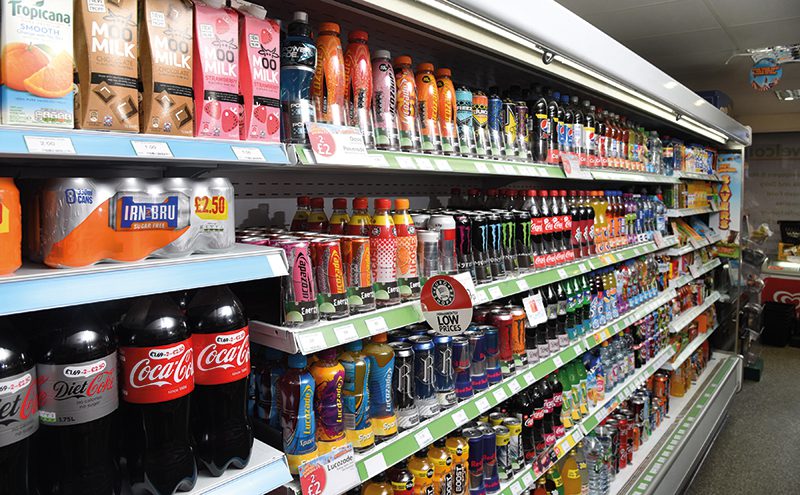 "However consumers are not prepared to compromise on taste and a growing number are looking for low and zero calorie options featuring the full-on flavour they get from regular products.
"The growth in popularity of low-calorie soft drinks means that it's more important than ever for retailers to talk to their customers and find out what they're looking for, to enable them to tailor their offering," he said.
Stocking the right soft drinks range may be an essential step for retailers, but it's not the whole walk. According to Troy, temperature is a key component to a store's soft drink offer and those who don't pay attention to what's going on in their chiller could miss out.
"The importance of offering chilled soft drinks cannot be overlooked.
"Consumers prefer their drinks to be chilled, with 'drink now' sales accounting for more than three quarters of all soft drinks sales in Scotland convenience," he said.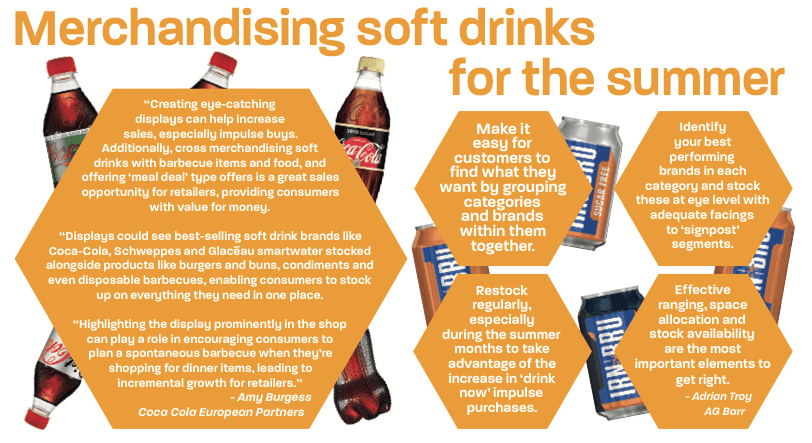 Retailers who really want to get customers enthusiastic about their soft drinks should consider open deck chillers, Troy said, as these encourage people to buy more soft drinks through their ease of use and enable retailers to display a large choice of chilled products.
One section of the chiller that's been performing particularly well is bottled water, with the subcategory said to be in growth and showing no sign of slowing up soon.
Amy Burgess, trade communications manager at Coca-Cola European Partners, highlighted bottled water's strong performance over the last year and suggested the summer weather will only add to this success.
"Another key sector for summer is bottled water, which is one of the fastest-growing soft drinks sectors, having achieved 10.3% growth over the past year, and always popular during summer as people try to stay hydrated," she said.
For convenience retailers, it may be wise to focus on immediate consumption formats, as Burgess said these make up the bulk of bottled water sales within independent and symbol retailers – although there's also plenty of scope to make some advances with larger packs.
"Future consumption water sales are also in growth , so it's also important for retailers to recognise," said Burgess.
Whether it's immediate consumption or multipacks for later, the lift that the summer brings to the soft drinks category means retailers need to stack their stock rooms higher.
In this regard, Burgess echoed Troy, suggesting retailers aim to build a range with breadth to meet consumer expectations.
"It's worth keeping stocks high during this time, with as wide a choice of products as possible, taking into account a range of different sectors, variants and pack formats to appeal to every consumer taste.
"Retailers should also monitor for any new or special edition products, as well as those being backed by marketing spend, helping to maximise incremental growth," she said.
With all the reformulation of recent years and parental concern over what their kids are picking up there has been no shortage of new product development targeted at children for retailers to keep on top of, but it's not just the young ones that enjoy soft drinks in the sun.
Burgess also suggested retailers would be wise to stock soft drinks aimed at adults as the warmer weather provides plenty of occasions that should see brands aimed at an older audience shift.
"With many people hosting gatherings of family and friends, it's also worth focusing more on adult soft drinks, including 750ml bottles of Appletiser or Schweppes Sparkling Juice Drinks, which are ideal as consumers look for a premium drink to make their gathering feel more sophisticated," she said.