General election campaign takes RTD to the masses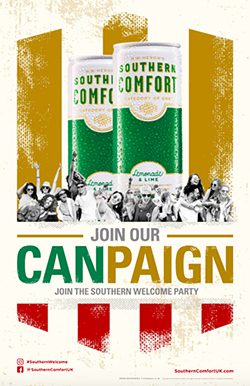 SOUTHERN Comfort is on the general election campaign trail, inviting the public to join the brand's "Canpaign", to promote its Southern Comfort Lemonade and Lime RTD.
The campaign will see brand ambassadors ride a Southern Comfort bus across the UK offering samples of the RTD, with support across social media, promoted via the #SouthernWelcome hashtag.
Amanda Watkins, marketing director of Hi-Spirits, said: "With so much serious campaigning going on around the UK, we thought that consumers would enjoy our light-hearted alternative.
"The Southern Comfort Lemonade and Lime RTD is the perfect accompaniment to any summer party or gathering, and will help consumers enjoy the summer in true New Orleans style."
Southern Comfort Lemonade and Lime is a 5% ABV RTD available in 25cl can at an RRP of £1.90.