Multipack and large pack now available in price marked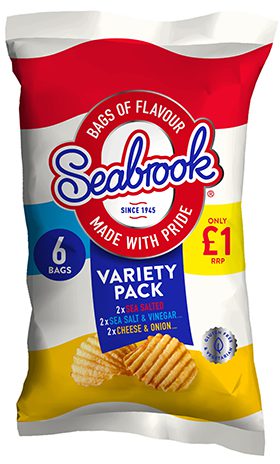 SEABROOK Crisps has added two new price marked packs to its wholesale portfolio, complete with a packaging revamp.
The two new price marked packs are £1 PMP 6 x 25g packs which will be available in Sea Salted and a variety pack containing two of each of Sea Salted, Salt and Vinegar, and Cheese and Onion, and a £1 100g PMP.
Seabrook has also overhauled its packaging with new colours to reflect the brands flavours.
Support for the new packs comes in the shape of a national digital campaign as well as radio competitions and a programme of PR activity
Kevin Butterworth, marketing and international sales director at Seabrook Crisps said: The new PMPs offer fantastic value for money and strong flavour choices for shoppers, so they're sure to be popular. The larger pack formats really tap into the current consumer trend towards bigger pack sizes making them a must stock for retailers."