Softies range gets a new flavour and four weeks on TV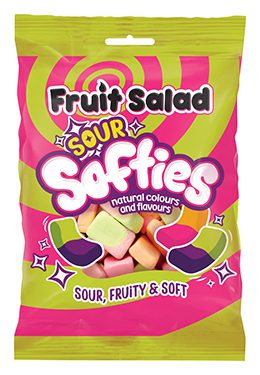 TANGERINE Confectionery's Softies range pops up on the small screen next week as the brand embarks on a four-week TV advertising campaign running until 2 July on Sky 1, ITV2, Dave and E4.
The new ad, which forms part of a £1m investment from Tangerine Confectionery in its branded sugar portfolio, has been timed to coincide with the launch of a new Softies variant set to roll out from Saturday (3 June).
Tangerine's Softies campaign will introduce new flavour Fruit Salad Sour as well as showcasing revamped packaging on traditional favourites Fruit Salad and Refreshers Softies.
Fruit Salad Sour is available in 160g and 120g packs at RRPs of £1.49 and £1 respectively.
Russell Tanner, marketing category director at Tangerine Confectionery said: "The Softies range, which is currently worth £1.63m with year on year growth of +144% is one of our most significant pieces of NPD in recent years and taps into the positive associations sweet lovers have with our heritage brands.
"Fruit Salad and Refreshers are childhood favourites loved by all and we've been excited to give them the Softies treatment.
"Another prevailing factor in the success of the Softies range is the consumer trend towards soft gums. This sector is currently worth £266m, the largest in the confectionery market after chewing gum, and is experiencing a growth of 1.9 per cent year on year.
"Our TV advertising campaign marks a significant step change in our branded investment and is a first for confectionery products in Tangerine's history."
The Softies range first launched in 2015 as a soft and chewy version of retro confectionery brands.