Campaign focuses on getting consumers cooking at home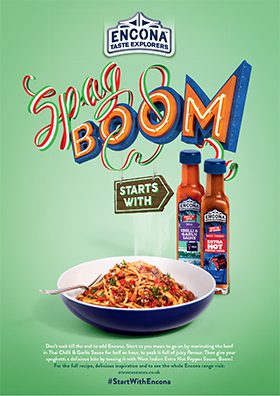 HOT pepper sauce brand Encona has been causing something of a stir with the launch of a new marketing campaign aimed at getting consumers to cook from scratch at home.
Launched this month, the campaign includes outdoor and digital advertising, as well as social media, PR and in-store activity.
The new ads highlight the ways consumers can use Encona to spice up classic dishes such as spaghetti Bolognese, chicken salad and vegetable stir-fry.
Sam Bidgood, brand manager at Grace Foods UK, the firm behind Encona, said research shows customers buying chilli sauces "love to experiment when it comes to cooking at home."
"With this new campaign we wanted to demonstrate the incredible versatility of the Encona range when used by home cooks; we're confident that this fresh direction will not only heighten shopper awareness, but will also enable retailers to grow sales by introducing new shoppers to the category," said Bidgood.