Range extension for kids cereal
CHILDREN'S cereal brand Honey Monster has launched an oat variant with the same recently-reduced sugar content as core variant Honey Monster Puffs.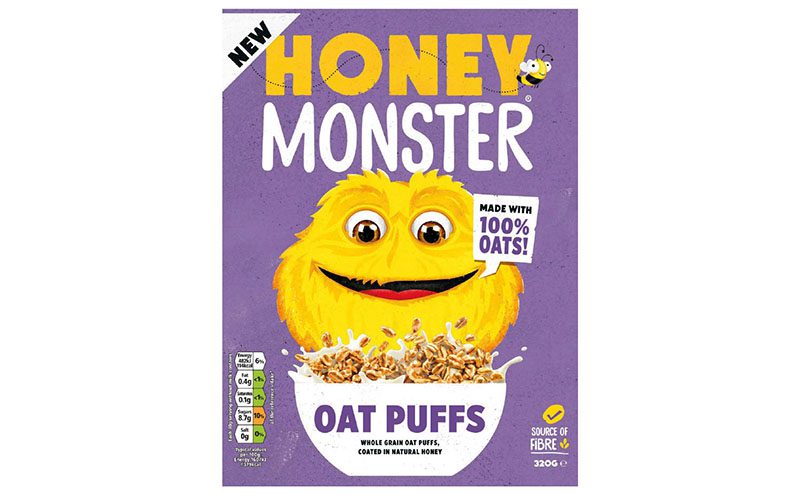 The new Honey Monster Oat Puffs are amber on sugar and said to be high in fibre and a source of protein.
Since acquiring the Honey Monster brand last year, Monster Brands – part of the Brecks food company – has stated its commitment to expanding its cereal range through new product development.
Gary Lewis, managing director of brand at Brecks, said the relaunched, reduced-sugar Honey Monster Puffs has been "incredibly well received", adding that the firm is "not stopping there".
"Since acquiring the brand we've been working hard, constantly looking for opportunities to expand the cereal category and introduce more people to the iconic Honey Monster brand," he said.
"We want to create products that fit in with changing consumer habits which includes reducing sugar levels and increasing fibre whilst ensuring our products still taste great.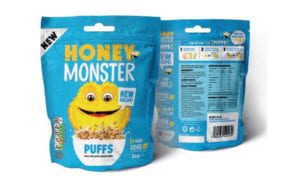 "Honey Monster Oats is the first in a line of new products we plan on unveiling over the next 12 months as we look to bring more choice and excitement to the cereal aisle."
In addition to the new oat variant, Brecks food company has also introduced a 35g sample-size bag for Honey Monster and Good Grain, which has received a revamp of its own along with the introduction of two new flavours.
Good Grain Multi-Grain is described by the firm as a "simple mix of barley, rye and wheat" while Good Grain Multi-Grain with Cherry swaps durum wheat for fruit pieces.