It's a new year and for many retailers their resolution for 2017 will be to open a new shop or revitalise an existing one. In this feature, Scottish Grocer examines two shop-fitting projects from recent months, the first of which saw the creation of a brand new store.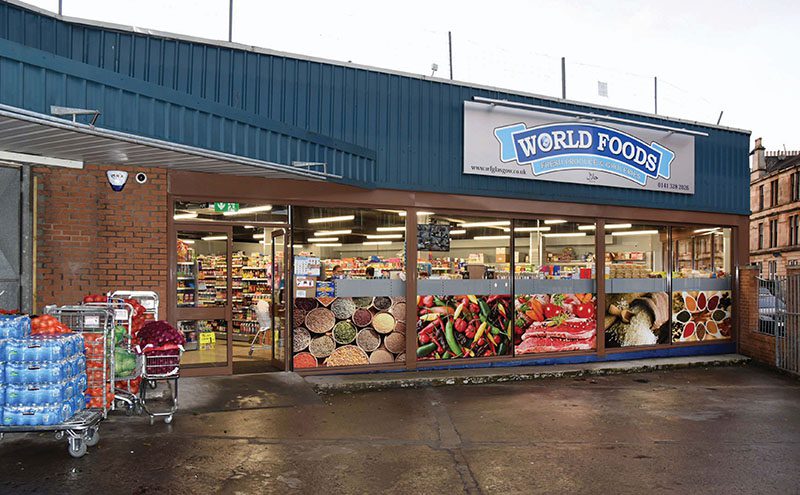 THE area around Nithsdale Street in the south side of Glasgow isn't exactly short of ethnic food stores. The diverse local community is already catered for by a number of small shops offering food and drink from around the globe.
But the owners of World Foods believed there was scope for something in the area that presented world cuisine in a new way.
The unit was a disused motorbike garage when it was purchased by Shahid Parvez and his family, who asked Bilal Baig to join the team and assist with the development.
"We saw the scope for it in the area," said Bilal, who has 15 years' experience in cash & carries, now working in Maxwell Road and Polmadie before joining Batleys. "There are a lot of Asian communities around here and a lot of Asian supermarkets, but world food is not just an Asian thing. It's very big in the UK now.
"We've got a big mix of customers here – Scottish, Asian, African, Chinese. What we tried to do was bring everything under one roof, appealing to a much broader customer base."
Careful thought was put into customer flow to design the right layout.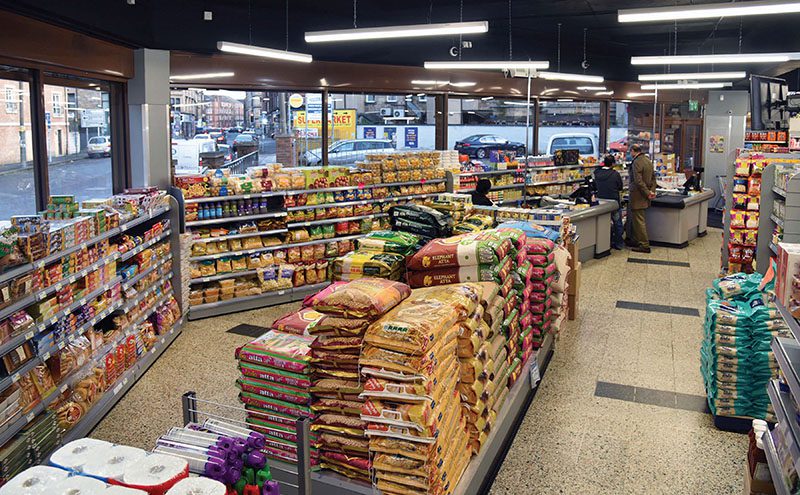 It was important to place fresh food at the front of the store, with the first aisle of snacks, fresh fruits and vegetables leading down to the butcher counter.
The butchery department is a big selling point, so this was situated at the end of the first aisle. The owners invested heavily in new serve-over cabinets and cold rooms for storing meat including entire lamb carcasses. A team of three halal butchers work throughout the day to prepare fresh cuts of meat, including speciality dishes.
"The butchers just go non-stop," said Bilal. "They make their own marinades, which are very popular. So you can buy your meat pre-prepared and just throw it straight in the oven when you get home."
On the next aisles, the shelves are stocked with staple groceries like spices, pickles and everyday items from the Caribbean, Middle East, Far East, India, Pakistan and elsewhere.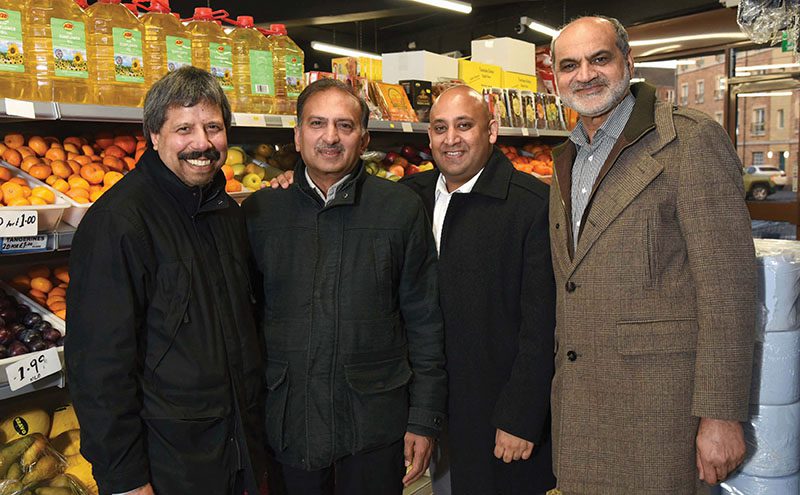 "Batleys has a very big ethnic range with brands like White Pearl, so we make use of them," said Bilal. "A lot of people want to pay extra money to get quality, so we added five bays of Shan and National stuff, and we're adding to the range all the time.
"At the start, we had shelves left empty, so we filled them up with juice, just so we could get the shop open. We recently emptied one whole run to accommodate another supplier, which is East End, real quality stuff. We've added quite a few new suppliers, because Batleys don't do everything.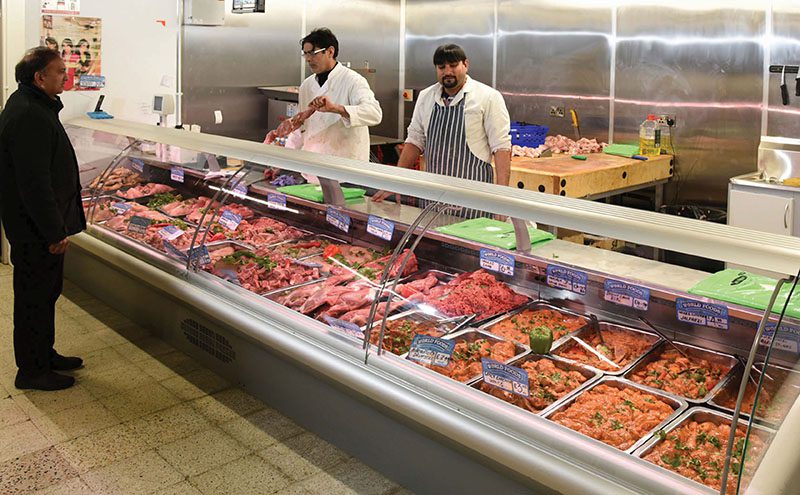 "In future, we'll cut the rest of the juices to bring in Arabian sauces and pickles. A lot of people from Eastern Europe stay in this area, so that's another market we're trying to go into. Then there's Kurdish food, which there's also a big market for and we'd like to bring in more Bangladeshi and South Indian stuff."
The final two aisles are for chilled and frozen food, with a large bank of chest freezers providing storage for a broad range of frozen halal products.
"It's all a mixture. We have a lot of frozen vegetables, south Indian stuff. A lot of stuff you might never have heard of, but you'll find it here," said Bilal.
"It is all decently priced, but it has to be. Glasgow retail is all about price, because there's so much competition."
The butchers just go non-stop. They make their own marinades, which are very popular.
With a floor space of 4,000 sq ft, shop-fitting was always going to be a big task, so the family turned to Graham Mason of Direct Shelving Service, who worked in collaboration with Gerry Simpson of Capital Cooling to complete the project.
"The owners were on a budget and it's a very big unit, so we looked at ways to create a high-quality look and feel without breaking the bank," said Graham.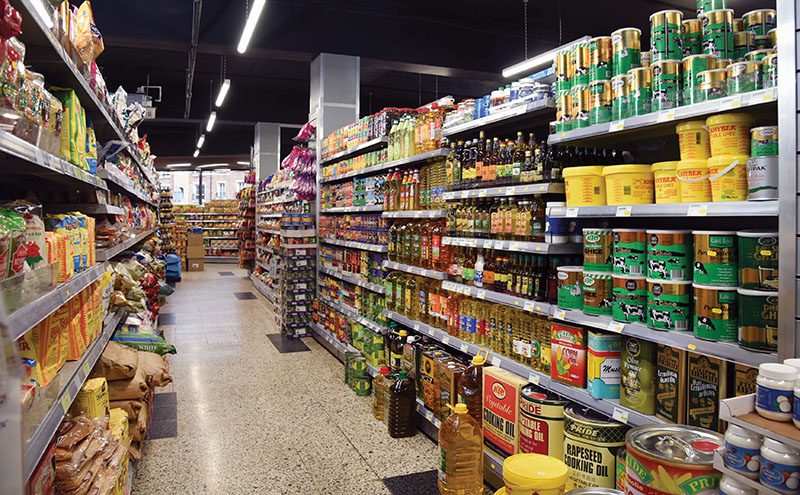 "We discussed putting a suspended ceiling right through the store, but you're talking a ceiling of 400 square metres at £20 a square metre. That's £8,000 just for the ceiling, not including lighting. With the lighting it would be somewhere in the region of £12,000-14,000, which is a big investment.
"So what we offered to do was spray the ceiling black, which hides a multitude of imperfections. Then we put in LED lighting over the aisles. And because we had an open ceiling we were able to position the lighting exactly over the aisles to get the right dispersion of light to catch the products. It's important that they look their best.
"We also put in air conditioning and CCTV and I liased with the council on issues regarding compressors, noise and planning to ensure the store complied with all regulations."
DSS built offices and toilets as well, including wash facilities to meet staff's religious requirements.
"They're really nice people," said Graham. "They came with what they wanted and we tried to accommodate them, working within their budget to try and achieve the best compromise."
The store had its official opening on June 1 and its first six months have been very good. Bilal said the family was very pleased with the response.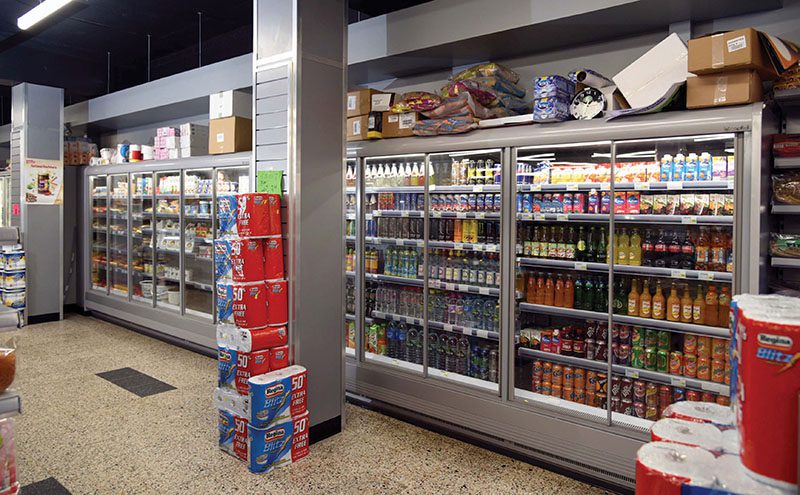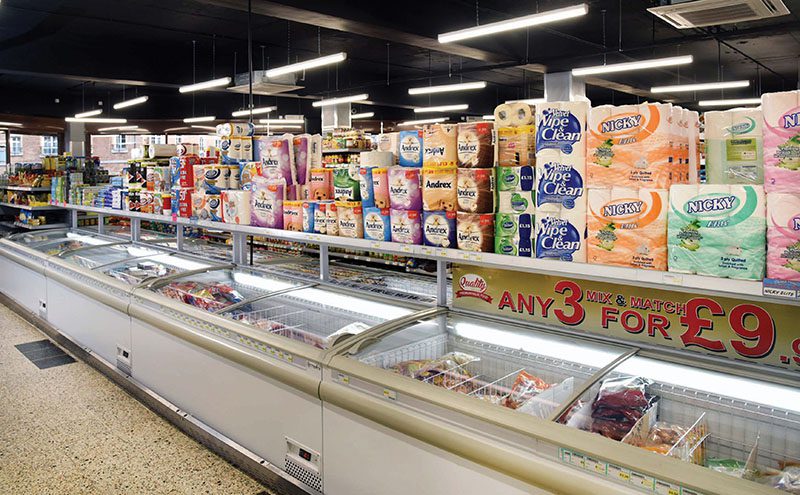 "The majority of customers are local families," he said. "Then there are a few restaurants that use us as well. They used to have to drive down to cash & carries, but now they can just walk in here, sometimes they'll borrow a trolley and bring it back. A lot of people are coming every day, the local people especially."
A lot of effort has been made to get the word out. The store has been very active on Facebook and 20,000 leaflets have been distributed in the local area, Giffnock and Newton Mearns. Adverts for World Foods have also played on Awaz FM, Scotland's Asian radio station.
"Newcomers are coming all the time. For the first year you only learn. Next summer will be better than this one and next winter will be better than this," said Bilal.
"This is a market that's growing, world foods. Definitely, no doubt, it's going up. People are travelling all over the world for holidays, discovering new cuisines and if they tried something there and liked it, the only way they'll get to taste it again is to find a shop like this or book another holiday. If they come in here, at least they can try making their own first.
"Sometimes I'm surprised by how many people know about spices and world cuisine. And even if they don't know, they're not afraid to try."