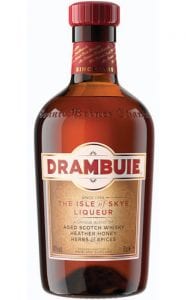 WHISKY Liqueur Drambuie has launched a new bottle. William Grant & Sons, which acquired the brand in 2014, says the new look illustrates Drambuie's 270-year history – from its beginnings as a local drink on the Isle of Skye in the 18th century to its place in shops, bars, hotels and restaurants around the world today.
The Drambuie liquid – a combination of aged Scotch whisky, heather honey, and herbs and spices, said to have come from Bonnie Prince Charlie, and traditionally a big seller at Christmas – hasn't changed.
The company describes its new bottle, made from dark amber glass and topped with a red cork closure, as a modern interpretation of a classic.
The brand logo is embossed onto an off-white, textured label, which is treated with a gold finish intended to reflect the colour of Drambuie. The label background features an intricate pattern, containing a Jacobite rose.