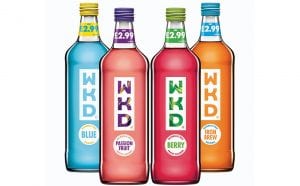 THE impulse sector had "a cracking Christmas" last year with beer, wine and spirit sales value up by 3.3% on the previous Christmas, generating £890m in revenue for impulse retailers in the final quarter of 2016,  said Amanda Grabham, head of brand development – alcohol at SHS Drinks, whose portfolio includes WKD, Scotland's biggest selling alcohol RTD brand.
"The festive season is all about enjoyment and the key to successful Christmas sales is to focus on the leading brands which generally tend to lead the sales surge at this time of the year," Grabham argued.
During December WKD accounted for 35% of RTD volume sales through Scotland's impulse stores and it generated more than a quarter (27%) of the RTD category's increase in value sales, the firm said.
WKD has been repackaged in the last year.
All four variants  in the revamped range – WKD Berry, Blue, Iron Brew and Passion Fruit – are available in cash & carries and convenience and independent retail distribution channels in new 700ml bottles price-marked at £2.99.
And WKD Blue, Iron Brew and Passion Fruit have also been made available exclusively in those convenience and independent  channels in 275ml £4.99 price-marked four-packs.