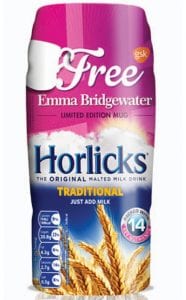 MALTED drink Horlicks is giving consumers the chance to claim a limited-edition mug by collecting on-pack codes.
Brand manager Aimi de Lacy said: "We've partnered with British brand, Emma Bridgewater, to create a limited-edition mug.
"Each piece of beautifully designed pottery celebrates the eventful history of the brand and gives loyal fans a stylish keepsake."
To claim a mug, consumers must collect four promotional codes.