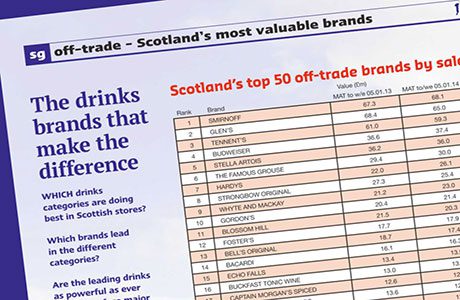 Scotland's top 50 off-trade brands
Which drinks categories are doing best in Scottish stores?
Which brands lead in the different categories?
Are the leading drinks as powerful as ever or do they face major competition from fast-growing new lines?
Today Scottish Grocer, in its latest Most Valuable Alcohol Brands survey, brings you comprehensive listing and analysis of the most important drinks brands in the Scottish off-trade.
Using statistics from leading market research firm Nielsen we list the top 50 overall, the top 50 spirits brands, top 15 listings in key sub-categories and a list of of the fastest growing drinks brands in Scotland.
These are Scottish consumers' current favourites. Do you have them on your shelves and in your chillers?
[btn link="http://content.yudu.com/Library/A2rdys/Scotlandsofftradetop/resources/index.htm?referrerUrl=http%3A%2F%2Ffree.yudu.com%2Fitem%2Fdetails%2F1764259%2FScotland-s-off-trade-top-50–Mar-2014-" color="red" size="size-l" target="_blank"]Click here to browse feature online[/btn]
[btn link="https://scottishgrocer.co.uk/wp-content/uploads/2014/03/ScottishGrocer_March_OffTrade50.pdf" color="red" size="size-l" target="_blank"]Click here to view PDF's[/btn]
Data supplied by nielsen