Glasgow group wants limits placed on multiple convenience chains
But shops group says retail giants bring business back to high streets
A GROUP of residents in the west-end of Glasgow is taking on the giants of the food retail business in a battle for the area's high streets.
The Say No to Tesco group, led by lecturer Ellie Harrison, launched a public petition last year and met the Scottish Parliament's Petitions Committee at the end of January on the petition: "Calling on the Scottish Parliament to urge the Scottish Government to give local councils and communities the power to stop unwanted supermarket expansion on their local high streets."
But the group is facing opposition from the industry body that represents supermarkets and other retailers.
The campaigners attempts to change the law began after objectors to a proposed Tesco Express store failed to stop the unit opening on Glasgow's Great Western Road. It was one of several small format stores opened by the retail giant in Glasgow's city centre and west end in the last couple of years.
Tesco rival Sainsbury's has also opened a number of small format supermarkets in the city and has opened many small supermarkets in Edinburgh also.
Say No to Tesco's Harrison said the Tesco that has opened on Great Western Road was the 10th in a two-mile radius, and she told Scottish Grocer the spread of such stores harmed other retailers and diminished consumer choice.
"The more stores that open and the more independent shops that close, the harder it becomes to boycott shops like Tesco," she said.
"If they own the site and they're opening on the site of an existing retail unit, they don't have to get planning permission. If the shop is under 2,500 square metres they don't need a retail impact assessment. So they can just open these shops anywhere they want, which is what they're doing."
The group wants changes to the law to allow local councils to consider the cumulative shop floor space already operated by a company in a local area before it is given permission to open another shop.
They're also considering pushing for a change that would see multiples' retail outlets classed separately from other types of store so they wouldn't be able simply to buy and develop an existing site.
But when they appeared before the Petitions Committee the campaigners were questioned closely on their case. Some MSPs asked what would fill the void if supermarket companies were prevented from developing such stores. The committee decided to seek more information.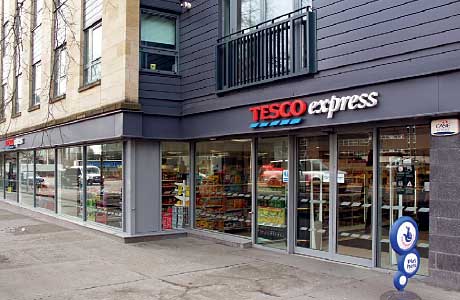 The retail industry body the Scottish Retail Consortium criticised the petition saying opponents of supermarket developments ignore the benefits they provide.
It argues that the opening of such stores often increases consumer traffic to an area, to the benefit of nearby businesses.
David Martin, head of policy and external affairs at the SRC, said: "The case for the petition is very shaky. I think this was clear in the cross-examination from some of the MSPs.
"It's clear is that MSPs took a sensible, pragmatic approach to it, but it's disappointing that it's being taken further. They obviously just want to give it further scrutiny."