FOR consumers who like a bit of variety, Nestle Confectionery is launching an extension of its Randoms sweets range that present the user with a bag full of different sweet and sour tastes.
The Rowntree's Randoms Sweet 'n' Sour mix launched at the end of last month in an impulse-sized bag. It will be available in a sharing-sized bag from 31 March.
Aimed at the brand's target audience of 18-24 year olds, each bag will contain a mix of sweet foamy sweets, sour jellies and super sour liquid-filled sweets. The launch is being backed by a digital media campaign, which Nestlé says will make the most of the brand's social-media-savvy targets. The Rowntree's Randoms Facebook page already has over 1m fans.
Nestle says sours is a segment that has seen consistent growth in the confectionery market over the last five years, and says that a large part of that growth has been in fruit sugar confectionery.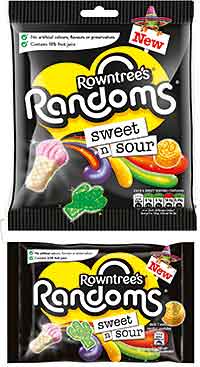 James Maxton, senior corporate communications manager for Nestle in the UK and the Republic of Ireland, said: "Innovation is critical to driving fruit singles growth across all ages of consumers, but particularly with 18-24 year-olds. Rowntree's Randoms Sweet 'n' Sour is an innovative product that taps into the growing consumer trend for sour confectionery. With a high level of media support, trial of this new product is expected to be high, therefore we recommend retailers display off-shelf at launch, so shoppers can't miss them, before positioning on shelf for long term sales.
"Rowntree's Randoms Sweet 'n' Sour is an excellent opportunity for retailers to attract new buyers to Sours confectionery, thus generating incremental sales and profits for themselves."