Fruit flavoured ciders have seen soaring sales and continued to grow even when the cider boom slowed in recent years. Are they still the flavour of the moment?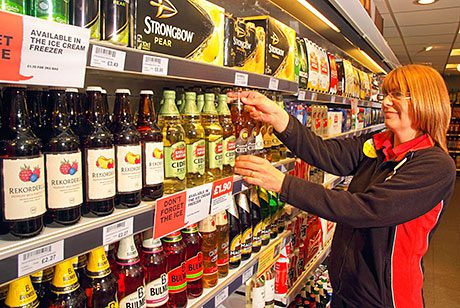 CIDER sales were on the up and up and everyone from West Country traditionalists to international beer giants was getting in on the act.
The hottest sub-category was made up by modern ciders – often fruit-flavoured and either imported from Scandinavia or made in a similar style by British and Irish producers.
And while the soaraway cider sales growth of a few years ago slowed considerably (the actual amount of liquid sold began to fall even as sales value continued to increase) the fruit-flavoured ciders remained in growth.
That was cider last year. So, what's the story now?
Well, from cider producers and suppliers we have a few opinions and a few subtle differences of interpretation. Flavoured cider is still big and getting bigger. But at least one company – Merrydown – reckons apple cider made a bit of a comeback in Scottish impulse stores in 2013.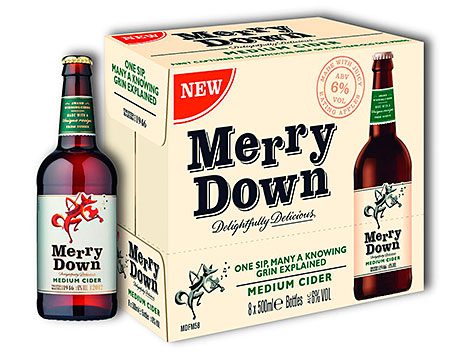 Two of the most significant cider players in recent times have been the Swedish brands Kopparberg and Rekorderlig.
And at Kopparberg, customer marketing manager Ben Turner is keen to stress overall trends that show the particular growth of flavoured cider in general and of Kopparberg itself.
Quoting Nielsen Scantrack data for the Scottish off-trade to 14 September last year Turner said Scottish take-home cider sales at that time totalled 43.4m litres and had a sales value of £91.7m.
That meant the value of sales had risen by 3.4% at a time when volume had actually dipped by 2.9%
"Fruit flavoured ciders continued to grow in Scotland during 2013 and this has been the main driver of growth for the category as a whole," he said.
"The apple cider sub-category began to decline in 2013 but the pear category which had dipped in 2012 has almost returned to the value of two years ago. The fruit sub-category increased in value by 54% from the previous year during 2013, it really is leading the way.
"Ultimately, fruit cider is a growth category. We know from Mintel research that females and younger drinkers like it for its variety and refreshing sweetness. Kopparberg has led this category since 2006 and it is a brand that consumers see as innovative –Mintel research shows it is the cider brand that most consumers associate with the word 'delicious'.
"Following significant consumer demand on social media channels, Kopparberg is bringing back Kopparberg Raspberry, and the brand will be supported by PR and social media in 2014," he said.
At Chilli Marketing, which looks after Swedish brand Rekorderlig in Britain, managing director Gareth Whittle, quoting Nielsen GB off-trade data for the year to 12 October 2013, said cider had continued to increase value sales – with year-on-year growth of 7% driven primarily by strong growth in flavoured ciders which were up 63%.
"Flavoured cider is the growth engine of the category, attracting new shoppers and delivering incremental value," Whittle said.
"Over 50% of Rekorderlig's growth has been attributable to new consumers entering the category. Rekorderlig's penetration in the GB market has grown at a constant rate over the last two years and will continue to improve as distribution continues to grow in the off-trade."
Fruit cider is a growth category. We know from Mintel research that females and younger drinkers like it for its variety and refreshing sweetness
Rekorderlig had seen value sales grow 87% to £24.98m. And he said it achieves the highest price per litre of the major cider brands.
"Retailers with limited chilled space should certainly consider including Rekorderlig Strawberry and Lime 500ml, within their portfolio. This SKU has seen value sales increase 84.2% year on year from £6.25m in 2012 to £11.5m in 2013 and is a must-stock brand for any store," he said.
However, established British cider brand Merrydown – reckons impulse outlets in Scotland show differences to the wider market. The firm sees cider in glass bottles as very important in Scottish impulse stores and it reckons that in those outlets apple cider has made a significant comeback while pear cider has dipped.
"The growth shown by glass bottled ciders, particularly in the impulse sector in Scotland, has been phenomenal over the past year," argued head of brand marketing at Merrydown Cider Amanda Grabham.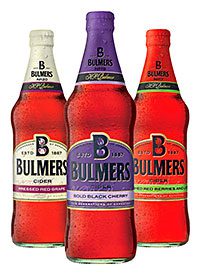 Quoting Nielsen Scantrack data for Scotland for the year to 7 December 2013 and Mintel analysis of cider consumption trends, she said: "Total off-trade glass-bottled cider sales in Scotland grew by 11% in volume and 16% in value, but while this was a good performance, it was eclipsed by the 34% volume and 41% value growth achieved through Scotland's impulse stores, which really are benefiting from the strong revival in consumer interest in premium ciders – almost two thirds of adults now drink cider – and the resultant sales surge."
In hard cash it meant, she said, that glass-bottled cider generated £33m of off-trade sales in Scotland with £7.4m of those sales coming from impulse stores.
But, she argued, it should be understood by retailers and others that the growth wasn't all down to the fruit-flavoured products that had been doing very well in recent times.
"Following the rapid rise of flavoured ciders – all flavours other than apple and pear – over the past couple of years, 2013 has seen apple reinforce its dominant position," she claimed.
"The gap between flavoured and apple cider had been closing year on year, and at the end of 2012, flavoured cider had overtaken apple and accounted for the largest share of glass-bottled cider sales.
But, again quoting Nielsen Scantrack, she said: "During 2013 apple sales took off again with value sales in the impulse sector up by 58% versus the 38% growth rate for flavoured cider, and by the end of last year apple had resumed its leading position in Scottish impulse with a 49% share – some 6% ahead of flavoured ciders. Pear cider was the only under-performing sector, seeing sales fall by 11%, reducing its share to 8%."
During 2013, Grabham said Merrydown stepped up its range in those cider segments it viewed as showing growth – with the launch of 6% ABV Merrydown Medium apple cider and 4% ABV Merrydown Blackcurrant cider, both packaged in 500ml bottles.
Merrydown Medium, with an RRP of £1.99, was launched in the spring following what the brand owner said was a positive response in consumer research. Merrydown Blackcurrant (RRP £2.19) is intended to be the debut line in a series of new 'hedgerow' flavour ciders. The 500ml bottles of the new lines joined the established 7.5% ABV Merrydown, which is available in 750ml bottles and 440ml cans.
Total off-trade, glass-bottled cider sales in Scotland grew by 11% in volume and 16% in value… almost two thirds of adults now drink cider
Among other developments in cider over the last year Britain's biggest cider producer Heineken said its brand Bulmers grew in 2013 to become the UK's number-one modern cider for the first time in the brand's history, increasing its volume share of modern cider to 21%. Last autumn Heineken said Bulmers' combined on and off-trade sales had reached more than £229m
It meant, said the firm, that the Bulmer brand, which had seen two new permanent flavours launched and had received substantial marketing support, had achieved a volume market share of total cider of 9% and a value share of 7% and was second only to Heineken's Strongbow brand.
The growth had been linked to the brand's substantial involvement in the buoyant flavoured cider sub-category
In October Heineken said: "Growing by more than 8% in the last year alone, flavoured ciders are forecast to deliver 80% of total cider growth by 2014, in a category which is currently worth over £247m.
Part of the brand's response was the launch of Bulmers Cider Bold Black Cherry and Bulmers Cider Pressed Red Grape.
At the time the company announced the Bulmer shares, Heineken sales director, off-trade, Martin Porter
said: "Bulmers now enjoys the highest household penetration of any cider or beer in the UK. The brand continues to flourish thanks to a powerful combination of product innovation and multi-million pound marketing campaigns, which have paid rich dividends for the brand."
The Heineken news on the Bulmer brand came after it said that it had also seen an increase in off-trade sales share on its biggest-selling cider brand Strongbow. Market share increased by 3% following what the group described as a £28m brand transformation.
The work included the launch of new Strongbow lines – Strongbow Pear launched in 2012 and Strongbow Dark Fruit was introduced in May 2013. Strongbow Dark Fruit is said to have reached a 5% share of total cider sales in the off-trade within eight weeks of launch.
Ahead of Christmas the Shepton Mallet Cider Mill – which is responsible for established cider brands such as Taunton Traditional, Blackthorn, Olde English, Special Vat and K and is part of the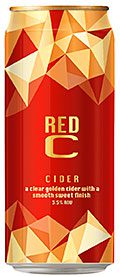 C&C Group, which also owns Magners – announced the re-launch of its Red C Cider brand as on off-trade only product.
Red C is a medium sweet, 3.5% ABV cider, which the brand owner says offers retailers and consumers a light, refreshing cider with a contemporary look. The origins of the name are said not to be known, though there has been speculation that it could have developed out of the word 'cider' spelt backwards
Red C is available in a variety of packs including 440ml, 500ml and 568ml cans and a two-litre PET bottle.
Late last year Shepton Mallet Cider Mill also announced a refresh of its cloudy cider Addlestones. The re-launch of the brand sees a new look for Addlestones, which is available in on and off-trades, across all products and point of sale material.
The firm says the new designs maintain the logo that the cider's consumers recognise, but are also intended to appeal to new, more experimental drinkers who are interested in craft products.
The company says Nielsen statistics showed the brand increased by over 100% in volume & 100% in value in the off trade in 2013.