BUSY forecourt business Lomond Service Station, close to Loch Lomond in Jamestown, Alexandria, presented an interesting case in our workSHOP series.
Tim Oates, tobacco availability expert with Imperial Tobacco was keen to show how the firm had recently improved its reps' access to key market information with a series of data-based tools including its new Investigator, Maintenance and Facings Generator modules.
At the service station Grant MacBean and his team are already performing many tobacco merchandising tasks very well. And the forecourt manager was able to supply current EPOS data to be used in conjunction with Imperial's post code market info to help analyse the current range and facings layout.
Using the information, Tim was able to make some suggestions for changes that should push what is already a good tobacco performance further ahead. There were one or two lines which might be candidates for de-listing, Tim thought. He suggested Grant replace them with recently launched products, including a value line under the Players brand supplied by Imperial Tobacco, which has been going well.
While the store's range was generally very good, Tim did recommend increasing the facings of some of the biggest brands.
It should guard against out of stocks of the most important products and reduce the amount of time that staff spend filling the unit, he explained.
While data and software tools are proving tremendously helpful in the work to ensure effective availability and minimal lost sales, it's also important to develop regular systems of checking by staff.
Using tools provided by Imperial Tobacco – such as its stock checking list and tobacco shopping list, and developing staff rotas to check the tobacco unit regularly for low stocks (at least twice a day) will pay dividends. It's also important to:

• know and pay special attention to the store's highest volume tobacco SKUs
• check and fill units before busy times of day
• be careful to have stock for the evening (after 7pm), when availability issues often arise
• keep, where possible, extra stock of high-selling lines in base cupboards for quick replenishment.
We'll be back in a couple of months to find out how Tim's suggestions are working out.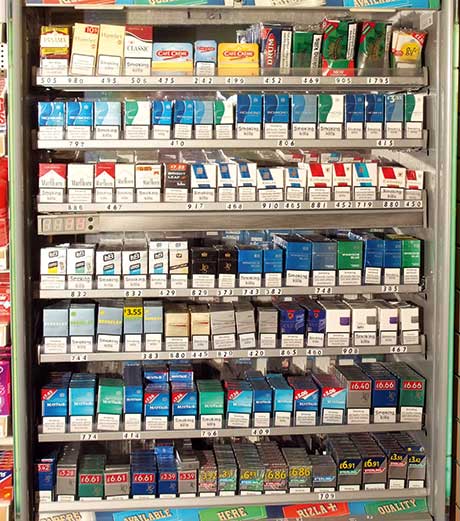 The third project in Scottish Grocer's initiative to help Scotland's retailers get the best out of their businesses sees Tim Oates, Imperial Tobacco's expert on ensuring consistent availability, give key advice on tobacco category management to Grant MacBean of Lomond Service Station, Jamestown, Alexandria.
• Lomond Service Station works hard to keep its range up to date and is quick to de-list poorly performing lines. But it's important to work closely with the rep to understand which new lines are doing well in the local area, and to be sure to stock them and position them appropriately on the gantry.
• Review facings carefully. Lomond Service Station has a good range but allocating more facings to biggest brands and best sellers minimises the chance of going out of stock at busy times. It also means staff spend less time filling the unit.
• Ensure your range suits local preferences. Tim told Grant that analysing a store's own EPOS data and using it in conjunction with Imperial Tobacco's data showing preferences in the local post code area, and the rep's own knowledge, will help achieve the ideal range and layout. .
• Have staff make regular stock checks, cover the pre-rush times without fail and be aware that availability difficulties will often occur in the evenings. Use tools like Imperial Tobacco's checklists, retailer log books and shopping lists to keep on top of gantry and storeroom supplies, log requests and avoid out of stocks.