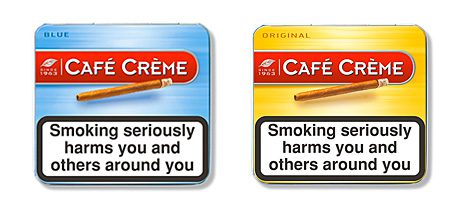 MINIATURE cigars are still leading the cigar category of the tobacco sector and the leading cigar brand has decided to embark on its second half century with a new look.
Last year Scandinavian Tobacco Group UK's Café Crème celebrated its 50th birthday. The company reckons its new design provides a contemporary new look that will help it maintain and grow sales in 2014 and beyond.
Launched at the end of last month, the new look Café Crème packaging is being introduced across the full range. The redesign highlights the brand's 50-year history by including the on-pack message "Since 1963".
The new look also features an image of a cigar that's more prominent than before as well as a new lozenge-shaped logo. STG UK reckons it's a cleaner, more eye-catching design that will ensure the packs stand out more noticeably.
Alan Graham, head of marketing at STG UK, said: "Originally launched in 1963, Café Crème has enjoyed huge success over the last 50 years which has allowed it to become not only the number-one selling cigar in the UK, but also the world.
"The Café Crème family now accounts for 40% of the entire UK cigar market and is worth over £74m in the UK alone, demonstrating just how popular the range has become with cigar smokers.
"By implementing this simple yet effective redesign, we'll safeguard the future success of the number-one cigar brand by ensuring it remains relevant to today's cigar smokers and continues to offer huge sales opportunities for retailers in the years to come.
"With the arrival of the dark market in smaller stores looming ever closer, retailers should ensure they stock up on the redesigned packs now in order to make the most of the improved stand out and sales on offer."
Quoting Symphony IRI data for the 12 months to early December 2103 STG UK said the total cigar market in the UK saw just over 409m cigars sold that had a retail sales value of £252.7m.
It was, however, declining at 5.3% year on year.
STG UK took 46.4% of the market, it said.
Miniature cigars dominate the market with more than 270m sold – with Café Crème accounting for 62.9% of miniatures and 39.6% of all cigars.
In independents and symbols Café Crème increased value sales by £1.3m to reach £26.4m last year. And the brand increased its share of cigar sales in independent and symbol outlets from 42.7% to 43.9%.
In Scotland STG UK has 49.1% of the cigar market,it says, which is up 3.2% year on year. And the firm says all its Café Crème variants are increasing their volume sales north of the border.
Café Crème Blue is said up by 10.4%, Café Crème Original is up by 0.2%, Café Crème Filter Arome is up by 44.7%, and Café Crème Finos Blue is up by 35.5%.
AT JTI, the second-biggest cigar firm in the UK and owner of the Hamlet brand, Jeremy Blackburn noted the continuing dominance of miniature cigars, which now accounted for around two out of every three cigars sold.
Although times had been tough for cigars they did have some advantages. They aren't as affected by illicit trade and that meant cigar smokers and retailers developed an interdependence, he said.
Imperial Tobacco has added Montecristo Mini cigars to its range in Scotland. They're available in two variants, Full Flavour (Red) and Smooth (Blue), in embossed tins that contain 10 Cuban blend cigars. The firm says Montecristo Minis Red and Blue have a competitive RRP of £4.38. Price-marked packs are also available at £3.99.