Euro rules, another push for plain packs and the coming small store cover-up play into the hands of crime bosses but make it all the more important to get range, price and availability right, say tobacco firms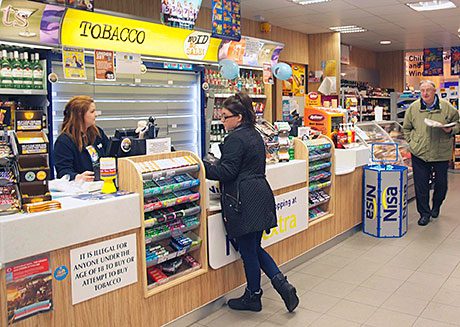 WHILE legislative changes to the way tobacco products can be marketed and sold have been many and frequent in the last few years, recent weeks and months have seen the pressure being ratcheted up still further – as Holyrood, Westminster and Brussels have all passed or floated new regulations and restrictions.
So where are we now and what are new rules likely to mean for retailers of tobacco in Scotland?
 In late December last year, the European Council, which includes the heads of government of member states, gave the go-ahead to a number of new rules as part of the European Union Tobacco Products Directive including a requirement that graphic picture-led health warnings cover 65% of the front and back of tobacco packs. It also gave EU member states permission to ban branding if they wished.
Standardised packaging is back on the agenda
Packets of 10 cigarettes are expected to be banned by 2016 and a minimum sales weight of 30g will be imposed on roll-your-own tobacco. The directive also bans flavoured tobacco products, though menthol will have a four-year extension. The directive will be subject to a vote in a plenary session of the European Parliament before it is officially adopted, but observers expect that to be carried out soon. Member states will have two years to incorporate the directive into national law, which means changes, other than those where extensions or exemptions apply, are likely to be required to be made by 2016 at the latest.
It will mean the end of a number of innovative pack sizes and formats that have been developed in the UK in response to fast-rising tobacco duties and prices, such as 19-stick packs of cigarettes and the small RYO handypacks, complete with papers and filters, launched in recent times. But it will also mean the end of long-established tobacco pack sizes such as 10-packs of cigarettes and 12.5g pouches of RYO tobacco.
Standardised packaging of tobacco could also be introduced in the relatively near future as a result of a series of legislative manoeuvres involving both Holyrood and Westminster. Under standardised packaging proposals, virtually all brand identification would be removed from cigarette and other tobacco product packs, leaving only the name and health warnings.
Meanwhile it's now a little more than a year until all stores have to cover their tobacco displays with screens and reveal only small areas when making a tobacco sale.
Packets of 10 are expected to be banned by 2016
Large stores, those with trading areas of 3000sq ft or more have already gone dark. It's difficult to say exactly what the effects have been because steeply increasing taxes and prices and illicit tobacco trading have also had an influence on tobacco sales. Terry Feeney who owns and operates the large Nisa Extra store in Linwood in Renfrewshire told Scottish Grocer he had seen little effect on sales which were still growing as sales at the relatively new store continue to rise generally. But he reckons that some of the strongest tobacco brands may be becoming stronger still and he has found that some customers ask which is the cheapest brand or pack available.