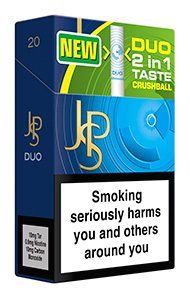 PERHAPS not surprisingly, many tobacco suppliers reacted with frustration to some of the latest announcements of likely and possible further restriction and regulation of tobacco lines. Put simply, they argue the changes will do little to achieve the health and youth behaviour goals that are given as the reasons for their introduction but will instead play into the hands of illicit traders.
But, on the other hand, they say retailers and brand owners have shown inventiveness in the past and have continued to provide attractive brands and products for those adults who choose to smoke. They've done that, they say, by listening to and understanding the developing preferences of consumers.
At tobacco firm JTI, head of communications Jeremy Blackburn told Scottish Grocer: "Apart for the fact that 10s make up about 20% of the UK cigarette market the fact that they are looking at a minimum pack size of 30g for RYO means that you'll be asking some people to just about treble their normal purchases and you'll be looking at prices that are well ahead of those being offered by the illicit trade, which already has 48% of the RYO market."
At Imperial Tobacco, Darren Atwell, retail business manager for Scotland, said: "Whilst there were some late amendments from the plenary vote on October 8th, such as the allowance of roll-your-own pouches to be sold in 30g and over instead of the originally proposed 40g and over, we are extremely disappointed at the overall composition of the directive."
But retailers should work hard to deal with any new challenges because tobacco remained extremely important to store revenue and footfall, Atwell added.
"Despite the EUTPD the tobacco category is and will continue to be a major revenue driver for the trade; tobacco shoppers visit more often and spend more each time, contributing twice as much as the average shopper over a year."
Looking ahead to the coming display ban, which will affect small stores from April 2015, BAT UK's shopper marketing manager Richard Wood, stressed that it would be crucial for retailers to prepare thoroughly.
59.4% – Share of cigarettes volume in independents and symbols taken by PMPs in 2013
"Three things will drive shopper loyalty once products are no longer in view," he said.
"First, they'll need to know they're getting a good price—PMPs help drive that message home to adult tobacco consumers and they'll start returning to your shop for other shopping basket items. Second, they're going to need a knowledgeable retailer who can answer their questions, if they want to find out more information. Third, adult tobacco consumers never want to wait – so knowing where your products are located on the shelf will help reduce the time it takes to serve your customers."
In the cigarette market there's still a significant trend towards value brands.
Imperial's Atwell said: "The economy-priced sector is growing at just shy of 10% year on year. Brands such as the JPS Silver range have shown sales increases month on month, JPS Silver Superkings have become increasingly popular, highlighting the growing numbers of adult smokers who are purchasing cigarettes above king size – currently 47.2% of economy cigarettes purchased in the UK are above king size.
"The Player's brand family continues to offer familiarity and quality reassurance at a price which helps adult smokers budget and manage their spend. Since mid-April last year, Player's Smooth and Full Flavour have been available in packs of 19s."
At JTI, Blackburn said: "Price is increasingly important. In Scotland in the ready-made cigarette market value cigarettes take 42.1% of volume. Sterling is the number-one performing brand in the value sector. JTI is extending its range of value cigarettes with the launch of a brand called Sovereign Smooth Flavour." But the JTI communications chief was also keen to stress what he sees as the continuing importance of other market segments. Its mid-priced Mayfair range forms the biggest cigarette brand in Scotland with 12.8% of the market, he said. And premium cigarettes were still popular with many smokers. JTI's Benson and Hedges Gold is worth £35m in Scotland, he said.
Cigarette brands from a number of manufacturers and across a number of price segments have added capsule versions in recent times. Capsule technology represents one of the most important innovations that the tobacco sector has seen over recent years, according to Anna Petrova group brand manager for factory-made cigarettes for BAT in the UK and the Republic of Ireland. She said: "Capsule technology gives adult smokers the flexibility to try something new, offering adult smokers the freedom to change the taste as and when they want."
BAT UK was the first to introduce the capsule lines to Europe with Lucky Strike Clock and Roll. Such developments have now been introduced to other brand ranges, such as Pall Mall.
As of October last year, Pall Mall cigarettes of all tar levels and formats now include capsule technology.
32.1% – Share of cigarettes volume takenby PMPs in 2013
Imperial Tobacco says globally, capsule styles account for over 350m packs of cigarettes sold. Its first capsule product was Lambert & Butler Fresh Burst.
"In December 2013 we launched JPS Duo," said Darren Atwell.
"The JPS range accounts for around one in 10 UK cigarette sales and boasts an extensive portfolio including the UK's No.1 King Size economy cigarette. The introduction of 2 in 1 Crush Ball technology into the range makes JPS Duo a perfect choice for tobacco consumers looking for more control over their smoking experience and great quality at incredible value."
Jeremy Blackburn said capsule cigarettes were gaining an increasing share of the ready-made cigarettes market. JTI's brands – Sterling Fresh Taste on Demand and Benson and Hedges Dual are performing well he said.
"We hold a 28.2% share of the segment. Sterling is second-biggest capsule cigarette with a 17.5% share."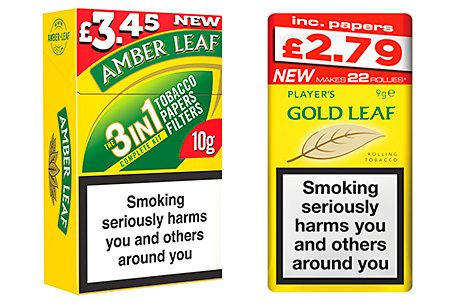 Value cigarettes and capsule technology are among the most important developments in ready-made cigarettes but it's roll-your-own tobacco that is still showing some of the biggest growth in tobacco overall and that's despite it facing a major challenge from substantial supplies of illicit product available through rogue traders.
For Blackburn at JTI, which produces and markets the category's brand leading range Amber Leaf, the RYO scene illustrates how the firm constantly innovates and responds to consumer and trade needs.
A particular example is its Amber Leaf 3 in 1 handypack which provides 10g of the market-leading product plus papers and filters in single pack and was launched at a recommended price of £3.45.
"We also extended Amber Leaf with the introduction of Amber Leaf Blonde. And we understood the long-term need to provide value, mid-priced and premium segments for RYO smokers at a very early stage."
Last summer JTI also extended the range Old Holborn RYO brand with the launch of Holborn Smooth Taste in 10g and 20g packs at RRPs of £2.90 and £5.70.
At Imperial Tobacco, Atwell said: "Despite the challenging economic conditions and growing illicit tobacco sales, retail sales of RYO tobacco products generate around £1.9bn each year. Many smokers are choosing to control their spend on tobacco by switching from factory made cigarettes to RYO tobacco.
"RYO adult smokers' search for value has seen reduced pack sizes which contain a combination of tips and papers (or both) become increasingly popular. Our on-going consumer research shows that 62% of RYO tobacco shoppers prefer their tobacco to come with papers. This has led to an uplift in sales of our 8g GV Smooth Handy Packs and influenced our decision to include quality papers in packs of Golden Virginia Classic and GV Smooth.
"Sales of sub 12.5g pack sizes of RYO tobacco have more than doubled over the past year as increasing numbers of tobacco shoppers seek quality products with a low out of pocket spend. At the end of last year we launched Gold Leaf 9g, sold in a pouch containing quality papers, Gold Leaf 9g enables adult smokers to make 22 hand rolled cigarettes for less than £3.
"Whilst smaller packs tend to be more prevalent in independent stores, especially in the economy-priced sector, it's important for retailers not to discount stocking larger sizes," he said. "With one in five packs of RYO tobacco sold being in 50g variant, larger pack sizes are becoming increasingly relevant as they offer adult smokers added value during these tough economic times.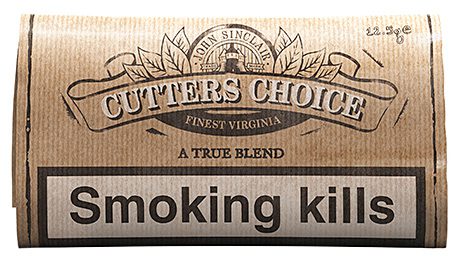 BAT made an RYO change last month when it switched Pall Mall 25g to Pall Mall 20g.
"As the lowest cost 20g RYO in the market we're offering adult consumers a pocket sized pack at a pocket-friendly price", said trade marketing representative, Peter Lally.
Last year BAT launched a modified Virginia blend RYO line when it introduced its Cutters Choice line extension Cutters Choice 'A True Blend' which has no taste additives.
It has packaging with a rustic look that carries the story of Cutters Choice tobacco: how it is made and what makes it different from other Virginia blends on the back of the pouch. Unlike some other traditional RYO blends, Cutters Choice A True Blend does not contain any artificial flavours, said BAT.