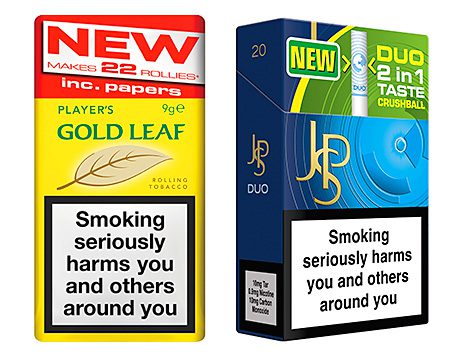 TWIN-TASTE technology has been added to Imperial Tobacco's JPS Silver range of economy cigarettes and the firm has launched a new RYO line that will give smokers more than 20 cigarettes for less than £3.
The JPS Silver range now includes JPS Duo, a two-in-one cigarette that uses what Imperial calls its crushball capsule to give smokers the choice of two flavours.
Imperial is pitching the new cigarette line as an affordable twin-flavour product. Capsule cigarettes now account for 2.2% of sales, it says.
JPS Duo is available in £6.64 price-marked packs while stocks last.
The firm's latest RYO launch, the Gold Leaf 9g pack, will enable smokers to make 22 hand-rolled cigarettes each (containing approximately 0.4g of tobacco) for less than £3.
It says the Gold Leaf pouches will have an RRP of £2.79, will include papers and will be available in standard and price-marked packs, which are available while stocks last.
The company says that the new pack offers smokers a legal, viable cost alternative to illicit roll-your-own products. The new pack size will join the existing 12.5g, 25g and 50g packs in the range and will give 12% margin for retailers.