Brand imagine how Baby George's first Royal Christmas might look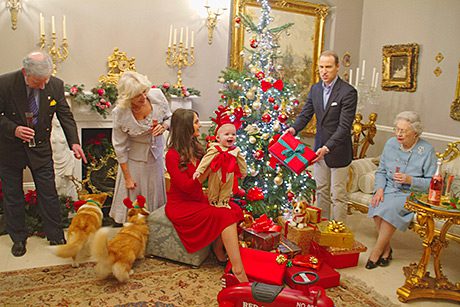 Christmas is a time to honour tradition and get together with friends and family.
With the nation gearing up to sparkle this festive season there is, as ever, speculation about how the Royals will be celebrating. As the newest addition to the Royal family, all eyes are on how HRH Kate Middleton and Prince William will be celebrating Baby George's first Christmas.
As the perfect non-alcoholic drink to add some sparkle to the Christmas festivities Britain's biggest selling adult soft drinks brand1, Shloer, has once again commissioned the renowned lookalike photographer Alison Jackson to create a series candid snaps depicting how the little Prince's* first Christmas celebrations could look.
Having earlier in the year produced an interpretation of how the first ever Royal Baby Shower may have* panned out, the photographer's lens now captures some special moments as the Royal family gathers together in honour of Baby George's* special day showering him with festive surprises!
The spoof shots show the baby Prince* dressed in a fun and festive reindeer outfit, complete with antlers, and surrounded by close family. Whilst gifts are unwrapped, revealing not just one, but four toy corgi dogs, the adults* celebrate with glasses of Shloer Celebration before settling down to the main event of the day – Christmas Dinner.
Sharing a giggle over the Christmas crackers and a plate of Christmas pudding, the Royals* enjoy a traditional festive feast. Santa (also known as a cheeky Prince Harry) is caught placing presents under the charmingly adorned Christmas tree.
As the soft drink of choice for many celebrity mums-to-be and families, Shloer Celebration is the ideal way to share a glass of non-alcoholic bubbles this Christmas.
Image: Royal Family lookalike actors courtesy of Shloer and Alison Jackson.