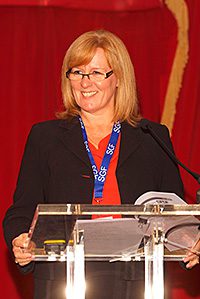 PUBLIC Health is everyone's business, Scotland's food and drink manufacturing industry is playing its part in the battle to change the country's poor diet culture, and consumers are increasingly demanding healthier food, Dr Colette Backwell, director of the Scottish Food and Drink Federation, pictured right told the SGF Conference.
The food industry is the biggest industrial manufacturing sector in Scotland, has almost 1200 businesses, almost 50,000 employees and supplies two-thirds of UK farm production.
But Scotland has been shown to have the third largest proportion of obese people in its population (more than 25%), after Mexico and the United States, she said.
She went on to explain the work being done by the industry on reformulation of food products in a bid to reduce energy content, fat, salt and sugar.
Those efforts were part of a wider strategy being pursued by government, which also takes in contributions from retail organisations, caterers, and health and education bodies, as part of the Scottish Government's Obesity Route Map – the developing programme designed to address the country's weight-related health issues.
The food and drink industry recognised it existed in a challenging policy environment that featured clear public health objectives as well as increasing consumer demand for healthier products and services, she said.
But 8500 new products are launched every year to adapt to changes. Those launches include reformulated products, light options, fortified products, products for allergy and intolerance sufferers, and new sizes.