Women lead on impulse purchases, multipacks and Fairtrade and have more concerns about fat content. Men are more likely to snack on chocolate and see it as a harmless indulgence.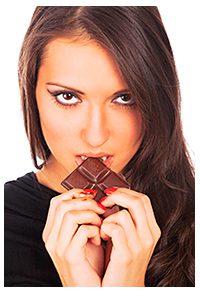 IS it a treat or a tricky temptation to be avoided at all costs? Relationships with chocolate are complicated, but it's important that retailers understand the behaviours associated with one of their most important products.
Knowing why and how consumers buy chocolate is the first step in predicting what chocolate products they are likely to choose.
To shed some light on the subject, Key Note commissioned a survey of 1,000 consumers aged 16 and over and asked them how they felt about chocolate. Nearly half of them saw it as "a harmless, affordable, everyday indulgence".
However the proportion saying "harmless" had fallen by 5.8 percentage points over a period of five years. Some of that is down to health concerns, with the number worried about the high levels of sugar in chocolate up by just under half a point over the period, to 36.5%. Levels of fat are a bigger concern, with a 7.6 point increase in respondents concerned about the amount of saturated fat in their daily bar. But the proportion of respondents who agreed that they had cut back on their chocolate consumption due to health concerns fell by just over half of a percentage point, to 26.9%.
The number saying they consumed chocolate as a snack, and as a lunchbox treat, dropped over the five years, although it has recently recovered from its lowest point in the period ( 2011). Men are more likely than women to have a functional approach, buying individual bars to give them a boost when on the go. Key Note observed: "These differences support the perception that women tend to indulge more than men by giving in more to temptation rather than simply eating chocolate as a regular snack."
It looks as if women put more thought into their chocolate purchases, being slightly more inclined both to buy Fairtrade brands and to choose multipacks to save money.
Women also buy more chocolate bars for lunchboxes, for themselves and their families.
The health issues preyed more heavily on their minds, with a third of females saying they had cut back on chocolate for health reasons compared to a fifth of men. Nearly twice as many women as men (22.6% compared to 12%) looked for low-sugar and sugar-free alternatives to chocolate.
Younger consumers preferred individual bars, with those aged between 25 and 34 the biggest impulse purchasers. Younger consumers also tended to be more blasé about their sweet treat, with 59.1% of 20-24 year-olds describing it as a harmless, affordable, everyday indulgence.
Oldies appear to have absorbed the health messages and were aware of sugar and fat levels. And consumers aged over 65 are most likely to seek out dark chocolate because they viewed it as better for them than the milk variety.
Families with pre-school children were enthusiastic consumers of chocolate. Key Note found that, while the group is the least likely to buy individual countlines, it was keen to buy chocolate on impulse. The families regularly ate chocolate – often bought in a multipack – as a snack and included a treat when packing a lunchbox. They were not very interested in dark chocolate or low-sugar or sugar-free alternatives. More than half of them saw chocolate as a harmless indulgence.
Families with older children, aged 10-15, were the most enthusiastic about Fairtrade, possibly as a result of pressure from their offspring to make ethical choices. Overall, Fairtrade lost ground in the last two years among those surveyed, with the proportion of respondents who prefer to buy Fairtrade chocolate down from 30.5% in 2011 to 26.4% in 2013.
Consumers without children were more likely to favour dark chocolate. Government campaigns on health have persuaded around one in 10 consumers to buy less confectionery. More of those aged 25-34 have been convinced than any other age group, with 15.3% of them cutting back. Those aged 35-54, and over 65, were the least receptive to the official health message.