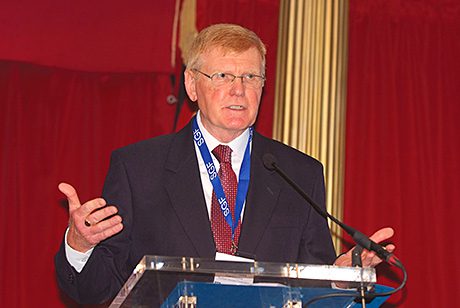 THE conference of Scotland's convenience retailers' representative group, the Scottish Grocers' Federation, took on a new style this year.
The single-day business event mixed a series of speeches and presentations with a Question Time style debate, all chaired by leading Scottish broadcaster Kaye Adams, the host of BBC Radio Scotland's Call Kaye.
Given the theme Retail Excellence, the conference, held at Prestonfield in Edinburgh, featured major players from retailing and fast moving consumer goods, a presentation from one of Scotland's most awarded retailers, and insight into the food manufacturing sector and food safety, health and reformulation. And there was an academic view on the current and future position of retailing in Britain.
We'll be looking at the contributions over several issues of Scottish Grocer. Today we begin with the conference's opening contributor, the CEO of Costcutter Supermarkets Group Darcy Willson-Rymer, on the very real challenges facing convenience and how to square up to them.