UK brand-leading lager Stella Artois was originally brewed as a seasonal beer for Christmas, Stella is the Latin for star and Sebastian Artois was the founder of the Belgian brewery where Stella Artois was first brewed. Brand owner AB InBev will mark the seasonal heritage in packs and activity for this year's Christmas period.
The firm says Stella Artois is the best-selling beer at Christmas, a time when 74% of consumers socialise more with their friends and 55% buy alcoholic drinks to consume at home, which leads to alcohol purchases increasing by 40% in December.
AB InBev spoke to more than 6,000 shoppers in a bid, it said, to understand the shopper behaviour related to party occasions.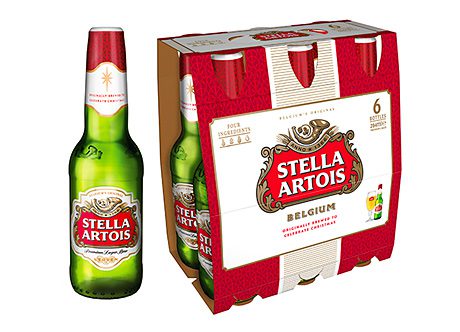 What it terms "planned party" store trips involve shopping ahead for a pre-planned social occasion. Brand is the most important influence for such shoppers who often want to impress guests, and premium brands over-perform on such shopping trips, it found. Party hosts also normally buy larger packs and they want to buy everything for their parties in one trip.
Planned party purchases see bottle packs do noticeably better than usual against cans, which is certainly worth retailers bearing in mind, AB InBev reckons.
This Christmas Stella Artois will introduce a six x 284ml bottle price-marked pack, exclusively for convenience stores.
Shoppers will be looking for beer, cider, wine and spirits for their party so creating a cross-category promotional display will increase trip spend, AB InBev argues. Of course, in Scotland such a display would not be allowed to include most non-alcoholic products and would have to be contained within a store's designated alcohol area.
That being said it can be useful to have other party product displays, such as snacks for instance, close to but still outside the alcohol area.
This year, Stella Artois Christmas packs will be promoted by national TV advertising, social media and digital activity.
Stella Artois' Christmas packs will be in store from the beginning of November. The Stella Artois 284ml bottle features a continental-style red and gold neck sleeve The brand's Chalice can will also carry the red Christmas theme
Christmas point of sale displays will figure in many independent retailers.
Symbol groups will run the Christmas activity through head offices and 100 wholesale depots will have point of sale kits available for retailers.