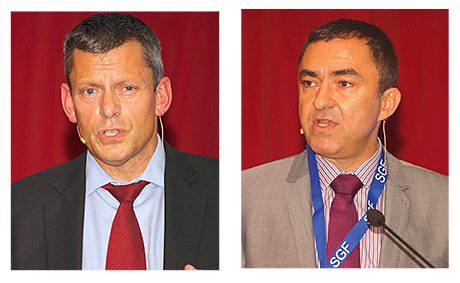 SCOTLAND'S convenience sector representative group the Scottish Grocers' Federation put Scottish Government policy on the spot at its conference held last month at Prestonfield in Edinburgh.
Chaired by television and radio broadcaster Kaye Adams the event included its own version of Call Kaye with a question and answer panel session featuring among others Donald Henderson, a senior civil servant from the Scottish Government.
Under heavy questioning from retailers, Henderson defended Scottish Government actions on alcohol licensing, tobacco legislation, including Scotland's intention to go it alone on plain packaging, and plans to ask retailers to remove confectionery from till points.
The panel session also tackled the issue of in-store crime – the view of retailers was that it's still not being taken seriously enough and that the lack of resources within Police Scotland are having an impact on response times and follow-up action.
The conference also heard presentations from leading figures in the industry, from both the retail and the supplier side.
Speakers included Darcy Willson-Rymer, chief executive of Costcutter Supermarkets Group; Philippe Rondepierre, head of marketing with Spar UK; Linda Williams, joint owner of Broadway Convenience Store in Edinburgh; Dr Colette Backwell, director of the Scottish Food and Drink Federation, Tim McDonnell, retail director of Poundland; Professor Leigh Sparks, professor of retail studies at Stirling University's Institute of Retail Studies and Martin Glenn, chief executive officer of United Biscuits.
Extensive coverage of the conference presentations begins today with the contribution from Costcutter CEO Darcy Willson-Rymer. See page 20.