Symbols and independents grow faster than multiples as discounters set new records again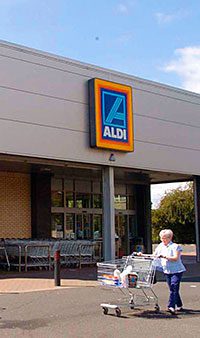 SYMBOL stores and independents are surviving the recession, outstripping Tesco, Asda and Morrisons by growing at 3.5% in the last quarter according to Kantar Worldpanel.
However, neither supermarkets nor convenience stores can compete with the German discounter Aldi which has achieved year-on-year growth of 31.7%.
But the 3.5% growth achieved by symbols and independents in the Kantar survey was more than three times better than Tesco, Asda and Morrisons.
Aldi, following double-digit growth for the last two years, now has 3.8% of the grocery market, according to Kantar.
The only supermarkets resisting the pressure from the German giants (Lidl also returned substantial growth of 13.1%) were Sainsbury's and Waitrose, who outperformed their multiple competitors and grew at 3.7% and 7.6% respectively.
Edward Garner, director at Kantar Worldpanel, said: "Aldi's year-on-year growth rate of 31.7% is the latest in an unbroken series of double-digit growth figures that date back to 2011.
"The retailer has done a particularly good job in conveying its competitive pricing message through its Like Brands Only Cheaper and Swap and Save campaigns, both of which have given the supermarket a clear point of difference. Lidl's growth is somewhat overshadowed by Aldi's performance but it nevertheless keeps up a strong run.
"The combined discounter share of 6.8% continues to grow and has remained above that of the Co-operative since March this year."
The squeezed middle remains one of the toughest places in the market, with shoppers polarised between the discounters at the bottom and Waitrose at the top.
Under pressure to match competitors' prices, Tesco, Asda and Morrisons all recorded growth in the Kantar figures of just 1% or less.
Tesco remains the biggest supermarket, although its market share has dropped 0.7% over the past year, to 30.1%. Its closest competitor in terms of size is Asda, with 17.2% of the market, down 0.4% on last year.
With grocery inflation running at 4.2% for the third quarter of the year, Kantar reckons those figures as a result of "increased pressure on households to manage down their 'personal inflation' by seeking lower prices."
Frozen food chain Iceland's market share remained static at 2%, despite growth dipping below the market average.
Kantar predicts it will perform better in the fourth quarter, as the festive season leads to demand for one of its most important product categories, frozen party food.