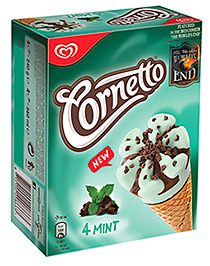 CORNETTO, the filled ice cream cone from Unilever UK, is adding a multipack of mint-flavoured cones to its to in-home range.
The launch ties in with the release of the film The World's End and will be supported as part of £1m marketing spending on the brand for 2013.
Available to retailers now, the four-pack joins what Unilever says is the growing hand-held ice-cream multipacks market, said to be worth over £367m. The firm says mint is a key flavour for winter.
Brigitta Holland, brand manager for Cornetto at Unilever UK, said: "Mint flavour ice cream is back on trend and mint multipacks have grown by 14.6% in the last year, outperforming total multipacks, which grew by 6.7%.
"Within this, there is a gap in the market for a branded filled cone, which the Cornetto Mint four-pack will tap into."
Cornetto Mint four-packs have an RRP of £1.99 and come in cases of six.