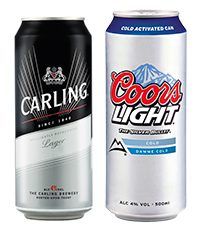 BEER firm Molson Coors is once again joining forces with Scottish Grocer to seek out Scotland's Champion of Beer in the Scottish Grocer Awards 2014.
Britain's biggest brewer has been championing beer in the convenience sector for several years and, among other activities, developed My Cold Beer Club. The programme took a category approach to maximising the opportunities presented by beer in c-stores and in particular to developing best practice in the ranging and presentation of chilled beer.
The company's specialist team worked across Scotland giving advice on how to display, price and promote beer and on how to make the most of c-stores' biggest advantage over supermarkets: the provision of cold beer ready for consumption as soon as the consumer gets the product back home.
The activity was designed to ensure convenience stores capitalised on the trend to home entertainment and the big night in.
Over coming weeks Molson Coors (Britain's biggest brewer with a portfolio that includes Carling, Coors Light, Grolsch, Cobra and Corona) and Scottish Grocer will be seeking stores that: act as ambassadors for beer; present beer excellently; provide chilled beer that's ready to use; utilise marketing materials well; and use appropriate, responsible promotions that highlight beer's role in home entertaining.
Find out more in the Scottish Grocer Awards brochure with this edition.