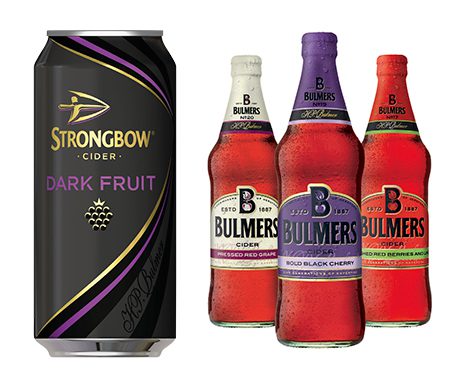 THE demand for new and exciting flavours is the driving force in the cider market, according to Heineken, owner of Strongbow and Bulmers.
While everyday ciders have the largest volume share – 40% according to IRI – most of the overall category growth is coming from modern flavoured ciders, which have grown 131% in the off-trade over the last year, also according to IRI.
Craig Clarkson, Heineken category and trade marketing director off-trade, stressed: "the cider category has experienced phenomenal growth over the past three years with many new entrants to the market. This is largely due to consumer demand for new and exciting flavoured variants, which are up 53% on last year according to IRI.
"As the UK's leading cider producer Heineken is leading the category through innovation and ensuring it offers the right drink for the right occasion."
Over the past two years Heineken has introduced seven new cider products across the Strongbow, Bulmers and Symonds Scrumpy Jack brands.
Strongbow has increased off-trade penetration by 8.1% in the last year, according to Kantar. The most recent flavour, Strongbow Dark Fruit, comes in 440ml and 500ml cans. Combining the crisp taste of Strongbow Original with blackcurrant and blackberry, unlike other flavoured cider it is relatively low in sweetness. Heineken claims that makes it "ideal for easy-drinking, everyday refreshment".
It's designed to extend fruit flavours into the everyday cider segment and follows the successful launch of Strongbow Pear. Heineken says that since its launch, it has grown to sell more volume than all other pear ciders combined, according to Kantar.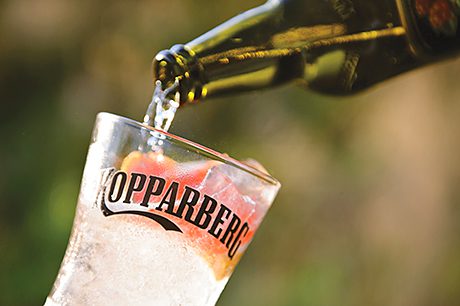 The fruit strategy appears to have been successful and Strongbow Dark Fruit secured what Heineken describes as an "unprecedented" 5% share of total cider in the off trade within eight weeks of launch, according to IRI.
Bulmers' newest flavours are Bold Black Cherry and Pressed Red Grape. Since their launch they have sold a combined 2.4m bottles, delivering £4.3m sales value to the modern cider category according to IRI. The two new flavours take a 15% value share of modern flavoured cider and have taken Bulmers' volume share to over 40%.
Other NPD includes the Bulmers Limited Edition series and the permanent introduction of Bulmers Cider Red Berries & Lime. Those, Clarkson said: "ensure the Bulmers equity stands out within the marketplace.
"The new premium flavoured ciders demonstrate Heineken's commitment to delivering cider innovation that brings genuine news and excitement to the modern cider category by appealing to shoppers and drinkers and fulfilling their 'need for experimentation' to deliver incremental sales and value to the category."
But flavour isn't everything. Clarkson stressed: "the most important factor in helping to drive sales of any cider, even over price, is that retailers keep products chilled as shoppers are often looking to consume these items immediately after purchase.
"In fact, HIM research has shown that 80% of convenience shoppers buying beer and cider will consume their purchase within two hours of picking it up." Heineken's own research, he added, found that "a quarter of cider buyers said they are willing to pay more for a chilled product".
C&C, with a cider portfolio of Magners, Gaymers, Blackthorn, Olde English, Addlestones and K, is said to have benefitted from the sunny summer. Robert Clark, channel director of impulse and wholesale at C&C's Scottish firm Tennent Caledonian, said: "Although slowing after the heatwave, the cider category continues to be up 6% compared to last year according to Nielsen. Magners still faces challenges, however in comparison to previous years, the brand is holding strong in both multiple and impulse channels, which is a positive sign."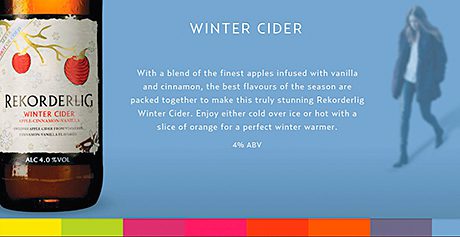 He also sees c-stores as a crucial outlet for its brands. "The ongoing shopping trend is towards little and often, typically in more locally based stores. And when it comes to beer and cider, shoppers want their products chilled for same-day consumption, whatever the weather."
He pinpoints flavoured ciders, such as Magners Berry, as a key area for c-store growth. "There is still plenty to go after in terms of market share, as modern cider (and flavoured within that) has only a 23% share of impulse according to ACN, as opposed to accounting for nearly half of multiple grocers' cider."
Swedish brand Rekorderlig is bringing back its Winter Cider, infused with cinnamon and vanilla, in time for the clocks going back. It will be advertised on TV for the first time, in a £2m campaign across lifestyle, action sport, fashion and music channels. The ad stars pro-snowboarder Chris Sorman, a member of the Rekorderlig Collective, performing urban tricks and flips.
It will be available until March 2014.
Another Swedish brand, Kopparberg, is hoping to capitalise on a record-smashing summer in the on-trade with a winter push into the off-trade. According to CGA figures, the brand's sales increased by 79% compared with 2012, followed by 55% in August.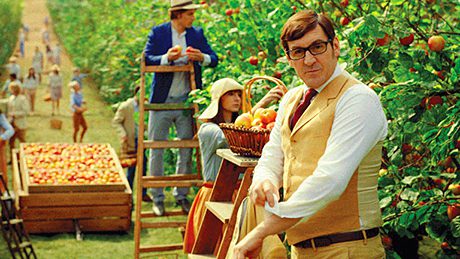 Scots are particularly keen on Kopparberg, with Scottish sales growth (including on-trade sales) outstripping the rest of the UK.
Adrian Hirst, sales director at Kopparberg UK, explained: "2013 has already proved to be an extraordinary year for us. The overall UK statistics are obviously fantastic, but in Scotland in July we saw a 140% increase on equivalent 2012 sales, which was almost matched in August when we achieved a 116% increase.
"The weather has obviously been kind to us this summer, but the scale of growth shows that our new marketing strategy is working."
Heritage brands are another growth area according to Amanda Grabham, head of brand marketing at Merrydown Cider, the biggest selling heritage cider brand by value in impulse outlets in Scotland, according to Nielsen.
Quoting Nielsen figures she said: "Glass bottled ciders are continuing to deliver good growth for off-trade retailers in Scotland with volume sales up by 5% and value by 9% over the past year, generating £32m."
"This is being driven by a combination of new product development, which is bringing new consumers into the category – Mintel found 60% of adults now drink cider, up from 47% last year – and cider drinkers buying more premium brands.
"The biggest volume growth has come from flavoured ciders but another star has been heritage ciders which have grown by 41% in Scotland over the past two years, according to Nielsen.
"Given the profile of consumers – almost two-thirds of cider is still consumed by the over-35 age group according to TGI – this isn't surprising," she said.
"Heritage brands particularly appeal to this all-important 35-plus age group which is looking for quality cues such as the taste profile of the product and the story behind the brand."
Merrydown benefits, she says from being one of the few heritage ciders available in 440ml cans. She advises stocking 750ml bottles as well, claiming that these appeal to the 35-to-64 year old age group, while 440ml cans reach a different audience.
"We have now expanded the pack choice with the addition of a new 6% ABV classic medium Merrydown Cider in 500ml glass bottles with a distinctive new livery," she said.