TAKE-HOME beer is big business but sales value has been slipping over the last year.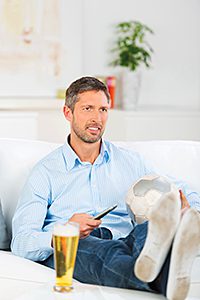 Research specialist Kantar Worldpanel found that spend on off-trade take-home beers (it refers to the category as "Beer & Lager") was £2.1bn across Great Britain in the year to 18 August 2013. That was down 3.7% on the same period the year before.
That has largely been a result of shoppers buying less beer and lager per trip as there have been no significant changes either in shopper numbers or in price per litre.
Lager accounts for the greatest proportion of spend with 74% of category sales value. Then it's ale as the next biggest sub-category accounting for 23%.
Own-label isn't really a force to be reckoned with on the beer shelves. Beer and lager is all about brands – they account for 92% of spend in GB and a massive 94% of spend in Scotland versus retailer own-label products, Kantar found.
So how does Scotland differ? Well the Scottish off-trade 'take home' Beer & Lager category is now worth £204m and is down by 2.7%, so not quite as serious a decline as in GB overall. One of the main differences in Scotland is that lager accounts for 80% of spend. This is largely due to the strength of brands such as Tennent's.
Scotland also differs on legislation. Marketing restrictions on the likes of multibuys has probably contributed to the fact that 38% of lager and beer spend is on products that are on deal compared to a much higher 46% across GB overall. Shoppers aged 45-54 with no kids (empty nesters) account for the majority of lager and beer buyers across GB. But interestingly enough shoppers with kids make up a slightly greater proportion of lager and beer purchasers than of grocery purchasers overall.