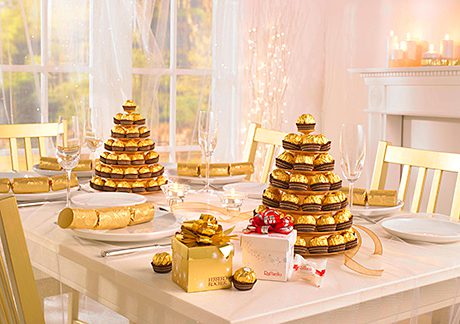 SMALL treats the consumer can feel content to buy for themselves at a fun time of year, chocolate and sugar confectionery items in boxes and bags for Christmas sharing, and confectionery as gifts at the main present-exchanging time of the year – treats, gifts and sharing, the story and the strategy of Christmas confectionery.
Seasonal 'self-eats' are now recognised as making up a special sub-category of confectionery. Given the relatively low cost and impulse-buy nature of the products, they look tailor-made for independent retailers.
Specialist confectionery wholesaler Hancocks sees Galaxy Gift For You, Mars Merryteaser and Cadbury's new Dairy Milk Mousse Snowman as must-stock products this year.
For children, Jonathan Summerley, Hancocks's purchasing director, suggested its own brand Jelly Pops (RRP 49p) and Chocolate Pops (RRP 79p), saying: "These confectionery products are not available all year round and so make a refreshing change in the months running up to Christmas.
"Retailers can take advantage of the growing seasonal self-eat category. As this is generally an impulsive purchase, displaying some key items around the till point and other key areas of the store will work wonders," he argued.
"Many shoppers will start to pick up bits for stockings early on in the season when they see something they like. With this in mind, an early display will help to give your shoppers plenty of inspiration and your business more of those all-important early festive sales."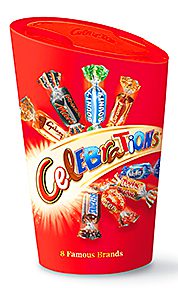 The Cadbury Dairy Milk Mousse Snowman is Mondelez's main NPD for the season: a Dairy Milk snowman figure filled with vanilla mousse. For kids, Freddo has had a festive makeover, with the Dairy Milk Freddo Popping Candy sold in four different Christmassy packaging designs. Cadbury Wishes returns, with 10% of all profits donated to the Make-A-Wish foundation.
Mars's Merryteaser, a reindeer-shaped self-eat with a Maltesers centre, is said to have been a hit last year and is back for 2013. Galaxy's Gift For You returns this year with an additional white chocolate version.
Nicola Lacey, central sales director at Mars Chocolate UK, said: "Christmas is one of the most important times of year for the confectionery market. At Mars Chocolate, we work hard to help customers optimise sales during the festive period, tailoring our offering to meet new consumer trends and demand.
"In particular, the self-treat category will be crucial to Christmas 2013. This category thrives at Easter and we believe that there is an opportunity for retailers to build on this at Christmas too."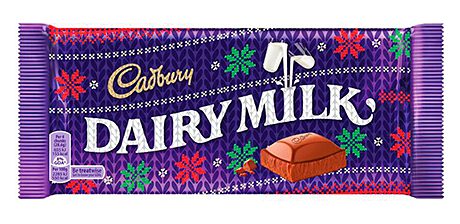 Andy Mutton of Storck also said that customers treat themselves early in the season to get into the festive mood. "Retailers should focus on smaller pack formats at the start of the seasonal period as consumers buy into these packs for early self-consumption. In November, consumers start trading up into bigger packs for sharing and gifting."
Premium treats for self-indulgence are a growing opportunity and products like the Rocher five-pack (which Ferrero says has grown 84% year-on-year according to Nielsen findings) will sell well even before the festive period starts, Ferrero argues.
But consumers, hopefully, don't simply want to indulge alone. Once upon a time Christmas would be one of the relatively few times of the year when there would be large family gatherings.
But those were the days before the recession, before staying in was the new going out. But even if sharing confectionery is now important all year round Christmas still takes it up a notch. It's the big night in with added fairy lights.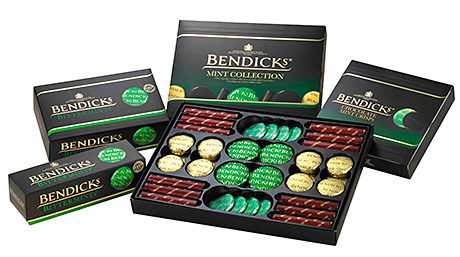 Nicola Lacey, central sales director at Mars Chocolate UK, said: "Christmas gives this thriving trend an added boost, as consumers stock up on seasonal treats to enjoy with friends and family."
She tips the Mars sharing line Celebrations, said by the firm to have been the number-one selling boxed brand last year according to SIG, as "a guaranteed best seller for 2013". The Celebrations brand, featuring mini versions of Mars Chocolate's eight best-known brands in one box, is said now to be worth £78m.
Toblerone's 400g bar is intended to look very festive with Christmas lights, a sprinkling of snow and a waving Santa. Milk, Fruit and Nut, Dark and White varieties are all available in the seasonal sleeve.
Mondelez says Terry's Chocolate Orange is a festive fixture in one out of every four homes in the UK according to Nielsen. And it now comes in a sharing pack. Terry's Chocolate Orange Minis, bite-size wedges of Terry's Chocolate Orange, is another limited edition released for the season.
Cadbury Wishes are also available in sharing packs: the 128g Little Wishes bags contain mini stars made of pure milk chocolate or with a truffle centre. In line with the whole Cadbury Wishes range, 10% of all profits will be donated to Make-A-Wish campaign.
Christmas confectionery gifts can be sold from the earliest days of the season.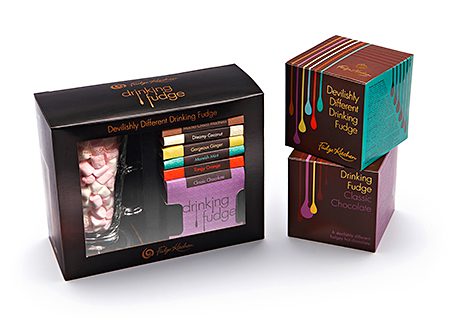 The first purchase for many shoppers is an advent calendar. Jonathan Summerley, purchasing director for Hancocks, said: "Many children receive more than one, as they are gifted from grandparents and neighbours in addition to parents. The result is a continued and buoyant market".
As well as branded chocolate-filled advent calendars Hancocks carries two £1 calendars in nativity and Santa designs, which can return a margin of 40%. There is also a wooden reindeer with small wooden doors, RRP £9.99.
Mars has two new tubes for 2013: M&Ms and Mars twist wrap. Milky Way tubes now contain twist wrap rather than bars. Summerley also advises stocking tubes of vintage classics such as Love Hearts, Blackjacks, Drumsticks, Jazzies, Mini Allsorts and Jelly Beans.
New selection boxes from Maltesers – full of fun-sized products – and M&Ms keep this traditional format fresh. The M&M box features the red and yellow characters wrapped up for the cold weather. On its Cadbury selection boxes, Mondelez International is offering free child entry to Cadbury World when accompanied by an adult.
"As Christmas gets closer, the seasonal display should be expanded to include festive gifts and presents, capitalising on the desire for novelty gifts and those all-important last minute purchases which are worth £108m in the two weeks before Christmas alone, according to Nielsen," said Levi Boors of Ferrero.
Kinder has brought its combination of chocolate and tiny toy to its festive range. The 75g Santa Surprise figure, RRP £2.50, is now Kinder Surprise-branded and includes a novelty inside.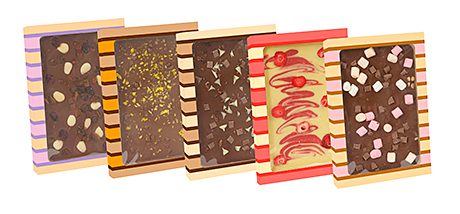 Hancocks' Summerly also tips Yorkie Spirit Level (RRP £3.99), Smarties Super Tube (RRP £4.50) and Endless Wispa (RRP £2.49) as potential Christmas hits. Swizzels and Barratt Crackers (RRP £5.99 for a box of six) offer a confectionery-filled alternative to traditional crackers.
For grown-ups Andy Mutton of Storck, which owns Bendicks, reckons two trends are driving sales in boxed chocolate confectionery: gifting assortments and after-dinner mints. He describes the Bendicks Mint Collection as: "a must-stock line as it is the ideal product for all sharing occasions and especially key for gifting. We also had a very strong performance on Bendicks Bittermints which excelled at Christmas and is currently worth over £2.2m, growing ahead of the category at 7% year on year."
The Ferrero Rocher Pyramid is designed to make a table centrepiece for a special occasion. The RRP is £19.99.
Hancocks has exclusively developed a range of five 200g chocolate blocks, boxed up to be festive gifts. With an RRP of £2.49, they're packed in open-fronted boxes to draw attention to their decorative toppings. Flavours are Rocky Road, Honeycomb, Fruit & Nut, Triple Choc and Strawberry White Choc.
Exotic-flavoured confectionery is the perfect festive gift, according to specialist company Fudge Kitchen.
The Kent-based firm has a new gift box, the Chocolate Indulgence Selection, which launched at the Speciality Fine Food Fair last month.
It features nine hand-made, hand-decorated squares of artisan chocolate fudge flavoured with pistachio, sea salt and chilli. The RRP is £8.